United States Robert Ashley, eL/Aficionado: Soloists / Tom Hamilton (music direction). Roulette, Brooklyn, 22.10.2021. (RP)
Production:
Sound design and live mix – Tom Hamilton
Lighting and Stage design – David Moodey
Cast:
Agent – Kayleigh Butcher
Senior Interrogator – Brian McCorkle
Interrogators – Bonnie Lander, Paul Pinto
Personal ads have seldom generated as much suspense and comic relief as they do in Roulette's production of eL/Aficionado by the late Robert Ashley (1930–2014). They are the means through which a secret agent encoded the description of every person who entered a safe house under her surveillance. The interrogators recite the ads as she is questioned about one of her previous assignments. It's a touch of the ridiculous that elevates this mystery/spy tale from the incomprehensible to the mesmerizing.
There is no plot per se in the 72-minute disconcerting experience. The personal ads are about all there is to latch onto to keep a grip on reality. It is the story of a person on trial, and at issue are all aspects of her being – perceptive skills, intelligence, behavior, language – at different stages in her life from her earliest memories to the present. Two people interrogate her under the direction of a third person who directs the narrative and comments on the Agent's answers.
The most disturbing of the four unrelated episodes is when the Agent is asked to relate a prior assignment in which she was called upon to investigate a child. Similar to the reading of the personal ads, certain phrases are heard clearly and distinctly, especially when the mysterious couple with a dog leave the child alone. The child possesses occult powers, which are employed to end the inquiry. Little of what transpired is revealed, but the Agent is told that she should take it to her grave.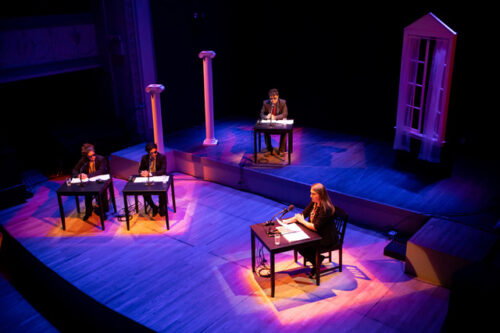 Ashley pushed opera in new directions that were in his mind's eye totally American. He used a television format for his works because that is what Americans do: they stay home and watch TV. His operas are intricate, speech-song experiences that utilize a multidisciplinary approach to sound, theatrics and writing which, coupled with his use of electronic music and extended techniques, are dreamlike and surreal.
eL/Aficionado was composed in 1987 for baritone Thomas Buckner, one of the trailblazers in contemporary classical and improvised music. The opera was performed numerous times in America and Europe as My Brother Called or eL/Aficionado, and it was incorporated into Ashley's opera tetralogy, Now Eleanor's Idea. This run was the first revival since 1995.
David Moodey based his set design upon those of Jacqueline Humbert, a member of the original cast, for a 1994 production of the opera. The protagonists sit at four identical tables. Two Ionic columns are on one side of the stage, and a large casement window is on the other. There is no action and little movement apart from body movements and facial gestures. When the sheer curtains on the window suddenly float in a breeze, their gentle movements come somewhat as a shock, creating still more tension and unease.
Ashley scored eL/Aficionado for four voices and a pre-recorded electronic orchestra. Tom Hamilton, who has long been affiliated with Ashley and his works, served as music director, sound designer and master of the live mix. The score is quite beautiful, with soothing, almost hypnotic, undulating melodies and a steady stream of rhythmic stresses that propel the music forward. The opera, however, is not devoid of structure.
In the third vignette, where the Agent sings soaring melodies, her two interrogators have countermelodies and the Senior Interrogator performs a basso continuo line of sorts, Ashley seemed to be summoning a Baroque trio sonata. Another extremely effective musical device was to have the three questioners interrupt the Agent with rapid-fire trios that sounded like a typewriter or teletype machine spewing out news flashes.
Kayleigh Butcher as the Agent seemed to inhabit a world of her own, operating on a completely different plane than that of her interrogators. Butcher's earnest demeanor and delivery were matched by a remarkable voice that she employed much of the time as another instrument in Ashley's world of sound.
The most amazing combination of voice and acting came from Bonnie Lander as one of the interrogators. She made each recitation of a personal ad buzz with worldly, slightly lascivious innuendos. It was if she had been there, done that. Lander's voice is amazing and fascinating to behold, and it brought to life Ashley's music through speech and singing.
There was an impishness to Paul Pinto's cool-cat questioner who, like Lander, often seemed bemused by the process in which they were engaged. As the Senior Interrogator, Brian McCorkle sat somewhat removed from the action and on a different physical and emotional plane than the Agent and her two questioners. Given his laidback demeanor, it was all the more effective when he suddenly engaged in the musical and dramatic fray.
Rick Perdian