United Kingdom Beethoven: Robert Taub (piano). Sherwell Centre, University of Plymouth, 1.10.2021. (PRB)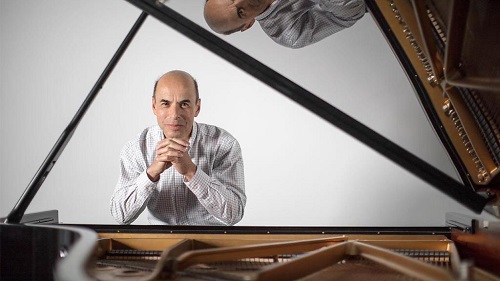 Beethoven – Piano Sonata in F minor Op.2; Piano Sonata No.1 in C major Op.53; Piano Sonata in C minor Op.111, 'Waldstein'
On a global scale, the pandemic must have caused more cancellations and postponements of all manner of events than probably anything else in recent history. The Performing Arts are an area that seems to have suffered more than most.
Cancellations are one thing, but if people are forced to postpone a composer-themed event or a series of events, there may be a much greater effect. Last year, that was the case of the 250th anniversary of Beethoven's birth. For the sake of chronological exactitude, some organisers went down the virtual route; their success depended on one's take on live versus video-streamed performances. Others chose to put things on ice until live events return. The University of Plymouth's Musica Viva concert series had effectively been in limbo for two years, so what better reason to revive it than to make it a focal point in a much-anticipated three-day 'Beethovenfest'.
The festival was organised by The Arts Institute at the University of Plymouth. It was divided into four events, beginning with a Music Forum on a fascinating subject: Beethoven and his sketchbooks. The second day was given over to the present piano recital. On the last day, the Ruisi Quartet had an open rehearsal and then an evening concert: Beethoven's string quartets Op.59 No.1 and Op.135, his last complete work, plus the world premiere of American composer Jonathan Dawe's String Quartet No.5 Labitorium artificiosum.
American pianist Robert Taub has performed as guest soloist with many of the world's leading conductors and orchestras, and has toured extensively throughout Europe, Asia and North America. His recordings of Beethoven's complete piano sonatas have been acclaimed worldwide, alongside Scriabin's complete piano sonatas. A Princeton graduate and a Danforth Fellow at The Juilliard School – where he received the highest award in piano – Dr Taub has successfully combined the careers of performer and academic. His book Playing the Beethoven Piano Sonatas has become a vade mecum for the Beethoven Sonata literature.
One of the basic remits of the Musica Viva concert series was to bring best internationally acclaimed artists to the city – which it has upheld since its inception. The choice of Taub to plan this extended event, and to participate in it, would surely have been a given: he fits the job description to a tee. But, by an immensely fortuitous decision taken in 2018, Taub also happens to be Music Director of The Arts Institute at the University of Plymouth, with the twin advantages of residing in the area and having an international network of musical friends and colleagues at his disposal.
Taub had chosen three pivotal works for his recital. Beethoven's first sonata opens with a bold, rising figure. It earned the nickname of the Mannheim Rocket or Skyrocket, a term first used to describe a musical technique perfected by the Mannheim Orchestra of the time: a rising figure (here an arpeggio) grows louder as it rises higher and higher. That would have been an imposing musical business card for any young composer. Second on the menu is the unexpectedly virtuosic and epic Waldstein Sonata, the first work he composed after his acceptance of the onset of deafness, when he was a mere thirty-two. The very last Sonata, Op.111, then forms a most fitting apotheosis, both to this recital and to the composer's monumental thirty-two piano sonatas as a whole.
But before the Mannheim Skyrocket could lift off, there was the now customary pre-concert talk. Taub gave it with all the avuncular charm and laid-back manner of an informal chat. The only thing missing was the familiar wooden rocking-chair on the porch. The talk had such a down-to-earth, easy feel that most of the children present were as absorbed as those aficionados who clearly knew their Waldstein from their Appassionata, or their Moonlight from their Hammerklavier.
There is a parallel here between the role of an actor and that of a pianist. In a mixed recital, the pianist might play some Bach, Mozart and Chopin, or Bartók, Messiaen and Clementi, each composer's style clearly distinct. Like the actor playing different roles, the pianist meets  less of a challenge. With the works of one composer – as they mature musically while he ages – it is artistically far more demanding. It may be similar to watching a character grow old, which requires more than just the services of a skilled makeup artist.
This also affects the way the sound itself is produced at the keyboard. Taub has that enviable ability to be modest and unassuming when chatting with his audience, but everything changes once he has sat at the piano, ready to begin. He manages to play with the widest dynamic range, from a thundering fortissimo right down to the merest pianissimo, and yet the sound is never harsh or forced, unless Beethoven specifically wanted it that way.
After the Skyrocket opening of Op.2 No.1, Taub's playing was ever mindful of the dynamic markings not only as they appeared on the page but with regards to the authenticity of the sound produced. This is especially important because the modern piano began with a patent in 1825, only two years before Beethoven died. A one-piece inner metal frame made the instrument much stronger and allowed greater tension on the strings, and thus more volume. Beethoven's fortepiano could not produce a lot of sound. As he was losing his hearing, he was writing ever-more-challenging music, and he broke a number of instruments in his time.
Fortunately – and down to our pianist's innate feel for volume level versus tone production – the venue's trusty Steinway Grand was more than ready for the virtuosic assault to follow, by way of the Waldstein Sonata. Taub's playing was second-to-none in every respect, musical and technical, in the first work, and he really came into his own in the second. There are many moments where the virtuosity is patent for all to see and appreciate. But there are equally many other highly-complex passages of which Taub's particularly well-honed technique and musicality made light work. It was all performed from memory; in my book, this is how it should be done.
The notorious passages of octave glissandi in the closing Rondo are a striking example. Some editions of Beethoven's score spend much time suggesting how these passages might be realised in performance, by unnecessarily complex manoeuvres involving both hands. That is simply because Beethoven's piano had a lighter touch and action, so such passages should be far more manageable. In Taub's skilled hands, they effectively passed by unnoticed, surely the composer's original intention.
The Waldstein is a truly virtuosic piece, certainly not for the pianistically faint-hearted. But it is a middle period work: what you see is still very much what you get. There are moments of extreme contrast, especially in dynamics. Taub points out in his programme notes that, while the elements of display and showmanship feature very high on the agenda, oddly each movement actually begins pianissimo, and one of the commonest dynamic markings is sempre pp. He goes on to say that a careful observance of this, plus the need for a consistent basic tempo, are basic prerequisites in achieving a successful performance of this otherwise classically-conceived sonata. Needless to say, Taub's clinical observation and precise implementation of these two givens figured prominently in arriving at a truly impressive yet nevertheless individual and wholly expressive reading.
Taub's pre-concert talk touched on the fact that the final sonata has only two movements. That irked his publishers, Schlesinger père et fils (Berlin and Paris). They expected a three-movement work like Opp. 109 and 110, which were part of the three-sonata deal. But, as Taub intimated in his talk and conveyed with extreme subtlety in his performance, there was simply nothing more to be said after the Arietta.
The final sonata, in fact, makes greater intellectual demands on the pianist than probably the first two works put together. It exhibits every structural and thematic nuance seen in Opp. 2 and 53, but their position and significance in the overall fabric is by no means immediately apparent. It is certainly the 'thinking man's sonata'. If its many stylistic juxtapositions are not finely judged and actioned, it  can skew the whole point of this work which sums up Beethoven's lifelong preoccupation with the genre. This was much more than merely the final work in an all-Beethoven recital, and Taub's superb reading made this point with the utmost sincerity and musical conviction.
There was yet more to come, especially generous considering what had already been heard. Taub delighted the large audience by not one but two pieces by Scriabin, the Études in C sharp minor and in and D sharp minor, Opp. 2 No.1 and Op.8 No.12, respectively. Interestingly, the sesquicentennial anniversary of Russian composer's birth comes in 2022. What an excellent reason for another Composerfest.
Local lovers of classical music and The Arts Institute at the University of Plymouth are indeed extremely fortunate to have such musical talent readily available on campus. Not only will memories of Robert Taub's supreme Beethoven performances last for some time to come, but equally we must not forget his total involvement in planning and executing the 250th Celebration as a whole. That is is also enshrined in an almost thirty-page-long accompanying booklet which provides an erudite yet eminently readable background to the three-day event.
Philip R Buttall