United States 'Beginnings, Middles, and Ends' [1] – Mörike Liederbuch: Amy Owens (soprano), Sarah Nelson Craft (mezzo-soprano), Daniel McGrew (tenor), Tyler Duncan (baritone), Spencer Myer, Erika Switzer (piano). Brooklyn Art Song Society, First Unitarian Church of Brooklyn, Brooklyn, 1.10.2021. (RP)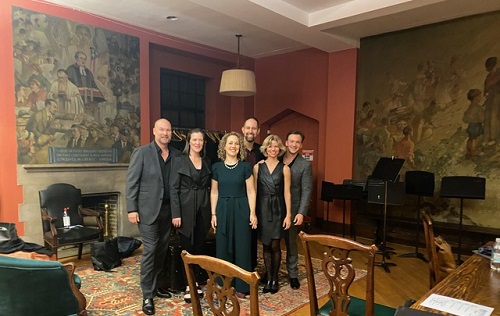 Hugo Wolf – Mörike-Lieder (Selections)
'Beginnings, Middles, and Ends' is the theme of a six-concert festival of song exploring the cycle of life that the Brooklyn Art Song Society will present this season. It was fitting that it began with selections from Hugo Wolf's Mörike-Lieder, an outpouring of song that brought the composer renown: the concert was a beginning of sorts for BASS – a new venue, free admission to its in-person concerts this season and, of course, a live performance instead of the digital offerings it had produced throughout the pandemic. All of BASS's recitals will still be available, however, on its digital concert hall.
As much as BASS is focused on the future, the recital was also a nod to the past as their first concert in 2010 was devoted to Wolf's songs. Now entering its twelfth year, BASS is indisputably New York's premiere venue for song both in terms of the quality of the artists that it presents and the expanse of the literature that is programmed. One might hear these songs in student recitals at the city's excellent conservatories but seldom in its renowned concert halls.
As he does at every concert, Michael Brofman, BASS's founder and artist director, told the audience that 'song is not a luxury, but a necessity'. This time, however, he said the words with tears in his eyes and a catch in his throat. No doubt it was equal parts joy, gratitude and disbelief for him, and the sentiments were shared by all in attendance, many of whom had made BASS's survival possible through their generous support over the past 18 months.
With Mörike-Lieder, the 28-year-old Wolf revealed his genius to the world. 1888, the year in which Wolf discovered the poetry of Eduard Mörike, has been called the third 'miracle year' of German Lieder (the other two were 1815 in which Franz Schubert wrote some 140 songs, and 1840 when Robert Schumann returned to composing song after a hiatus of 12 years). From 1888 to mid-1891, Wolf composed 174 songs. There would be some twenty more songs, as well as work on two operas, prior to his death in 1903 shortly before his forty-third birthday, but never another remarkable burst of creativity.
The Mörike-Lieder teem with youthful energy, passionate drama and humor. Wolf was drawn to Mörike's poems because of the mix of styles and moods encompassing fantasy, folk and classical themes, as well as the fact that they were written in everyday German. Wolf also favored unknown poets, and Mörike, a German pastor who lived from 1804 to 1875, fit the bill at the time.
The Mörike-Lieder are not a song cycle, although Wolf did dictate the order in which they were to appear when published, and he called for a variety of voices. At this concert, 22 of the 53 songs in the work were presented by soprano Amy Owens, mezzo-soprano Sarah Nelson Craft, tenor Daniel McGrew, baritone Tyler Duncan and pianists Spencer Myer and Erika Switzer. The songs that each of the singers performed amounted to the vocal equivalent of type casting.
From Amy Owens's first notes in 'Auf ein altes Bild', the purity of her voice was evident. The song is typical of Wolf's ability to musically depict contrasting imagery with the utmost precision and subtly, which Owens etched with the lightest and deftest of touches. One of Wolf's most humorous and wry songs, 'Storchenbotschaft', displayed her comic gifts.
Through her poise and rich mezzo-soprano, Sarah Nelson Craft summoned the art of a song recitalist. In 'Zum neuen Jahr', she sang with tenderness and delicacy in greeting the New Year that arrives as soft and rosy as a cherub. 'Verborgenheit', in which a person longs to withdraw from the world and enjoy life in solitude, is one of Wolf's most popular songs. Craft sang it with a calmness and quiet intensity that cast a spell over the audience.
Of the four singers, only tenor Daniel McGrew scaled his voice to perfectly suit the hall. There was never a note when his voice was anything less than lovely, and it is indeed a beautiful instrument; coupled with his innate musical elegance, it made for some truly magical moments. His singing can be robust and virile, as in 'Der Gärtner' where a gardener admires a beautiful princess on her white horse; or luminous and transparent, as in its final phrase when McGrew sang of the young man yearning to give her all the flowers that he has. McGrew sang the final line of 'An eine Äolsharfe' as if it were a sigh, which was followed by a lengthy postlude which Myer played with great beauty and expression.
Wolf's ballads are wonderful tales of mystery, tragedy and humor, to which Tyler Duncan brought his fine baritone and dramatic flair to bear. With 'Der Tambour', he captured the suspense and wistfulness of a drummer boy who wishes that his mother could work magic and transport herself to the camp where he is stationed. In' Der Feuerreiter', Switzer evoked the furious race of a fire rider to the flames and the crash of buildings; Duncan conjured the urgency and the supernatural in an interpretation that blazed as fiercely as the images of the flames of hell that Mörike and Wolf depicted.
Wolf believed that a poem had only one perfect musical setting, and the piano was essential for him in achieving that end. In the Mörike-Lieder, he calls upon the piano to summon textures that range from density and the complexities of an orchestra to the most crystalline and sparest musical lines imaginable. Myer and Switzer performed their duties splendidly. And for those who think song recitals are stuffy affairs, they should hear Switzer play the raucous waltz that brought the concert to a close: a song appropriately entitled 'Abschied', which means farewell.
Rick Perdian 
For more information on the Brooklyn Art Song Society's 2021/22 season, click here