United States Vivaldi: Francisco Fullana (violin), Alan Choo, Emi Tanabe (violins), René Schiffer, Sarah Stone (cellos), Apollo's Fire / Jeannette Sorrel (director and harpsichord). Gartner Auditorium, Cleveland Museum of Art, Cleveland, 24.10.2021. (MSJ)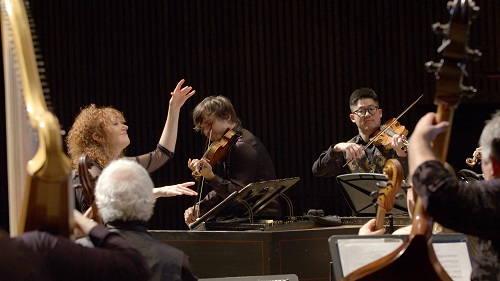 Vivaldi – The Four Seasons Op.8 Nos.1-4; Concerto in G minor for two cellos RV531; La Folia, after the Trio Sonata in D minor RV63 (arr. Sorrell)
Apollo's Fire launched its thirtieth season in a richly imagined exploration of Antonio Vivaldi's The Four Seasons with guest artist Francisco Fullana. Happily, it was only the first of an entire year of involvement by Fullana, who debuted impressively last season during a streamed concert by the ensemble. A chemistry sparked then, and it continued in this concert. I first encountered Fullana playing the Tchaikovsky concerto on a modern instrument a few years back with the Mansfield Symphony, then listened to his album Through the Lens of Time (Orchid Classics ORC 100080), which contains Max Richter's recomposed version of the Vivaldi and works by Alfred Schnittke, Isang Yun and Salvador Brotons. Baroque, romantic, modern: it seems there is nothing Fullana cannot do. What then could be better than to hear him with a similarly bold ensemble?
One of the many joys of Jeannette Sorrell's brilliant Apollo's Fire baroque orchestra is that they can reinvigorate old favorites just as well as they chart unfamiliar waters. I have reviewed them in this work before, and Fullana was an inspired choice to join them in revisiting it for a new recording, which was released this weekend on Avie (AV 2485); I will be reviewing it in the near future for MusicWeb International.
These performances featured the familiar broad outlines of Sorrell's interpretation but was very much in the moment with Fullana's daredevil solos. He made use of the space Sorrell gave him to bring the music to life in phrases and ideas instead of in the straightjacket of plodding bar lines, the way it used to be performed. Listening now to recordings made in the 1960s and 1970s, I almost become ill from hearing how poorly this vivid, pictorial music was misunderstood and abused. The artists here got it and lived it.
Despite all her self-evident scholarly intensity, Sorrell even hammed it up enough to pretend to be caught up in watching the capering birdies in the Spring concerto and 'forgot' to give the next cue on time. Chuckles were also provoked in places by the witty choice of images from period paintings that were projected on a screen behind the orchestra. That sense of fun was present throughout the performance, introduced by live musical illustrations of Vivaldi's main programmatic points. Careful interplay between Fullana, Sorrell and the ensemble led to thrilling moments of expressive detail.
Sorrell remains stubbornly convinced that the slow movement of the Autumn concerto is somehow enhanced by cascades of lush arpeggios, and I remain just as stubbornly convinced that it needs a much more minimal approach with, at most, bare arpeggios that tick by like the second hand on a clock. But for a lush approach, it was played bewitchingly. One may disagree with a detail here or there, but the level of creative excellence remains challenging and compelling.
René Schiffer and Sarah Stone lit into Vivaldi's two-cello concerto and brought the unusual solo pairing to life. Schiffer could string a couple of rubber bands across a cigar box and turn it into a thrilling instrument, so he is downright formidable on a cello. Stone matched him phrase for phrase, with Vivaldi's quickest passages turned into a buzzing like a harmonious hornet's nest.
The concert closed (on paper, at least) with the Apollo's Fire party piece, Sorrell's arrangement of Vivaldi's variations on La Folia, originally for string trio. Here it became an orchestral piece with solos led by Alan Choo and Emi Tanabe, literally circling around each other on stage, flirtatious and daring. In a humorous variation, continuo guitarist William Simms snuck from his side of the stage to musically woo Tanabe, to the great delight of the audience, until he was driven back by Choo. It was great fun to see Vivaldi's music taken out of the museum showcase and brought to full, mischievous life. Played like this, one could almost expect the Red Priest himself to pop up and join in the fun.
A Turkish dance first played by the ensemble in the 'O, Jerusalem!' program was brought back as an encore, with extended solos by Tanabe who made witty references to passages in The Four Seasons. It closed the show in a festive atmosphere, reestablishing the vitality of Apollo's Fire, which emerged out of thin air thirty years ago to become, in time, Cleveland's unexpected second lightning strike in the halls of classical music fame. The collaboration with Francisco Fullana promises to add an exciting new chapter.
Mark Sebastian Jordan