United Kingdom Oxford Lieder Festival 2021 [3] – Schubert Fantasie: Pavel Kolesnikov and Samson Tsoy (piano). Jacqueline du Pré Music Building, Oxford 12.10.2021. (CP)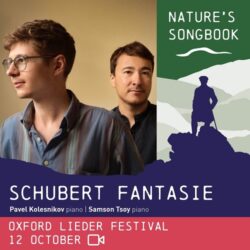 Schubert – Divertissement à la hongroise in G minor, für Klavier zu vier Händen, Op.54, D818
Schubert – Fantasie in F minor, für Klavier zu vier Händen, D940
The superbly equipped Jacqueline du Pré Music Building is one of the busiest venues during this year's 20th Oxford Lieder Festival. Recognised as the best modern venue in Oxford, built in 1995 it is now in the care of St Hilda's College and a sought-after intimate venue. Playing host to the exciting pairing of Pavel Kolesnikov and Samson Tsoy – formidable duettists at the Steinway Grand – the building is a perfect setting for the sonorous Schubert works. Once described as the 'most unhappy and miserable person in the world', Schubert was haunted by various periods of sickness by 1824, when he composed the Divertissement à la hongroise in G minor. His illnesses did nothing to change his introverted personality and his unattractiveness to the opposite sex; he turned to prostitutes and carried the syphilis disease for the rest of his life.
His composition in 1828, Fantasie in F minor was one of his last and is filled with tragedy. This work followed closely after the composer's 1827 setting of 12 poems by Wilhelm Müller, published in 1828 as Winter Journey. Schubert was not a brilliant pianist, had he been so his works would have been more demanding of the technical skill of performers. For Schubert, the piano was an instrument to help his music speak to others and not much more. He liked nothing better than perching himself at the piano, slightly removed from friends who became the Schubertiade, a coming together of revolutionaries, city merchants and princesses as a proving ground for his works.
Kolesnikov and Tsoy are brilliant pianists in their own right, both founder members of the annual Ragged Music Festival in East London. Showing a strong respect for each other on platform they worked enthusiastically to perform the Divertissement – the late 1824 composition – an extravagant undertaking in the Hungarian style. At times, their playing illustrated what an exuberant, haunting work with typical Schubertian themes this is. At other times, they proved this to be one of the composer's most turbulent, audacious outputs. Kolesnikov favours a particularly light touch, the key changes were unobtrusive, the delicate conclusion confirming this to be a composition when Schubert knew he was ill.
Four years later, however, Schubert composed what has been recognised as the most tragic and intimate conversation, a final drama that has become a masterpiece, one of the greatest pieces in the piano repertoire. One large scale single movement begins so serenely before developing into periods of turbulence requiring very close working by duettists. Having changed positions at the keyboard for this work, both Kolesnikov and Tsoy showed they have learned from each other as they showed a strong emotional suppleness and a pleasing range of invention that arguably the Steinway Grand was needed to help do it justice.
The Kolesnikov and Tsoy reading of Fantasie in F minor was engagingly spontaneous and pianistically exhilarating; a grand responsive approach, both playing with exquisite refinement, counterbalancing each other. Here we had two players enjoying music-making with a level of musicianship in one of Schubert's outstanding works which inspires near-reverence among the composer's admirers.
Clive Peacock