United Kingdom Verdi, La traviata: Soloists, Actors and Dancers, Chorus and Orchestra of the Royal Opera House / Antonello Manacorda (conductor). Royal Opera House, Covent Garden, London, 28.10.2021. (JPr)
Production:
Director – Richard Eyre
Revival Director – Pedro Ribeiro
Designer – Bob Crowley
Lighting designer – Jean Kalman
Director of movement – Jane Gibson
Chorus director – William Spaulding
Cast:
Violetta Valéry – Lisette Oropesa
Alfredo Germont – Liparit Avetisyan
Giorgio Germont – Christian Gerhaher
Flora Bervoix – Stephanie Wake-Edwards
Marquis D'obigny – Jeremy White
Baron Douphol – Yuriy Yurchuk
Doctor Grenvil – Blaise Malaba
Gastone de Letorières – Egor Zhuravskii
Annina – Renata Skarelyte
Giuseppe – Andrew Macnair
Messenger – Dominic Barrand
Servant – Thomas Barnard
I don't think I am alone in believing that Verdi wrote his best operas in just two periods of his life – the middle years which produced Rigoletto, Il trovatore and La traviata, and then his later operas Aida, Otello and Falstaff. This season at Covent Garden there has already been a new production of Rigoletto (review here), Otello will be seen next summer, along with other Verdi operas, Macbeth, Nabucco and Attila during coming months. No Il trovatore though, however the recent new Zurich staging (review here) is a co-production with The Royal Opera so we may see this in future seasons. I have written before how thoughts of Il trovatore should never be far away during La traviata as – and this was evident from Antonello Manacorda's beautifully sculptured and carefully paced account of the score – what an economical composer Verdi was and how he could recycle (allow to evolve?) some of his earlier musical ideas. Il trovatore was premièred in January 1853 and La traviata a couple of months later in March and when you listen to the wonderful duet at the end of La traviata Act I isn't that the Miserere from the final act of Il trovatore? And when Alfredo launches into 'Dei miei bollenti spiriti' there is more than a little of 'Di quella pira' about it (along with more besides simply these two examples). The success of both the composer and his interpreters on this occasion – most notably Manacorda – was how quickly this La traviata went by with no apparent longueurs.
Well, I saw this Sir Richard Eyre production when it was new in 1994 (conducted by Sir Georg Solti) and many, many, times since and finding new things to say about it is well-nigh impossible. (Revived by Pedro Ribeiro, it is now given another extended run with several different casts.) The curtains open on the first act and we see for the first time Bob Crowley's sumptuous costumes and handsome, larger-than-life sets and are introduced to the consumptive Parisian courtesan, Violetta, and we see her burgeoning attraction for the penniless aristocrat Alfredo; in Act II there is the pivotal confrontation between Violetta and Alfredo's father who demands she give up the scandalous liaison with his son, followed by Alfredo's denunciation of Violetta at her friend Flora's party and in the last act the lovers are their reconciled just before she dies. The staging is ultra-traditional though only the hardest of hearts would remain unmoved particularly in post-pandemic times.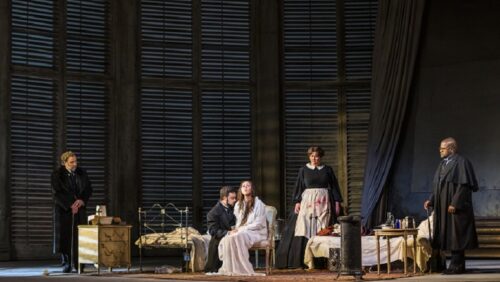 Click here to see Eyre and Crowley on YouTube speaking a couple of years ago about their vision. Eyre recalled how Solti said, 'I want big frocks!', and he revealed they had 'approached it as we would a play' (it was his first opera) and how the first act shows 'a crucible of drink, sex and money'. Revealingly, Crowley added how nothing in his life 'has lasted this long'. Act I has always seemed rather overcrowded when all the party guests are on stage; Violetta's country house in which her paintings are propped up against the wall ready to be sold clearly illustrates her financial plight (and Giorgio Germont's suggestion of 'luxury' seems in this case very ironic); later, Violetta's sparsely furnished bedroom in Act III with a huge dilapidated mirror (not looking at its best for this revival) 'mirrors' her decline perfectly. It is only in Act II Scene 2 with the guests seen partying around a huge gambling table complete with overhead light – surrounded by a semi-circular representation of a 'bullring' – that the setting seems out-of-place. It diminishes that dramatically tense Violetta/Alfredo confrontation, though it is still a spectacular setting for the entertainment with the matadors, gypsies and mock bullfighting.
Headlining this umpteenth revival were Lisette Oropesa and Liparit Avetisyan (as Violetta and Alfredo) two singers who had considerable success in the recent new Rigoletto. La traviata is of course based on La Dame aux Camélias, an 1852 play by Alexandre Dumas fils with the character based on his lover Marie Duplessis; she was only 23 when she died having begun her 'career' at 14. Oropesa was perhaps more dramatically credible as Violetta than some sopranos might be. She has essentially a bright sound and lyrical phrases are consummately crafted and her voice is technically secure. In the first act Violetta shows her free-spirited view on life with some difficult coloratura singing. However, Oropesa's voice was rather colourless and she was – probably for good reason – concentrating too much on the notes though her E flat at the end of 'Sempre libera' was stunning.
From then on there was greater warmth, emotion, passion, heartbreak and despair as Oropesa's commitment to the character became evident and she totally won over the audience to deserve the standing and cheering there was at her curtain call. Her 'Alfredo, Alfredo, di questo core non-puoi comprendere tutto l'amore' at the end of Act II was dignified and deeply affecting. Later when she relinquishes her love for Alfredo to the girl he will eventually marry ('Prendi: quest'è l'immagine') it was heartrending. However, although Violetta was bathed in radiant light as she imagined she was getting better having her run around the stage looked more ridiculous than ever and Oropesa looked rather like a Halloween ghost.
It was possible to see in Liparit Avetisyan's performance Alfredo's social akwardness especially when being asked to launch the brindisi in Act I, but his infatuation for Violetta eventually becomes all-consuming. There is something quaintly old-fashioned about Avetisyan's acting and Italianate singing. By turns his Alfredo was ardent and caring or quick to anger, unfortunately the top C at the climax of 'O mio rimorso!' wasn't the best. However, his duets with Oropesa's Violetta were excellent and they left the best till last as they reflect on a life that can never be ('Parigi, o cara') which was accompanied at a suitably leisurely tempo by Manacorda.
Well, what can I say about Christian Gerhaher's Germont? We know the German baritone is a consummate lieder singer. It was a captivating performance but whether it was Verdi's Germont I am not sure. He prowled the stage as a defiantly angry man almost coercively bullying his son into submission, not least with one brutal slap after 'Di Provenza il mar'. For me he had a strange way of accenting some syllables at the expense of the vocal line and barked way too much.
Jette Parker Young Artists, Stephanie Wake-Edwards (an entertainingly tipsy Flora), Blaise Malaba (Doctor Grenvil) and Egor Zhuravskii (Gastone) stood out in their small roles whilst there were solidly sung vignettes from Jeremy White (Marquis D'obigny), Yuriy Yurchuk (Baron Douphol) and Renata Skarelyte (Annina). The always dependable chorus sang potently meshing splendidly – as all the soloists did – with the really vibrant playing by all sections of the Royal Opera House Orchestra under a conductor alert to all the Verdian colour, feeling and nuance of the opera.
Jim Pritchard