United Kingdom Mozart, Tchaikovsky, Beethoven: Leia Zhu (violin), London Mozart Players / Jonathan Bloxham (conductor). Fairfield Halls, London, 10.10.2021. (JB)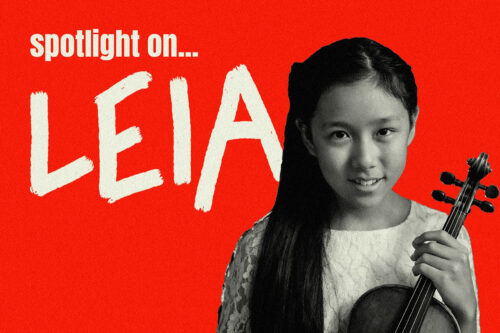 Mozart – Overture, The Magic Flute
Tchaikovsky – Violin Concerto in D major, Op.35
Beethoven – Symphony No.8 in F major, Op.93
London Mozart Players have no truck with Die Zauberflöte. For them it is The Magic Flute. It is well over half a century they have been colonising Mozart for Britain. Then having the conviction (a key element in their enterprise) to tour it all over Europe and beyond. This conviction of Mozart 'speaking English' has been known to bring a smile on the face of Europeans: just the kind of cheeky impudence that would almost certainly have been applauded by mischievous Wolfgang Amadeus himself.
The opening fughetta of The Magic Flute overture, which follows the solemn chords representing Sarastro's mysterious sacredness, fairly bristles with mischief: professional mischief to boot. And who said Wagner was the first to use leitmotifs? The alternating piano/forte of the bustling subject hastens the audience's ears forward with no space to breath. Emanuel Schikaneder, librettist and Papageno at the premiere in Schikaneder's own Vienna theatre, and hugely popular comedian, helped to procure the right audience. He and Mozart were members of the same masonic lodge. Empress Maria Theresa was working to stamp out masonic lodges. Mozart chose his hated sister-in-law Josepha Weber as Queen of the Night, so that he could punish her more with some tricky coloratura singing; he had just finished punishing her as Fiordiligi in Così fan tutte. What a sense of humour!
There is something attractively neat in conductor, Jonathan Bloxham's weaving together all this wilful mischief making: its bite as well as its charms. Energy of a uniquely Mozartian kind. Laugh and learn come together. Young blood comes together. The more you talk to those playing in the orchestra the more you realise that they identify as members of a same family. Even though some are not all that young anymore. They retain the vital spark of youth. That was always Harry Blech's aim from the start. Much aided by support of every kind from his first wife, Enid, whose family fortunes permitted her to whizz round the world in her private jet as well as recruiting the best of young British music talent: Jacqueline du Pré cellist, Janet Craxton oboist, Archie Camden bassoonist, Dennis Brain horn, and so-forth. All these players had other jobs of course, while giving priority to Harry. Harry was not such a stir–rice–pudding conductor as some evil critics have claimed. But what he indisputably conveyed was a spirit of generosity which is clearly audible in all LMP performances. As with Hitchcock casting actors in his films – if you did your casting properly, the best thing you could do would then be to get out of their way and let these master actors deliver their best.
Violinist Leia Zhu is presented as a LMP's Artist in Residence at her first concert here. Leia is fourteen, born in Britain to Chinese parents, baptised Christian, studying violin with Itzhak Rashkovsky at the Royal College of Music as well as Zakhar Bron in Switzerland and a fulltime secondary school education at a private boarding school near Oxford. I have never heard a violin give such rich, luscious low notes. In a Zoom interview Leia explained that she has had the great good fortune to be playing on a Guadagnini on permanent loan from an admirer who wishes to remain anonymous. (Giovanni Battista Guadagnini [1711-1786] was a lutier who worked in Piacenza, Milan, Parma and Turin; his violins currently fetch over $2,000,000 at auction, especially those made in Turin.) As always in these cases, it is impossible to know who is giving most, violin or violinist.
Tchaikovsky's Violin Concerto in D was written while the composer was undergoing serious stress as a closet homosexual. The predominant quality which is only too audible in the concerto is YEARNING. Tchaikovsky was a master orchestrator and the winsome dialogue he gives to solo wind players and solo violinist takes that exchange to the farthest reaches of creativity.
Strings were on 8/8/4/4/2: not big orchestra, neither is it chamber orchestra. Tchaikovsky shows himself a master of less is more. He knows from personal experience what it means to proceed by stealth. It is around this time that the apocryphal episode of his meeting Madame Nadezhda von Meck might have taken place, when the patron and her composer met in a wood and were so shocked, they turned and left without exchanging a word. Shyness, embarrassment, uncertainty. Add that trinity together to get YEARNING.
I repeat, Leia is only fourteen. Yet she misses not one iota of the strained passion of the concerto. I am obliged to entertain the concept of reincarnation. Or something like that. Other violinists we have heard make the demanding cadenza sound difficult. It undoubtedly is. However, in Leia's performance the difficult is made to sound easy. Who was it who said that a virtuoso is one who makes the difficult sound easy? The girl is startlingly at home in this.
After the steamy rumbustiousness of the opening, the second movement is Canzonella: Andante. Some chorale style chords from the wind players lead into a lyrical violin solo in G minor, whose theme is then echoed by the wind. Without a pause this leads into the finale – last movement Allegro vivacissimo. That word means as lively as possible. Both soloist and orchestra compete to be part of the fun. There is a rallentando (slowdown) to remind us this is not all about fun and the soloist probably wins the prize. Rightly so, if you can believe the applause from the crowded hall. And it would be impertinent to neglect mention of Fairfield Halls's fine acoustics as a contributor too.
Inevitably Ms Zhu was called back for an encore. She chose Bach's final work for solo violin (Partita No.3 in E), everybody's favourite violin encore. There are six brief Baroque dance movements. Never was this music played with such steeliness. But a steeliness with the unexpected mixture of charm. She slipped in and out of these duo styles like no other violinist. There were moments when she was all too evidently in charge of the music; others where the music seemed to be in charge of her. Beautiful dialogue. The lady whispers as well as she roars.
It is not always properly understood how loss of hearing can be a major affliction. Doubly so if you happen to be a composer. While Tchaikovsky was battling with his sexuality within the circles in which he moved, Beethoven's wrath was with his loss of hearing. By the Eighth Symphony Broadwood of London had already built an especially loud grand piano for the Maestro. It helped. But not much. But then a curious thing happened. Beethoven's compositions took on another dimension. As every schoolboy knows, Beethoven's finest compositions were written after he became deaf. All this to say that the inner ear is more valuable than the outer (physical) ear. Not that the composer would have known this at the time. It is perhaps not an exaggeration to say that the pain of the inner ear was creating the music.
Allegro vivace e con brio asks Beethoven for the first movement of his Eighth Symphony: very lively and with polish might be an approximate translation. The deaf gentleman begins by forcibly admonishing pain. We are in business folks! This is also the longest movement in any Beethoven symphony. And LMP and conductor are in fine fettle. It is in F.
The second movement follows classical tradition and is in the subdominant of B flat. But oh dear! This is not the usual sombre, thoughtful second movement. It asks for Allegretto scherzando: where English might say lightly and jokingly. German humour? 'Fraid so folks. Never fear. LMP deliver beautifully.
For the remaining two movements we return to the key of F. But whoa! Tempo di menuetto is surely an attempt at German humour. Parody in fact? That's right. But LMP have fastened their (invisible) seatbelts. All is well. They romp home.
The finale is Allegro vivace and if you have got this far you will know that these musicians are highly skilled in delivering it.
Don't just take my word for these remarks. This entire concert will be broadcast on BBC Radio 3 at 7.30pm on Tuesday 12 October. And soon the video of the concert will be available on the website of the London Mozart Players.
Jack Buckley