United Kingdom Haydn, Janáček, and Schumann: Quatuor Ebène (Pierre Colombet, Gabriel Le Magadure [violins], Marie Chilemme [viola], Raphaël Merlin [cello]). Wigmore Hall, London, 15.10.2021. (MB)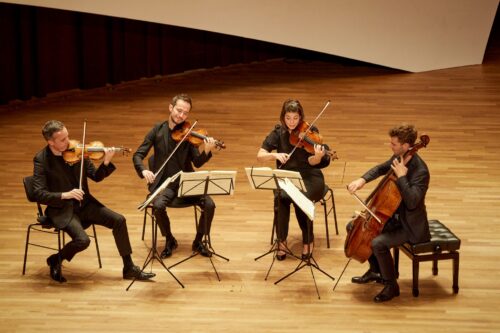 Haydn – String Quartet in D major, Op.20 No.4
Janáček – String Quartet No.1, 'Kreutzer Sonata'
Schumann – String Quartet No.2 in F major, Op.41 No.2
You will struggle to find — no, you will not find — quartet playing finer than this. Audience response to the Quatuor Ebène's performance of Janáček's Kreutzer Sonata Quartet bore an enthusiasm that registered somewhere between elation and shell-shock, heightened by the presence of a large number of young string players, identified not only by the palpable intent of their listening, but also by their instrument cases.
From the outset of Janáček's first movement, one had — as in the preceding Haydn quartet — life- and, in this case, perhaps death-giving potentiality in every theme, motif, and cell. 'I was imagining,' Janáček told Kamila Stösslová, 'a poor woman, tormented, beaten, battered to death, as the Russian writer Tolstoy described in his Kreutzer Sonata.' Here were a pain and longing familiar, even sublimated, from Katya Kabanova and a highly developed sense of instrumental drama. One might or might not know Tolstoy — or Katya — but it did not matter; this was enough. The players' mastery seemed almost to extend Janáček's soundworld further than it goes already — or perhaps it is better to think in terms of responding more deeply than ever to potentiality, for there was no question of anything failing to sound as written, as conceived. The second movement, likewise characterised by intense drama of the imagination, foresaw, so it seemed, the world of the still-later From the House of the Dead. Sharply etched, coruscating, it breathed an unquenchable spirit that prepared the way for a successor that was, if anything, still more intense and extreme in its polarities. Janáček's warm irascibility, perhaps also irascible warmth, spoke as ever of ineffable humanity. Here was a tone poem in itself, save of course that it acquired meaning as part of a greater whole. In the final movement, a sense of tragic revisitation, like a final act bringing the drama to a head, hung over music, both as work and performance, which necessarily had some way yet to travel; until, that is, it was over, shatteringly.
Not entirely dissimilar in its still-shocking experimentalism, motivic development in Haydn's Quartet Op.20 No.4 was also relished by all concerned. The first movement introduction was set up as a set of questions and answers, which grew into something more, imbued with almost infinite energy and potential. Its strange eruptions, weirdly yet aptly prophetic of Janáček, likewise always felt dramatically necessary — and let us never forget what a drama, in the proper sense, sonata form is. When Haydn plays with our expectations, as he does here, he needs players to respond in kind; this they certainly did. The sad dignity of the second movement's opening theme was at times more astringent in tone than I had previously heard from this quartet, but there was nothing dogmatic to that; their palette was broad, wisely drawn from, and coherent in context and expressive purpose. The ensuing variations showed, yet again, what nonsense is the claim we sometimes hear that variation form in Haydn and Mozart somehow has a lesser status than in preceding and succeeding eras. (Goodness knows where people get this idea from; presumably they copy it from one another. All they need do is read, play, or listen.) Raphaël Merlin's cello, sensitive and commanding, proved as eloquent a principal narrator in the second variation as one could hope for; his colleagues responded as equals, invited and incited. Throughout, this was Haydn at both his most tragic and his most varied in tragic impulse, immanent in the Ebène's intensity of conception. Rustic tone combined with post-Baroque complexity in the Allegretto alla zingarese, the concision of the first movement further intensified. Haydn's experimental mastery in the finale, high-spirited, obstinate, helter-skelter, and above all consequent, was conveyed with equal drama and understanding.
In some ways, Schumann's F major Quartet sounded more Classical than Haydn — let alone Janáček. Not that it is without Romanticism, of course, but the tone of late Classicism we heard, especially in its first movement, was both appealing and apposite. There were new paths in the development, though in general a sense of subtle restraint. The second movement, another set of variations, unfolded patiently, permitted to reveal its secrets in its own time. And when it blossomed, it truly blossomed; one was rewarded — handsomely — for listening. There was a sense of Beethoven reimagined: not our Beethoven, nor perhaps Beethoven's, but naturally Schumann's. Beethoven and Mendelssohn haunted the scherzo, though it was certainly not to be reduced to any matter of 'influence'. Its trio proved notably good-humoured. Schumann's Romantic confidences and digressions form the very path of the finale; so it was in this case, a feeling somehow only heightened by a decision to stop, quickly re-tune, and resume, urgency not so much regained as redoubled. As a lovely encore, we were treated to the Quatuor Ebène's own arrangement of the first piece from Schumann's Bunte Blätter.
Mark Berry