The 16th International Malcolm Arnold Festival – Online – 16-17 October 2021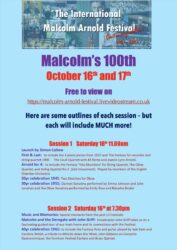 One hundred years ago Sir Malcolm Arnold (1921-2006) was born in Northampton. For the 16th year Director Paul Harris presides over this landmark Festival which celebrates his music. As was the case with last year, the 16th Festival is a livestreamed and free-to-view event and can be found by clicking here.
Arnold's music encompasses the work of a master serenader and of an emotionally scorching symphonist. It all has melody at its beating core. His music is, as the Festival organisers say, composed 'against the grain of fashion – writing music of quintessentially British levity and wit that spoke directly to 'real' people'. For me, it is not just the wit – in fact for me that is a lightweight attraction. No, it is the music's sheer beauty and lump in the throat quality. I hold up as examples the Oboe Concerto, the finale of the Fifth Symphony, the vigorous concentration of the First and the marches of the Eighth: Mahler meets Salvation Army.
Simon Callow will launch the two days of online celebration which will include pre-recorded films inter-cut with live and recorded music, spoken introductions and discussions. There will be works from the composer's student days, his Irish sojourn, film music and chamber works.
Meghan Cassidy performs the Viola Concerto, recorded with the Ealing Symphony Orchestra, conducted by John Gibbons. Other contributors will include Emma Johnson and John Lenehan, Jill Kemp, Lynn Arnold, Emily Ross, Saki Kato, Onyx Brass, Coull Quartet, Thames Youth Orchestra, Chetham's School of Music, Northamptonshire County Youth Brass Band and members of the English Chamber Orchestra
Composer Timothy Bowers discusses the symphonies (all nine of which were performed at an early instance of the Arnold Festival and one that I stupidly missed), John Griff (after inspired illustrated talks introducing film extracts at earlier festivals) focuses on the historic interviews made with the composer and there is an illustrated talk by trumpeter Nicholas Budd to preface a performance of the Trumpet Fantasy which is one of a host of solo instrument Fantasies from Arnold's later years.
The Festival pays its accustomed visit to St. Matthew's Church in Northampton for choral music. There's a 'full-stop' to the proceedings in the shape of Arnold's A Grand Grand Overture with the orchestral forces supplemented by three vacuum cleaners and a floor polisher.
To view the events click here.
Rob Barnett