Ireland Wexford Festival Opera 2021 [2] – Ambroise Thomas, Le Songe d'une nuit d'été: Soloists, Chorus and Orchestra of Wexford Festival Opera / Guillaume Tourniaire (conductor). O'Reilly Theatre, Wexford, 20.10.2021. (RB)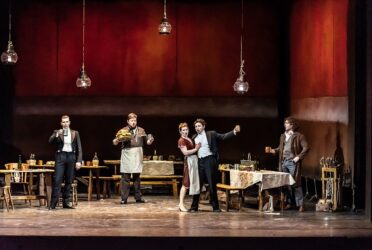 Production:
Director – Stefania Panighini
Set designer – Tiziano Santi
Assistant Set designer – Serena Treppiedi
Lighting designer – D M Wood
Chorus master – Andrew Synnott
Concertmaster – Fionnuala Hunt
Cast:
Elisabeth – Hasmik Torosyan
Olivia – Valentina Mastrangelo
Shakespeare – Sébastien Guèze
Falstaff – Tommaso Barea
Lord Latimer – Vassily Solodkyy
Jeremy – Rory Dunne
Nelly – Kathleen Norchi
French composer, Ambroise Thomas, is primarily remembered nowadays because of his operas Mignon and Hamlet. Le Songe d'une Nuit D'Été (A Midsummer Night's Dream) was premiered in 1850 to much acclaim and it remained popular to the end of the nineteenth century. It is an opéra-comique with spoken dialogue and it is rarely performed nowadays, although it was revived in 1994 in Compiègne in celebration of the opening of the Channel Tunnel. While the plot is rather thin the work nevertheless contains a wide range of richly expressive music and in my view deserves to be much better known. There are jaunty toe-tapping numbers in the tavern scenes, virtuosic coloratura from the two female leads, beautifully poetic music in the second act and fierce music in the duel scene.
Notwithstanding the title, the opera has nothing to do with Shakespeare's play. The plot revolves around a drunken William Shakespeare lusting after Elisabeth I and her responding to this by nurturing his genius. Shakespeare's larger than life Falstaff also appears and is intent on being the life and soul of the party while having an eye for the ladies. There is a sub-plot involving the Queen's maid of honour, Olivia, who is engaged to be married to Lord Latimer. Latimer mistakenly believes she is having an illicit affair with Shakespeare and challenges the latter to a duel. The opera ends with Shakespeare engaged once more with his writing and Latimer and Olivia happily back together again.
Given COVID restrictions Wexford were only able to mount a semi-staged production of this work. A canvass backdrop which looked like a Mark Rothko painting remained in place for much of the time. Minimal props and staging were used to convey the tavern in Act I, Richmond Park in Act II and the Royal Palace in Act III. The chorus were seated at either side of the stalls and they sang antiphonal style. Given the circumstances Stefania Panighini and her team did a reasonably good job in bringing Thomas's dramatic tableaux to life.
Hamsik Torosyan was superb in the role of Elisabeth I. She executed the composer's glittering coloratura, roulades and runs with brilliance and refinement in equal measure. One of the arias in Act II was exquisite and deservedly greeted with rapturous applause from the audience: this was the performance of the evening (perhaps of the whole Festival?). Sébastien Guèze did a reasonably good job with his vocal numbers although I did not find his portrayal of Shakespeare dramatically convincing (it is admittedly an awkward role to play). Valentina Mastrangelo impressed as the loyal and steadfast Olivia and sang with crystalline beauty throughout. Vassily Solodkyy brought a rich lyricism to the vocal line but I would have liked to see more of Latimer's jealousy and impetuosity. Tommaso Barea's Falstaff was a hearty, fun-loving character and he sang with vigour in the tavern scene and refinement when conversing with the ladies. Some of his quick-fire coloratura was a little untidy, although this is a minor quibble.
Guillaume Tourniaire did a terrific job bringing Thomas's neglected score to life. The vocal and orchestral entries were well coordinated in the first act and the music had a lightness of texture and infectious rhythmic vitality which I very much enjoyed. The second act's night scene in Richmond Park was gorgeous and this was in no small part due to Hasmik Torosyan's offstage calls and radiant singing. The chorus and orchestra provided excellent support throughout.
Overall, this was an evening of first-rate entertainment which succeeded in bringing yet another neglected opera into public view.
Robert Beattie