Ireland Wexford Festival Opera [3] – Goldmark, Ein Wintermärchen (concert performance): Soloists, Chorus (chorus master: Andrew Synnott) and Orchestra of Wexford Festival Opera / Marcus Bosch (conductor). O'Reilly Theatre, Wexford, 21.10.2021. (RB)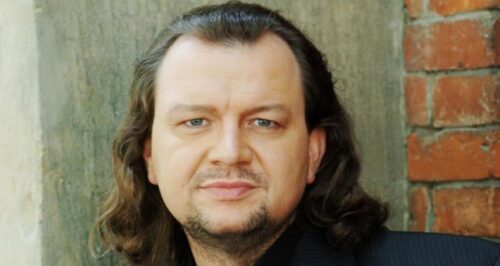 Cast:
Leontes – Burkhard Fritz
Hermione – Sophie Gordeladze
Perdita – Ava Dodd
Polixenes – Simon Thorpe
Florizel – Daniel Szeili
Camilo – Rory Musgrave
Antigonus – Jevan McAuley
Paulina – Niamh O'Sullivan
Mamilius – Conor Gahan
Karl Goldmark's music has faded into obscurity nowadays and he is principally known to us through his Violin Concerto in A Minor which has been recorded by many distinguished soloists. His first opera, Die Königin von Saba ('The Queen of Sheba'), was written in 1875. It remained one of his most popular works and remained in the repertory until the 1930s.
Ein Wintermärchen ('A Winter's Tale') is the last of his six operas. It was premiered in 1907 in Vienna under the baton of Bruno Walter and it received positive reviews. It is a late Romantic work with rich textures and sonorities although it is pervaded with Goldmark's own unique musical style. The first and last acts have a dramatic intensity which fits with the tragic events described, while the music in the intervening second act has a lighter pastoral quality. I was struck by the quality of the orchestra writing in this opera both in the interludes and in the sequence of dances in Act II. Goldmark's displays much inventiveness here and composers could create a distinct orchestral suite from this music.
Shakespeare's A Winter's Tale is sometimes regarded as one of his problem plays. Composers have not turned to it as often as some of the Bard's other works, although a number have set it to music. The play starts in tragic mode with Leontes, the King of Sicily, harbouring suspicions that his wife, Hermione, is having an affair with his friend, Polixenes, the King of Bohemia. He imprisons Hermione and sentences her and her infant daughter to exile. This leads to the death of Hermione and their son, Mamillius. Their infant daughter Perdita is taken into exile but is found and raised by shepherds in Bohemia. Sixteen years later she falls in love with Polixenes's son Florizel. Polixenes initially refuses to allow the marriage but when Perdita's identity is revealed he changes his mind. Perdita and her new family are reconciled to Leontes and a statue of Hermione comes to life at the end of the play bringing the work to a harmonious conclusion.
Given the restrictions imposed by COVID, this was a concert production of the opera without sets or costumes. Burckhard Fritz's Leontes dominated much of Act I and he displayed enormous vocal authority and a richness of tone. There is no doubt this was a vocal tour de force by Fritz and I was extremely impressed with his singing but less so with his acting. The singers need to be even more dramatically convincing in concert performances and I did not find Fritz's descent into a jealous rage in Act I or the revelation of finding his daughter alive in Act III remotely convincing.  Sophie Gordeladze sang the role of Hemione with a bright lustre and I was impressed with her tonal beauty and control of dynamics. Her protestations of innocence after being falsely accused of infidelity were deeply affecting and her singing had a feverish quality when she knew of the potential danger she and her children were in.
Ava Dodd as Perdita and Daniel Szeili as Florizel took centre stage in the bucolic second act. Dodd was dramatically convincing as the love-struck Perdita and she brought an enchanting lyricism and enormous vocal agility to the music. Occasionally, I would have welcomed a little more flexibility in the line although there is no doubt that this was an impressive performance. I was less impressed with Daniel Szeili; he seemed to struggle at some points with Goldmark's unusual vocal patterns. Niamh O'Sullivan brought enormous dignity to the role of Paulina and she sang very cleanly and with cool authority.  I would have liked to hear a wider range of colours in her singing although there was much to admire here. Simon Thorpe gave a solid performance as Polixenes and he was particularly impressive in Act I although there were occasional signs of strain in the upper vocal register.
Marcus Bosch and the Wexford Festival Orchestra did a magnificent job bringing Goldmark's orchestral score to life. In the opening Prelude they produced rich sonorities in the regal opening chords and striking dynamic contrasts. They conjured up the grand Romantic sweep of the work before driving the music to a heady climax. There was a wonderful sense of exhilaration in the introduction to the second act while the sparkling rhythms of the dance music were dispatched with aplomb. Wexford Festival Chorus also acquitted themselves well, whether in the doom-laden opening act or the life affirming second act.
Overall, this was an enjoyable production with some very fine performances from the cast and the orchestra. I enjoyed Goldmark's music and indeed all the music at this year's Festival. Hats off to Wexford Festival Opera for continuing to bring these unjustly neglected works to life.
Robert Beattie