United Kingdom In the footsteps of…: Gweneth Ann Rand (soprano), Sarah Daramy-Williams (violin), Allyson Devenish (piano), Cathy Tyson (narrator). Livestreamed (Darius Weinberg director/producer) on 14.11.2021 from Wigmore Hall, London, and available until 13.11.2021. (JPr)
Spirituals – 'City called Heaven' (arr. Hall Johnson); 'Witness' (arr. Johnson); 'Is There Anybody Here?' (arr. Ronald M Carter)
Sibelius – 'Solitude' from Belshazzar's Feast Op.51; 'Norden' Op.90 No.1; 'Svarta rosor' Op.36 No.1; 'Var det en dröm?' Op.37 No.4
Dvořák – Gypsy Songs Op.55: 'My song of love rings through the dusk'; 'All round about the woods are still'; 'Songs my mother taught me'; 'Give a hawk a fine cage'
Duparc – 'Phidylé'
Poulenc – 'La dame de Monte Carlo'
Satie – 'Je te veux'
Hahn – 'Chansons grises'; 'L'heure exquise'
Richard Strauss – Four Last Songs
Copland – Twelve Poems of Emily Dickinson: 'Why do they shut me out of heaven?'
Richard Rodgers – The Sound of Music: 'My Favourite Things' (arr. Allyson Devenish)
Undine Smith Moore – 'I Want to Die While You Love Me'
Shirley Thompson – 'Tapestry'
Errollyn Wallen – 'My Feet May Take a Little While'
Spiritual – 'By an' by' (arr. Clement Ishmael, world première); 'My Soul's Been Anchored in the Lord' (arr. Florence Price)
This beautifully curated programme (In the footsteps of…) was introduced by Cathy Tyson who explained how 'Tonight we shine a light on the presence of three great Black female singers: Marian Anderson, Grace Bumbry and Jessye Norman. Their first and many recitals at the Wigmore Hall were not the first appearances of a non-white performer from its opening in 1901, Samuel Coleridge-Taylor, then later Roland Hayes, John C Payne and then others stood on this stage. The musical journeys of these three female singers are varied but tell similar stories of adversity in response to their gender and race. A great venue has no boundaries and is home for all.'
Interspersed throughout the music we heard from Tyson the thoughts of these three great artists on musical and personal matters. For instance, were heard how Bumbry agreed with Lotte Lehmann 'That the word is the most important in opera. Then the word and the musical line together should give you a certain feeling. With that sort of feeling and those words it tells you what you have to do'. Concluding, 'You get away with a lot of things you cannot get away with on the recital stage.' (This raised a smile as this was said towards Gweneth Ann Rand standing centre stage and playfully looking rather askance at this comment.) From Marian Anderson we heard how 'When I sing, I don't want then to see my face is black. I don't want them to see my face is white. I want them to see my soul and that is colourless.' And Jessye Norman reflected on how 'I was living in the segregated south in an oppressive situation. The oppression was not in my mind, it was not in my spirit, it was happening outside of me. My thoughts at what my life might be were not limited by my circumstances of what my life was.'
Anderson (1897-1993) made her Wigmore Hall debut in 1928, Bumbry (born 1937) in 1959 and Norman (1945-2019) in 1980. In her informative programme note (available if you click here) Anna Picard notes how 'While Anderson embraced repertoire as diverse as Bach and Sibelius, Bumbry balanced recitals of Schubert and Brahms with a remarkable double operatic career, and Norman sang music from Ravel to Richard Rodgers, promoting in her final years awareness of the career of Sissieretta Jones (1868-1933), the first Black singer to perform at Carnegie Hall, the spiritual remained a bedrock.' Picard had written how 'These melodies [spirituals] also connect us to the churches of Philadelphia, St Louis and Augusta, where the voices of Marian Anderson, Grace Bumbry and Jessye Norman were nurtured in their childhoods. As the grandchildren or great-grandchildren of slaves, or as children of the Great Migration to the industrial cities of the North, this music was their inheritance.'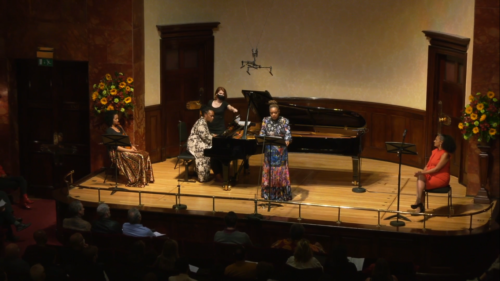 There was so much to treasure here from Wigmore Hall Associate Artist Gweneth Ann Rand (soprano), the sadly underused Sarah Daramy-Williams (violin) and Allyson Devenish (piano) in a programme basically criticproof because it was so thought-provoking and ultimately inspiring. The spirituals that bookended – what Picard described as – the European art songs which comprised most of Rand's programme had all the pain, sorrow, spirituality, resignation, faith and hope you would expect from Rand's voice that – through loudspeakers – seems to have all the ample richness and range these, and all the rest she sang, demanded. Rand had a wonderful quality to evoke the emotion of each song we heard, and this was underscored by Devenish's consummate piano accompaniment which was always supportive and, where appropriate, sensitive or impassioned.
Elsewhere highlights included Sibelius's famous 'Svarta rosor' and 'Var det en dröm?' to which Rand brought sadness and longing, and whilst Dvořák's 'Songs my mother taught me' suffered from over-familiarity, 'Give a hawk a fine cage' soared as it should with definite hints of czardas from the piano and with Rand's face lighting up for the first time. She also revealed herself as an excellent storyteller as she brought a fine sense of character to Poulenc's La dame de Monte Carlo (The lady from Monte Carlo) after a poem by Jean Cocteau which was the longest song she sang. As the fate of her gambler is sealed Rand's final 'Monte Carlo" was a true cri de coeur.
It was with a meditative 'September' that Rand sounded at ease with Strauss's long-breathed phrases and 'Beim Schlafengehen' ('Going to sleep') was suitably dreamy and contemplative aided by Daramy-Williams's plaintive violin. While Rand proved her versatility with the various languages she had sung in, Copland's 'Why do they shut me out of heaven?' and then Richard Rogers's 'My Favourite Things' – given a lieder-like arrangement by Devenish allowing for some quietly evocative playing from Daramy-Williams – showed how well she communicated by singing in English. There was virtuosic pianism from Devenish during Rand's passionate singing of Shirley Thompson's demanding 'Tapestry' which was followed by the soprano's deeply affecting rendition of Errollyn Wallen's 'My Feet May Take a Little While'. Clement Ishmael provided a new arrangement of 'By an' by' especially for this performance, the religiosity Rand brought to her words 'I'm goin' to lay down this heavy load' and more characterful playing from Devenish, earned them a standing ovation after Florence Price's 1937 arrangement of 'My Soul's Been Anchored in the Lord' (a Marian Anderson favourite) which concluded Rand's recital.
Jim Pritchard