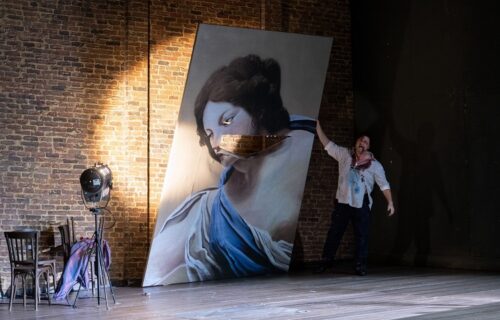 Switzerland Puccini, Tosca: Soloists, Chorus and Children's Choir of the Zurich Opera, Philharmonia Zurich / Paolo Carignani (conductor). Zurich Opera, Zurich, 17.10.2021. (JR)
Production:
Director – Robert Carsen
Scenic assistance – Sylvie Döring
Sets – Anthony Ward
Set assistant – Alexander Lowde
Lighting – Davy Cunningham
Chorus – Ernst Raffelsberger
Cast:
Tosca – Sonya Yoncheva
Cavaradossi – Joseph Calleja
Scarpia – Thomas Johannes Mayer
Angelotti – Stanislav Vorobyov
Sacristan – Valeriy Murga
Spoletta – Martin Zysset
Sciarrone – Ilya Altukhov
Shepherd – Leandra Nitzsche
Canadian opera director Robert Carsen first brought his production of Tosca to Zurich in 2009 when Jonas Kaufmann sang Cavaradossi and Emily Magee was in the title role. Thomas Hampson sang the role of Baron Scarpia. In 2016 Zurich opera revived the production, with Catherine Naglestad as Tosca and Marcelo Álvarez as Cavaradossi; my colleague Rick Perdian reviewed that production (click here). A revival a year later starred Anja Harteros (review click here). I refer you to those reviews for details of the unusual production.
Zurich Opera has wheeled out this production yet again, presumably to re-fill the coffers after the economic (and social) disaster of the coronavirus pandemic (Tosca usually ensures a full house) and I caught the last performance of the run. I have to say that, at the final curtain call, the singers all looked tired. It is certainly not the best production of this opera in the world, as – placing the action of all three acts on a look-a-like Covent Garden stage – there are inevitable incongruities, but it is neither traditional (another word for old-fashioned) nor achingly modernistic (incomprehensible or simply upsetting). My main reason for wanting to see it again was to hear a different set of top soloists perform this highly dramatic opera.
Joseph Calleja impressed with his first aria ('Recondita armonia'), right at the start of Act I. His tenor has a fine Italianate ring, there is plenty of power, and almost every top note was spot on. Sonya Yoncheva held back in the first act, reserving her power for her later arias. The soft start of 'Vissi d'arte' was sublime. When she unleashed her voice, her top notes chilled the blood; she is also a very fine coquettish actress and the audience laughed on several occasions, not something which happens in many a Tosca. When these two soloists were on stage, we realised how lucky we are in a relatively small city such as Zurich to be able to witness two stars who normally grace the Met and Covent Garden.
Thomas Johannes Mayer was a first-rate Scarpia, perhaps lacking on occasion some dark menace. Mayer is a seasoned Wagnerian and that explained his clear diction. His resonant baritone was always a delight.
In the minor roles, Stanislav Vorobyov was a strong Angelotti, Valeriy Murga a more than decent Sacristan. Martin Zysset was miscast as Spoletta and looked out of sorts, perhaps best suited to less evil roles. The shepherd (Leandra Nitzsche) was extremely well sung, out of sight as usual.
Lighting (courtesy of Davy Cunningham) greatly enhances this particular production. Shafts of light come in from all angles, protagonists hide in the shadows, whilst there is a row of very bright stage lights at the end, after Tosca leaps to her death – not into the River Tiber (which, in reality, one probably cannot quite reach from the top of the Castel Sant' Angelo) but into the pretend orchestra pit at the back of the real stage.
The Zurich Opera chorus sang their 'Te Deum' with rich volume – although one wondered why (in this production, with no sign of a church) they should do so in the stalls of an opera house. Paolo Carignani, for many years the chief conductor at Frankfurt, was wholly in command of the score and the orchestra, who played with vigour and precision. Tempi and dynamics were perfectly judged.
John Rhodes