Switzerland Verdi, Il trovatore: Soloists, Chorus of the Zurich Opera, Philharmonia Zurich / Gianandrea Noseda (conductor). Zurich Opera, Zurich 24.10.2021. (JR)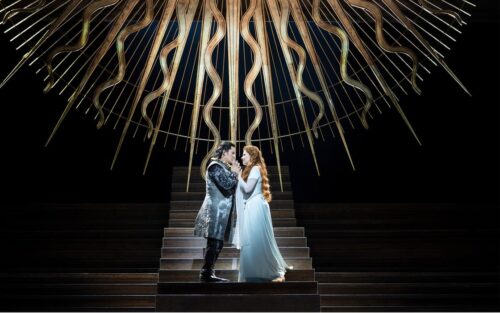 Production:
Producer – Adele Thomas
Costumes – Annemarie Woods
Lighting – Franck Evin
Choreography – Emma Woods
Fight choreograhpy – Jonathan Holby
Chorus master – Janko Kastelic
Dramaturgy – Beate Breidenbach
Cast:
Count Luna – Quinn Kelsey
Leonora – Marina Rebeka
Azucena – Agnieska Rehlis
Manrico – Piotr Beczała
Ferrando – Robert Pomakov
Ines – Bożena Bujnicka
Ruiz – Omer Kobiljak
Messenger – Andrei Skliarenko
Old gypsy – Jeremy Bowes
Dance ensemble – Manuel von Arx, Martin Durrmann, Steven Forster, Francesco Guglielmino, Tomasz Robak
Verdi's Il trovatore is both one of the most criticised and at the same time, for many, one of the most popular operas in the entire operatic repertoire. The plot is grizzly, convoluted and incredible, but the reason for the piece's enduring popularity is the composer's unbridled melodic inventiveness. Just a quick reminder of the plot: the gypsy Azucena once watched her mother, accused of being a witch, being burned at the stake. Vowing revenge, she kidnapped Manrico, the son of the head of the responsible Luna family, to see him (apparently) die in the fire as well. But what only Azucena knows is that the child she threw into the fire in blind despair was her actual son! Manrico, who then grew up with Azucena and who firmly believes he is her son, turns out in fact to be the brother of hated Count Luna. Luna and Manrico, the 'troubadour', not only fight against each other in a civil war, but they are also rivals for the same woman, Leonora. As so often in opera, all does not end well.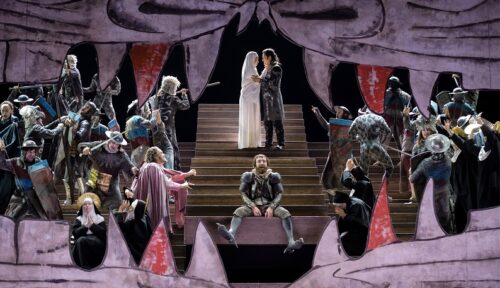 Debut number one: this was the first production in Zurich for young British director Adele Thomas, whose theatrical and fantastical imagery runs riot in this production, a co-production with Covent Garden. Most of Thomas's work to date has been in the theatre: she produced Oresteia at the Globe in 2015. Her opera breakthrough was in 2017 with Così fan tutte at Northern Ireland Opera in Belfast. Her production of Handel's Berenice at the Linbury in 2019 was nominated for a Laurence Olivier award for the best opera production. This was her first production on the stage of a major opera house. Thomas says in the programme that she feels that there are comic elements in every tragic story, so comedic elements were brought to the fore. She describes her productions as very physical, working closely with choreographer Emma Woods. She has placed the action in the fifteenth century, in a world full of grotesque fantasy, as in the paintings of Hieronymus Bosch. Magical, supernatural and superstitious forces are clearly at work. Movement is relentless, and noise on stage can detract from the music. The set was a simple flight of grey stairs, framed by the words 'Mi vendica' ('Avenge me').
Ferrando is the first to appear, looking appropriately sinister, with giant clawed rubberised feet. The Count's gormless army are a cross between the Roundheads, the Keystone Cops and Dad's Army. The rebel forces are oddly portrayed with badgers on their heads. Count Luna wears a regal tunic, but in childish pink with a large red heart on the front. There are five hobgoblins, who cavort noiselessly on stage for much of the time, bringing to mind Julia Donaldson's Gruffalo. The gypsies, in striped pyjamas, had either escaped from prison or a concentration camp.
Casting this opera, as Caruso once famously put it, was quite simple: you only needed the four best singers in the world. Zurich opera assembed perhaps not the best available, but certainly a fine quartet: Latvian soprano Marina Rebeka in her debut as Leonora, her lover Manrico no less a tenor than Piotr Beczała, his counterpart Count Luna Hawaian Quinn Kelsey and Polish mezzo Agnieszka Rehlis in the role of Azucena.
Marina Rebeka's radiant soprano was an aural delight throughout, and she is also a very affecting actress. Her lower and mid-registers were admirably mellow. She garnered the most applause, deservedly so. Debut number three: Piotr Beczała's, certainly one of the top tenors of the moment, took on the role for the first time; there were some vocal mishaps, but he should grow into the role, and the score. Agnieska Rehlis was a fine Azucena. Her terrifying high notes pierced the air; her duets with Beczała's Manrico were most moving. Quinn Kelsey (last seen in Zurich as Rigoletto) was most affecting in his piano passages, but always managed to look and sound ill at ease.
I was impressed by Canadian Robert Pomakov's Ferrando whose opening narration ('Di due figli') was robust. Bożena Bujnicka as Ines, however, lacked presence and volume. The chorus were on top form, and sang lustily, though the anvils in the anvil chorus were hardly audible (the bell in the 'Miserere' could be heard however).
Debut number four: This was Gianandrea Noseda's debut as General Music Director, following the era of Fabio Luisi. Noseda turned in a fine performance after some opening uncertainty. He certainly did not hold back, accentuating all the contrasts in the score, whilst maintaining high temperature throughout. Sadly, ensemble between orchestra and singers faltered on several occasions, but I expect this to improve in later performances. The orchestra certainly wanted to impress their new GMD – and they did so, with honours.
The production was met with a mix of applause, boos and bewilderment; it was clearly not to everyone's liking. I thought it was a very interesting debut, and – like it or not – we are undoubtedly going to see more of her work.
John Rhodes