United Kingdom Ballet Icons Gala 2021 Back on Stage – Celebration of Dance: Soloists, English National Ballet Philharmonic / Jonathan Lo (conductor). London Coliseum, 26.11.2021. (JPr)
This was basically a criticproof evening because we all gathered to celebrate – as the gala's Founder and Artistic Director Olga Balakleets wrote in the souvenir programme – 'the great stars of the ballet world' returning back on stage 'after many challenging months of pandemic faced by the whole world.' This has lasted 21 months already and currently the world seems on the cusp of shutting down once again, but Balakleets continued how it was 'a pleasure to witness these great masters of ballet performing on the same stage, under the aegis of the Ballet Icons Gala. After a string of cancelled performances and the dearth of live ballet.'
Held every year since 2006 – and formerly called the Russian Ballet Icons Gala – it continued the usual entertaining mix (in outline below) of very familiar classical pas de deux with more contemporary choreography. I wouldn't wish lockdowns on anybody again but for this 2021 gala it had certainly energised some of the dancers and brought back the 'wow' factor I had occasionally missed in previous years when the occasion can be too often haunted by shades of dancers past (and indeed present). Therefore, there was much majestic leaping and spinning from the men and the ballerinas excelled with their quicksilver steps, difficult balances and awe-inspiring fouettés in some nineteenth century masterpieces. Another highlight of those was the glittering costumes and atmospheric back projections at the rear of the stage, such as, huge chandeliers for Swan Lake and a stylised woodland glade of Giselle.
For all the live music there was excellence (eventually) from the English National Ballet Philharmonic conducted on this this occasion by Jonathan Lo. (As the evening went on they sounded better and better, and in my mind I wondered whether some of the musicians had turned up late because of transport issues in London caused by striking tube drivers.)
The eight neoclassical and contemporary works were mostly – as these modern choreographies frequently are – deeply romantic, confrontational or melancholic duets to recorded music. The movement was often very acrobatic, with lots of lifts, sweeping floorwork, entwined limbs and hyperextended or split legs mainly in pools of light on a darkened stage. With possibly one exception, nothing we saw outstayed its welcome and not in doubt was the very high standard of the dancing.
As dance writer and critic Graham Watts explained in his introduction in the programme, 'It seems appropriate to mark the return to the stage with a gala that celebrates many of ballet icons of the nineteenth century from the leading choreographers, such as Marius Petipa and Alexander Gorsky; and the great composers for ballet, led by Piotr Tchaikovsky, Adolphe Adam and Ludwig Minkus. But, ballet is not just about the past and today's programme also features extracts from memorable work of the twenty-first century such as Wayne McGregor's Chroma, Mauro Bigonzetti's Passo Continuo and Edward Clug's Radio and Juliet.'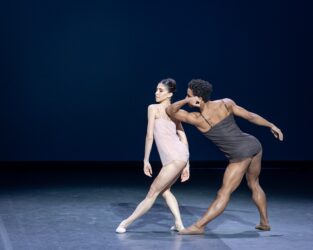 Particularly captivating was 'The Hardest Button to Button' from Chroma performed to music from Joby Talbot and American rock duo The White Stripes. The Royal Ballet's Yasmine Naghdi and Marcelino Sambé showed remarkable flexibility in the fluid and repetitive – in the best sense – contortions McGregor demanded of them. Sadly, Passo Continuo left me cold and went on too long; wearing black against black it was a little like floor gymnastics with too many poses (were they supposed to be fauns or praying mantises?) and pauses from Filipa de Castro and a bare-chested Carlos Pinillos. Radio and Juliet from English National Ballet's Katja Khaniukova and Aitor Arrieta also disappointed. We supposedly witness flashbacks of Juliet's memories after waking up from her coma but danced mostly in silhouette it was hard to engage with Clug's work.
Elsewhere among the newer works there was some stunning 'new flamenco' from Sergio Bernal's Overture, bare-chested and wearing flamboyant tights Bernal's feet were a blur and his virtuosity deserved the ovation he got. George Williamson's Mesh pas de deux was – for a new work – delightfully lyrical with several classical elements as Ksenia Ovsyanick and Denis Vieira gracefully wove together across the stage as the choreographer's representation of mesh as a material. Equally accessible was Kiril Radev's At Sunset described as 'an impossible love story between a noble lady and a soldier' which was subtlety and eloquently danced by Léonore Baulac and Julian MacKay. As was the more neo-classical Vivaldi Summer pas de deux for Liudmila Konovalova and Giuseppe Picone who was dancing his own steps. The regal Konovalova came on trailing a flimsy, yet elaborate train to Vivaldi's first movement of Summer and what we subsequently saw was, by turns, spirited or languorous and like bathing in early summer sun.
Last but not least I cannot forget another UK premiere (there were a number during the gala) Snow Storm, choreographed by Yuri Possokhov and based on a short story by Alexander Pushkin. Some atmospheric videography drew us into a Russian birch forest and the suggestion of a snowscape (think Eugene Onegin or Dr Zhivago) together provided the backdrop to a familiar tale of love triumphing against all the odds for a couple who emerge from the film we see. To Georgy Sviridov's hauntingly lush score Possokhov seems to be channelling Kenneth MacMillan's Winter Dreams (inspired by an Anton Chekhov play) in the angst, high drama and passionate intensity he gets from Lucia Lacarra and Matthew Golding (performing with a heightened expressiveness missing, I thought, when he was at the Royal Ballet).
Needing little introduction was the Black Swan pas de deux which opened the gala and Nicoletta Manni gave us the first of the sets of rock-solid fouettés and while she displayed the confidence of Odile's seductive power, Jakob Feyferlik's Siegfried paled by comparison though he partnered her adequately. In the Act II pas de deux from Giselle when the queen (unseen) commands Albrecht should be danced to death Léonore Baulac was the light, floating, ethereal spirit but Julian MacKay never really pushed himself to the limit. In the grand pas de deux from Paquita, Katja Khaniukova sparkled while fellow ENB dancer Francesco Gabriele Frola fizzed. He flew around the stage with considerable elan even if his dancing could have been just a little tidier. The Wedding pas de deux from Sleeping Beauty was given a faultless performance from two more ENB dancers, new Lead Principal Maria Kochetkova and Jeffrey Cirio. Kochetkova seemed to register every note of Tchaikovsky's music in the delicacy of her movement through her entire body from her feet to the tips of her fingers. She was perfectly matched by Cirio, another solid dancer with athletic jumps, though his contribution is mostly, of course, supportive especially during the notorious fish dives.
At the end of the first half the applause reached a crescendo after the Royal Ballet's premier pairing of Marianela Nuñez and Vadim Muntagirov danced the grand pas de deux from Don Quixote. The balletic fireworks, such as all the bravura steps, airy jumps and twisting leaps, held no fears for them. Muntagirov is currently unsurpassed in his technical prowess and partnering skills and his dancing definitely has that special 'wow' factor I am looking for. Nuñez always has a charismatic stage presence and danced with her usual instinctive musicality and, where appropriate, all the precision, speed and panache you expect from her.
At the very end of this gala it was – as in 2020 – the Le Corsaire pas de deux – memorable for making Rudolf Nureyev famous – which brought the jaw-dropping moments and explosive energy that was occasionally lacking elsewhere. The very smiley Maia Makhateli displayed an engaging vivacity throughout the pas de deux and – as before – from Daniil Simkin there were the gravity-defying leaps, tornado of turns and remarkable scissor kicks that made the audience audibly gasp and clap along.
All in all, it was another exceptional Ballet Icons Gala even it was – and I have made this comment before – a little couples-centric and some different combinations of dancers might have added some welcome variety to the proceedings.
Jim Pritchard
Swan Lake (Black Swan pas de deux)
Choreography – Marius Petipa
Nicoletta Manni and Jakob Feyferlik
Chroma, 'The Hardest Button to Button'
Choreography – Wayne McGregor
Yasmine Naghdi and Marcelino Sambé
Giselle
Choreography – Marius Petipa (after Jean Coralli and Jules Perrot)
Léonore Baulac and Julian MacKay
Passo Continuo
Choreography – Mauro Bigonzetti
Filipa de Castro and Carlos Pinillos
Overture (UK premiere)
Choreography – Sergio Bernal
Sergio Bernal
Snow Storm (UK premiere)
Choreography – Yuri Possokhov
Lucía Lacarra and Matthew Golding
Don Quixote
Choreography – Alexander Gorsky after Marius Petipa
Marianela Núñez and Vadim Muntagirov
Paquita
Choreography – Marius Petipa
Katja Khaniukova and Francesco Gabriele Frola
Mesh pas de deux
Choreography – George Williamson
Ksenia Ovsyanick and Denis Vieira
The Sleeping Beauty
Choreography – Marius Petipa
Maria Kochetkova and Jeffrey Cirio
At Sunset (UK premiere)
Choreography – Kirill Radev
Léonore Baulac and Julian MacKay
Vivaldi Summer pas de deux
Choreography – Giuseppe Picone
Liudmila Konovalova and Giuseppe Picone
Radio and Juliet
Choreography – Edward Clug
Katja Khaniukova and Aitor Arrieta
Le Corsaire
Choreography: Marius Petipa/Joseph Mazilier
Maia Makhateli and Daniil Simkin
For Ensemble Productions
Creative director – Rafael Porzycki
Set designer – Nina Kobiashvili
Lighting designer – Andrew Ellis
Video production – Nicholas MacKay