United Kingdom Birmingham Royal Ballet's Curated by Carlos: Dancers of Birmingham Royal Ballet, Royal Ballet Sinfonia / Philip Ellis and Paul Murphy (conductors). Streamed (directed by Ross MacGibbon) on Sadler's Wells Digital Stage from 11.11 to 18.11.2021. (JPr)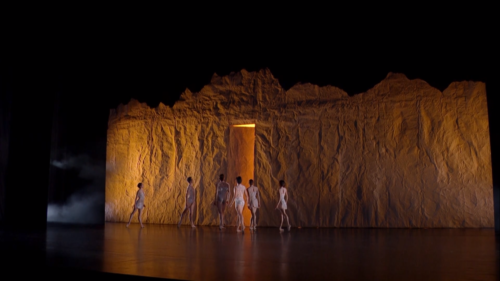 This triple bill (details below) from Birmingham Royal Ballet sees the company perform in their director Carlos Acosta's first programme of new commissions as it was recently seen at Sadler's Wells. It now launches the theatre's new Digital Stage and so can be rented for 48 hours until midday on Thursday 18 November. I suspect that BRB under Acosta will probably be remembered in the future for something more substantial than these intriguing, yet derivative and oddly repetitive, works. What is not in doubt is that Curated by Carlos represents a great start to their association and finds the dancers energised by being back onstage under his leadership after the worst of the pandemic.
Much is made of the participation in this programme of Acosta himself and Alessandra Ferri in a world premiere duet. Their ages are also much discussed, but I will not join in on this because age is just a number and they possibly regret retiring too early when they have so much artistry still to offer. However, they dance for only about seven minutes (if that), but it is a mesmerising seven minutes and this streaming does the rest of the company no favours by reordering the three works and showing them in Chacona at the very beginning (instead of at the end). The music we hear – which is splendidly played live by Jonathan Higgins (piano), Tom Ellis (guitar) and Robert Gibbs (violin) – is by Bach with Acosta and Ferri dancing to the Chorale Prelude No.3 now tacked onto Goyo Montero's original 2017 Chacona choreographed to the Chaconne from Partita No.2 in D minor.
The dancers are uniformly in black, and the lighting is as important as the movement we see. We appear to be watching an elaborate ballet class and certainly with Acosta and Ferri framed on three sides by the other 16 dancers there is an element of veneration to what we see (which they thoroughly deserve). Both Acosta and Ferri show sufficient technical accomplishment and a relaxed chemistry in their lyrical pas de deux that the audience must have – like me – been left wanting more. For the rest – amongst much bowing or prostrating themselves on the ground – the 16 dancers engage in synchronous movement in and out of geometric shapes of light on the stage floor (including hints of a chess board at one point), frequently pairing up before breaking away. Towards the end it seemed to me as if the dancers were representing in movement the rising and falling notes of Bach's music and it gets increasingly frantic before everyone lines up at the back before rushing to the front with right arms to the side.
I didn't read anything about Daniela Cardim's Imminent before I saw it and I must congratulate her on how well I understood what she has created. In the background is what I took to be the leading edge of a huge glacier. (Though it reminded most of the wall in Akram Khan's Giselle.) 16 dancers again – but this time in beige – still look as if they were taking a class though are clearly engaged in a ballet which reflects the global unease at the burgeoning climate crisis. (BRB did not entirely embrace current dance sensibilities throughout the triple bill since we saw mostly male-female partnering but here a trio of leaping men were joined by two more before immediately pairing up with women again.) This was another exercise in synchronicity before flames seems to flicker at the back. Paul Englishby's score (with the Royal Ballet Sinfonia under Philip Ellis making a good account of themselves) begins almost in pastoral mood and becomes edgier building to sounding Stravinsky-lite and more threatening as the dancers look as if they are channelling his The Rite of Spring. (It is the sort of music that you would expect in a Sir David Attenborough TV programme on this subject.) During Imminent a crack in the wall of 'ice' appears revealing a golden glow: does this suggest there is still some hope for the future that some – as here – are willing to grasp (by passing through this door) whilst leaving others behind. In another basically ensemble work Eilis Small stood out as eloquently embodying the choices that must be made.
The BRB commissioned City of a Thousand Trades to celebrate the 30th anniversary of its move to Birmingham. It is choreographed by former Rambert dancer Miguel Altunaga and City of a Thousand Trades is a well-meaning love letter to Birmingham and its industrial heritage, as well as the diverse cultures it has attracted from the eighteenth century until now who have laboured hard to make it the UK's second city. Only 12 streetwear clad dancers this time who spend time moving five oversized Lego-inspired blocks and manipulating some scaffolding poles. Several times it looked as if it was about to descend into Stomp territory, but it doesn't despite all the syncopation we see. 'I stand in the place they call the City of a Thousand Trades, the place I call home' are some of the words from poet Casey Bailey we hear blended with recorded reflections and memories (from disembodied voices) of the city's multicultural past and present. Together this is often hauntingly atmospheric as is Mathias Coppens's score which highlights the strings of the Royal Ballet Sinfonia (this time conducted by Paul Murphy) enhanced by two valiant percussionists – Kevin Earley and Grahame King – and their myriad instruments atop some elaborate scaffolding behind what are seeing.
The five original blocks are later joined by three significantly larger ones and they are rarely still – often spinning about – perhaps suggestive of how remarkable the reconstruction (rebirth?) of Birmingham will be when it is finally finished. Throughout there is a sense of restlessness and at times the dancers obviously show in their movement the pain of displaced people suffering the rejection of those they must now live amongst. After some elegiac music has resulted in ennui setting in, the dancing is driven on near the end by some insistent drumming and rock guitar and gains momentum to remind me of the ecstasy of The Rite of Spring once again. There is smiling, cheering and embracing as Coppens's soundworld fades away to end City of a Thousand Trades. The BRB impressed with their energy, drive and commitment here just as in the other two works and it seems wrong again to single anybody out, though the expressive Tyrone Singleton and guest artist Hannah Rudd caught the eye with their emotive duet.
Jim Pritchard
Chacona
Music – J.S. Bach
Choreography – Goyo Montero
Costume designs – Verena Hemmerlein, Goyo Montero
Original lighting – Nicolás Fischtel, Goyo Montero
Additional lighting – Peter Teigen
Dancers of Birmingham Royal Ballet
Imminent
Music – Paul Englishby
Choreography – Daniela Cardim
Designs – April Dalton
Lighting – Peter Teigen
Dramaturg – Lou Cope
Dancers of Birmingham Royal Ballet
City of a Thousand Trades
Music – Mathias Coppens
Choreography and Co-director – Miguel Altunaga
Dramaturg and Co-director – Madeleine Kludje
Designs – Giulia Scrimieri
Lighting – Michael Lee-Woolley
Poet and Voiceover – Casey Bailey
Dancers of Birmingham Royal Ballet