Switzerland Anders Hillborg, Purcell, Händel, Britten: Christina Landshamer (soprano), Werner Güra (tenor), Zürcher Sing-Akademie, Orchestra La Scintilla / Florian Helgath (conductor). Kirche St Jacob, Zurich, 21.11.2021. (GA)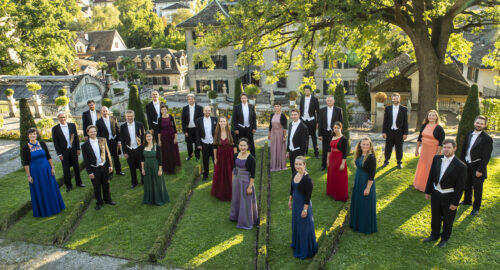 Anders Hillborg – Mouyayoum
Purcell – Hail! Bright Cecilia Z 328, Overture
Händel – Ode to St Cecilia's Day HWV 76
Britten – Hymn to St Cecilia Op.27
As venue for a concert honouring St Cecilia, few could rival St Jacob's Church on Zurich's busy Stauffacher Platz. Concertgoers entering the hugely massive structure found themselves in a surprisingly intimate, architecturally legible space: a barrel-vault nave terminating in a semi-domed apse, blue as heaven, dominated utterly by a voluminous organ – the instrument so emblematic of St Cecilia. (Why? It's complicated: Google it!) This afternoon, though, that organ would be of little use to Orchestra La Scintilla: their 415-Hz concert pitch dictated the use of the small portative organ they brought along for the job.
The works on the programme spanned just over three hundred years. How to present them? Chronologically? Bookended by the two stock baroquers, with the more 'adventuresome' works in the middle? In the event, things got under way conventionally enough, with the Purcell: Orchestra La Scintilla effectively showcased its period-correct sound; but as the final trumpet flourishes and tympani rolls died away, conductor Florian Helgath held his pose, did not turn to the audience. Hesitant applause sprang up and quickly faded, as a few latecomers were shown to their seats.
But no! These were no latecomers, but the Sing-Akademie filing solemnly in and proceeding to the risers. And … they were already singing! Or … whatever: there wasn't a lot to be heard; more an echo, more a suspicion of sound. The realization gradually dawned: we were already enveloped in Mouyayoum, the Hillborg, the first minute of which does not venture beyond the most subliminal pianissimo. The audience thus found themselves victims of a cunningly laid sneak attacca, their time now out of joint by three centuries as the youngest piece on the programme gradually swelled towards the audible.
This first vocal excursion embodied the raw atoms of Cecilian inspiration in perhaps their purest form: ur-tones before any particular tonal character emerged: was that a truly a voice … not a violin?  Mostly vowels, not syllables; if syllables, then not words; if tones, then not melody or counterpoint – and forget sonata form! German musicians sometimes speak of a Klangteppich, or 'tapestry of sound'; this was a sound veil, delicate, diaphanous and shimmering. Yet on his podium, Helgath was strangely busy, his right hand beating out a pedantic four-four. Obvious, though, when you thought about it: weaving such sheer fabric – scored in 16 parts, no less! – absolutely required that the shuttle cross the loom with strict regularity.
Then again …
Attacca!
Händel! The audience was inundated in full baroque glory. The Ode to St Cecilia's Day now demonstrated what could happen when the venerable saint lent a hand to some poor, floundering composer. Aria succeeded chorus, succeeded recitative, succeeded overture. Structure! Order! Harmony! All set to John Dryden's rather high-flown prose. ('What passion cannot music raise and quell?') Soprano succeeded chorus, succeeded tenor, succeeded orchestra. Werner Güra, who tailored his delivery to St Jacob's intimate acoustic environment, came through with some finely expressive techniques that would have been lost in a larger hall. Christina Landshamer, evocative in portraying the 'complaining flute' and the 'warbling lute', was equally impressive in calling up the power of the 'sacred organ'. Nor should it be omitted that the flauto traverso of Rute Daniela Pereira Fernandes accompanied Landshamer on the aria 'Soft Complaining Flute' in a tone anything but plaintive. We hear this wonderful instrument much too seldom!
So there we were: Händel rollicking along towards the final movements, when …
Attacca!
Britten! His fluid melodies did not occasion the temporal whiplash of a Mouyayoum, of course; but Britten's tripping, cloying melodies and the internal rhymes of poet W H Auden – not to mention the staccato second section – clearly indicate that St Cecilia had updated her business model by the time she got to Britten! But whose melodies are echoing through my head still today? Purcell's? Händel's? Britten's!
The Britten was a cappella, making this an excellent time to say a few words about the Zürcher Sing-Akademie. They are young. Thoroughly professional. A bit hungry. They like to sing, and it shows.
So after the Britten, you already know what happened, right? Yep, attacca. Orchestra and choir finished out the Händel – and the concert – in full baroque mode. It was grandiose.
Thus did the concert end, without break or interruption, even for applause, one hour and 15 minutes after it began. And weren't the breaks, the dislocations somewhat contrived? Weren't they just a spleen of the conductor, a gimmick? Such brash intervention would have been extremely irritating if done for no reason: if it were not grounded in a firm – and reasonable – intention.
Am I irritated? Not in the least! Ricercar!
Griff Anderson