United States Various: Erik Rynearson (viola), Jennifer Ohlson, Katherine Marsh (flutes), Santa Barbara Symphony Orchestra / Nicholas McGegan (conductor). Granada Theatre, Santa Barbara, California, 14.11.2021. (LV)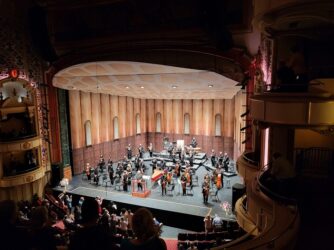 Rameau – Dances from Naïs
Telemann – Viola Concerto in G major TWV 51:G9
Bach – Brandenburg Concerto No.4 BWV 1049
Handel – Music for the Royal Fireworks HWV 351
Above and beyond the sheer entertainment value of hearing Rameau, Telemann, Bach, Handel and Irving Berlin together on one program, this Santa Barbara Symphony concert, led by Nicholas McGegan and featuring principal violist Erik Rynearson, was a lesson in how effective modern instruments can be in Baroque music when players are encouraged to let their hair down and trust the conductor to make the stylistic decisions. The dynamic dialogues between the divided violins, the marvelous colors from the woodwinds, the outstanding playing overall – it was almost as good with modern instruments as it would have been with the originals.
The Berlin and Telemann items actually happened to coincide. The Telemann was the big Viola Concerto in G major, played on a recent acquisition, a stunning viola made in Copenhagen in 1845 by Carl Mettus Weis, an amateur maker who studied law and became head of the Danish ministry of culture and church. Shorn temporarily of his signature mustache due to masking, Rynearson (also principal viola for the Los Angeles Chamber Orchestra) warmly embraced the music and the audience with his huge sound. He delighted in the ardor of the slow movements and the rustic virtuosity of the fast movements. In his phantasmagoric cadenzas, he found echoes in Telemann of Berlin's song for the Fred Astaire/Ginger Rogers classic, 'Dancing Cheek to Cheek'.
More than ever, Nicholas McGegan seemed to have come straight off the pages of The Pickwick Papers, telling stories with his piquant sense of British humor to an adoring audience. He shared with particular relish the fact that both Rameau's opera Naïs and Handel's Royal Fireworks were written for the opposing sides in the War of the Austrian Succession (aka King George's War), each to celebrate the 1748 Treaty of Aix-la-Chapelle ending the war.
It was a decadent pleasure to hear Bach's Brandenburg Concerto No.4 with flutes instead of recorders; at McGegan's relaxed speeds, with the whole range of a modern flute's color and nuance at their disposal, the players individualized their similar roles musically while dancing seductively as flautists do when they are liberated from behind their music stands. The Symphony's concertmaster, Jessica Guideri, had her rambunctious way with the iconic double-stopped chords in the first movement and nailed the dizzying runs in the third.
From the Overture to the Tambourin, the Rameau dances were wonderfully charming, introduced by what McGegan called 'the Reader's Digest guide' to Naïs. The Handel, although it had nothing like the 36 oboes and 12 bassoons Handel intended, brought the house down nonetheless, led by McGegan with a great sense of pomp and energy, and featuring the Symphony's principal trumpet playing with astounding flair and spontaneous virtuosity.
And all the way home on the drive down the coast to LA, I kept singing, 'Heaven, I'm in heaven, and my heart beats so that I can hardly speak…'.
Laurence Vittes