United Kingdom Haydn, Bartók: Ildikó Komlósi (soprano), John Relyea (bass), London Philharmonic Orchestra / Edward Gardner (conductor). Royal Festival Hall, London, 6.11.2021. (MB)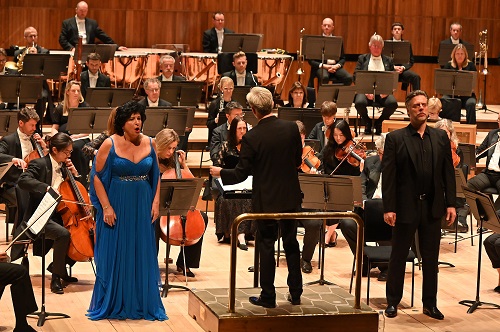 Haydn – Symphony No.90 in C major Hob.I:90
Bartók – Bluebeard's Castle
Intelligent programming, this, the C major of Haydn's Ninetieth Symphony prefiguring one of the most jaw-dropping moments in all opera, indeed in all music: Bluebeard's revelation of his kingdom in all its glory as the Fifth Door of his castle is flung open. There is ultimately greater difference, of course, than similarity between Haydn's exploration of his Classical tonal universe and his tricks with our ears and expectations, and Bartók's grandiose use of a C major chord as luminous, associative tonal centre; yet that in itself could be understood and, more important, perceived to be the point.
A broadly germinal introduction to Haydn's first movement proclaimed just such a voyage of exploration. Under Edward Gardner, the London Philharmonic Orchestra sounded lively and variegated, if also a touch hard-driven. For better or worse, such is the way of much Haydn performance today, perhaps an excessive if understandable reaction to clichés of geniality. More important was the strong sense of motivic development, not only in the 'development' section itself, but also in a recapitulation sounding on the cusp of Beethovenian second development. In that context, I could live with certain 'period' affectations, which did little harm, save for sometimes obscuring, more so later in the symphony, a longer term sense of line.
The second movement flowed as one would expect in such a reading, its stern contrasts traced not without yielding. Again, Haydn's score was finely articulated and variegated, albeit sometimes at that expense of traditional line, though with a welcome mystery to the course it would take (again prefiguring Bartók?) Solo lines, for instance flute (Juliette Bausor) and cello (Kristina Blaumane) were without exception very well taken. Gardner presented the minuet nicely on the cusp of one- and three-to-a-bar, its symphonic nature and individuality relished and communicated. A dainty reading of the trio, led by Ian Hardwick's fine solo oboe, was given to a smaller ensemble, the return of full orchestra for the minuet's reprise grandly moving. The finale blazed like fireworks outside (this was the Fifth of November). Arguably, it too was a little hard-driven, though Gardner's tempo had a sense of rightness, and the general yet particular character of a Haydn finale was undeniably present. The false ending caught out many — understandably.
Following the interval, music emerged — not as in the Haydn's introduction, yet in a way that could perhaps be associated with it — from words, from bardic verse, in the guise of the recorded spoken Prologue to Bluebeard's Castle. The orchestra spoke, it seemed, doubtless in part testament to Gardner's operatic experience, especially with orchestral recitative. Song, ineffably Bartókian rhythm, equally ineffable post-impressionist harmonies, and of course Bluebeard and Judit took centre (aural) stage. There was a sense of awe, of wonder, and of foreboding to our first encounter with the castle — listed by Bartók as a 'character' — that never left us. Ildikó Komlósi's request for the keys because she loved Bluebeard chilled, as shifting orchestral colours reoriented and disoriented us as equally helpless spectators to Fate's progress (and regress). 'Because I love you': terror spoke, above all through the orchestra. All the while, John Relyea as Bluebeard remained implacable, until he too bowed, with a hint of brokenness, to what seemed to be — but is it? — the inevitable.
Treasures glistened, eliciting audience wonder; likewise at timbre and tonality when, at the Fourth Door, the sun finally shone in, Bluebeard's garden revealed. There was blood on the flowers' petals, though, and we felt it. The opening of the Fifth Door would, in a half-decent performance, send shivers down the spine at any time, yet now, after all this waiting, it truly felt as though the symphony orchestra, here underpinned by organ (Richard Gowers) had returned in all its glory. Relyea was magnificently ecstatic, beholding and introducing his kingdom. Judit, however, knew already that the game was up. The sheer horror we heard in the orchestra as the Seventh Door was opened, Bluebeard's former wives present, Judit now bound to join them, was only furthered by the tenderness that followed. There was something beautifully elegiac, not entirely un-Straussian, to Bluebeard's introductions here: not quite regretful, for he was certain, but resigned. The final, wordless climax told us night would now last forever.
Mark Berry