United Kingdom Shakespeare, The Comedy of Errors: Royal Shakespeare Company. Barbican Theatre, London, 23.11.2021. (CS)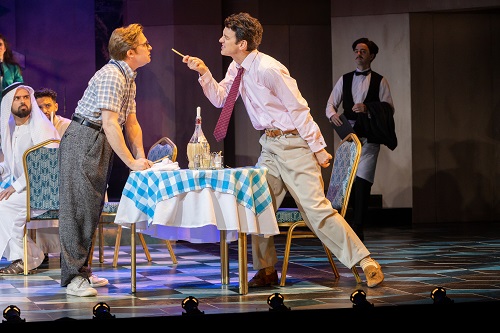 Creative team:
Director – Phillip Breen
Design – Max Jones
Lighting – Tina McHugh
Music – Paddy Cunneen
Sound – Dyfan Jones
Movement – Charlotte Broom
Fight director – Renny Krupinski
Cast:
Egeon – Antony Bunsee
Antipholus of Syracuse – Guy Lewis
Dromio of Syracuse – Jonathan Broadbent
Antiphonus of Ephesus – Rowan Polonski
Dromio of Ephesus – Greg Haiste
Adriana – Naomi Sheldon
Luciana – Avita Jay
Luce, Adriana's maid – Sarah Seggari
Aemilia – Zoe Lambert
Solinus, Duke of Ephesus – Nicholas Prasad
First Merchant – Riad Richie
Second Merchant – William Grint
Bodyguard – Dyfrig Morris
Angelo, a goldsmith – Baker Mukasa
Balthasar, a merchant – Patrick Osborne
Courtesan – Toyin Ayedun-Alase
Doctor Pinch – Alfred Clay
Officer – Riaf Richie
Who would have guessed that Shakespeare's The Comedy of Errors was the play for our times?  For, after all, there's a tragi-comedy of errors currently playing out in the corridors of Westminster and the Conservative Party's U-turns and car-crashes are turning the business of government into farce.  When a cabinet minister says one thing one day and the opposite the next, we might well believe that there are in fact two said ministers who – like identical twins Antipholus of Ephesus and Antiphonus of Syracuse, and their identical twin servants, both named Dromio – just happen, unwittingly, to have washed up in the same town.  Then, we have Brexit, Track and Trace, the social care plan, the Paterson sleazefest … government brainwaves and 'rescue plans' that end up making things not better but worse – much like the decision by Egeon and his wife Aemilia to ride out a looming storm by dividing the family into two groups tied to opposite ends of a ship's mast, only for the storm never to materialise, the mast to snap in two, and the household to drift asunder.
Moreover, some of the play's motifs – trade disputes, border conflicts, refugeeism – are, sadly, in tune with our time.  When Egeon, fulfilling a promise to one son to seek out the latter's lost brother, inadvertently ends his five-year quest by turning up in Ephesus, from which Syracusians are banned, and finds himself arrested, his goods confiscated, and a ransom levied on pain of death at day-end, Shakespeare's outrageousness feels all too plausible.  Max Jones' amphitheatre-like set – a cultural melting-pot, stylistically fusing the Middle East and the Med – subtly pushes the point home.  Moreover, in wringing every drop of comic preposterousness from the play – and adding some extra-script daftness for good measure – director Phillip Breen doesn't neglect to cast a slanting glance sideways, with visual gags involving masks, exploding hand sanitisers, and such-like.
But, Breen doesn't place the action in the here and now.  Rather, he and designer Max Jones take us back to the 1980s – a bold decade of bright colours and big hair, power dressing and ostentatious consumption.  Antiphonus of Ephesus's wife, Adriana, sports bulldozer shoulder-pads that would put Alexis Carrington to shame; his courtesan, played by Toyin Aydenun-Alase, is favoured with a scarlet outfit and sculptured buzzed coif that Grace Jones would die for.  Breen also pays artful homage to the comic masters of the era, with allusions to, among others, a bumbling Mr Bean and a bungling Hugh Grant, John Cleese in Manuel-mode and Rik Mayall in meltdown.
This production was first seen earlier this summer in Stratford, in the newly designed Lydia and Manfred Gorvey Garden Theatre, named after its billionaire benefactors, and its outdoor origins are apparent.  The ceaseless doppelgänger antics are a manic headlong tumble to and fro.  The visual and physical gags are relentless.  The lines, perhaps as a consequence, are often rushed, and shouted, with little sense of the poetic rhythm and accent.  Breen strews the stage with extras, including a vocal quintet (Helena Raeburn, Alex Saunders, Dunja Botic, Dale Harris and David Jones) and beat-boxer (Riad Richie) whose culture-fusing harmonies and thumping cadences thread (or, rather, blast) through the scenes and cover the changes.  There's a nod toward meta-theatre (reality vs. appearances, I guess?) with the stage furnished with the apparatus of 'theatre' – ladders, chairs, microphones – the latter a strict two metres apart, of course.
A lot of the boisterous stage business seems bolted on.  That said, the slapstick is slick, the repartee rib-tickling and the set-pieces steal the show.  A Fawlty Towers riff in a restaurant, prompted by Dromio of Syracuse's passing reference to the "plain bald pate of father Time", involves a waiter's wrangle with a wig that is as priceless as it is pointless.  The misogyny and xenophobia which spices the same Dromio's verbose and vinegary description of fat 'Nell', the kitchen wench bent on wedding and bedding the put-upon servant, is sweetened by its presentation as a stand-up sketch.  Adriana and her sister Luciana take to their yoga mats to bewail Antiphonus of Ephesus's perfidious and predatory misdemeanours, their painful bodily contortions a grotesque but hilarious mirror of their emotional afflictions.  And, Dromio of Syracuse's confrontation with the Second Merchant (a wickedly iniquitous William Grint) involves a teeth-grinding tussle with a John Lewis knife-set that brought the house down.
The experienced cast relish the fun and games.  Rowan Polonski and Guy Lewis, as Antipholuses of Ephesus and Syracuse respectively, both convince as indistinguishable siblings and convey the brothers' unique bewilderments – the frustration that builds to psychological fragmentation of the twin on home turf; the bemusement and loneliness of the interloper.  Jonathan Broadbent and Greg Haiste are just as persuasive as the doubled-up Dromios.  Broadbent, especially, plays the audience to a tee, and when his attempt to evade the voracious Nell's pursuit ends with an off-stage dive into a watery safe-haven, the return of the bedraggled weed-strewn Dromio pulls a heart-string.
The pregnancy of the cast's original Adrianna, Heddyd Dylan, shaped – in all senses of the word – the characterisation of Antiphonus of Ephesus' wallet-hungry wife.  Dylan has now been replaced by Naomi Sheldon and her Adriana, fuelled by incandescent indignation, is a formidable force to be reckoned with, though Sheldon and Avita Jay, as her sister, Luciana, are a bit short-changed by this production which emphasises the women's loudness and levity and makes their moral righteousness shrewish rather than sympathetic.  The ensemble players are colourful and charismatic. Baker Mukasa as Angelo the Goldsmith, Alfred Clay as Doctor Pinch the schoolmaster cum exorcist, and Zoe Lambert as Egeon's wife – here a no-nonsense Northerner – all give compelling performances.
If the hyperbolic hyperactivity becomes a bit wearing, Breen does inject a shadow or two at the close.  The final image, as the two Dromios – sibling servants sold into slavery at birth, then beaten and bashed by the brothers who own them – tentatively embrace, reminds us of the loss of identity that may follow the loss of home and family.  But, the final song raucously pushes pathos aside.  And, that is itself a slight pity, for there is profundity in The Comedy Errors, not in spite of the farce but because of it.
Ruth Nevo, in Comic Transformations in Shakespeare, has suggested that, 'If it were not so funny, The Comedy of Errors would read like a schizophrenic nightmare: identities are lost, split, engulfed, hallucinated, imploded.  Apparently solid citizens (solid at least to themselves) suffer 'ontological uncertainty' in acute forms, wandering about unrecognized by all they encounter'.  Indeed.  "Am I in earth, in heaven, or in hell?/ Sleeping or waking? Mad or well-advised?/ Known unto these, and to myself disguised!" wonders the bemused Antiphonus of Syracuse.  "Do you know me, sir?  Am I Dromio?  Am I your man?  Am I myself?" questions his fretful servant.  There's something Kafka-esque about the repetitious twists and turns of a plot that goes nowhere but takes the protagonists ever further from certainty about their true selves: "I am transformèd master, am I not? … both in my mind and in my shape", a crazed Dromio pleads.
But, if this production of a play of brothers 'lost' – first to each other and then to themselves – itself loses something of the play's profundity, then that's probably what the punters wanted earlier this summer as the normality lost during lockdown was slowly regained.  And, it's probably what we need right now when the farce of a Clown who might have modelled his broken shopping-trolley school of government on the play's illogical implausibilities is becoming the normality of nightmare.  No wonder the Barbican audience applauded so warmly when the farce of error was resolved by comic restoration.
Claire Seymour