United States Puccini, Turandot: Soloists, Metropolitan Opera Orchestra and Chorus / Marco Armiliato (conductor). Metropolitan Opera, New York, 29.10.2021. (RP)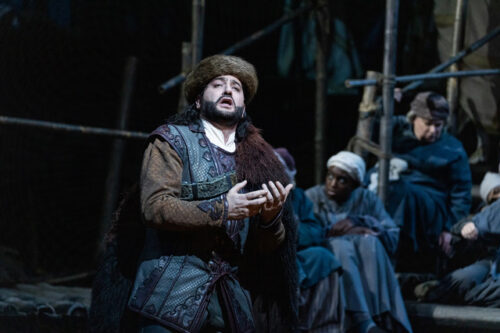 Production:
Production & Sets – Franco Zeffirelli
Costumes – Anna Anni and Dada Saligeri
Lighting – Gil Wechsler
Choreographer – Chiang Ching
Revival stage director – J. Knighten Smit
Cast:
Turandot – Christine Goerke
Calaf – Yusif Eyvazov
Liù – Michelle Bradley
Timur – Alexander Tsymbalyuk
Ping – Alexey Lavrov
Pang – Tony Stevenson
Pong – Eric Ferring
Emperor Altoum – Carlo Bosi
Franco Zeffirelli's opulent production of Puccini's Turandot has lured audiences to the Metropolitan Opera since its premiere in 1987. Judging from the people sitting in the Family Circle where I was perched (my choice as anyone familiar with the Met will understand), the Met's production also seems to be a fine choice for date night. And as for mask and mobile device etiquette, those young people could serve as an example to all.
It has been at least 15 years since I last saw Turandot at the Met, and I am happy to report that it has lost none of its dazzle and excitement. The precincts outside of the Imperial Palace are just as dark and forbidding; the severed heads of princes who failed to answer Turandot's riddles, impaled on pikes to ward off other men seeking to win her, are just as gory. Ping, Pang and Pong cavort and dream of their country homes in their relatively restrained private apartments.
The Imperial Throne Room is a blaze of gold where every utterance or change of mood is telegraphed through fluttering banners, snapping fans or gold flakes falling from above. For all the spectacle, however, Zeffirelli always maintains focus on the main characters by placing them on large discs at varying levels. He also keeps the chorus massed at the foot of the stage where nothing impedes their impressive waves of sound.
Christine Goerke has been the Met's reigning dramatic soprano for some years now. This was my first time hearing her live since 1997 at New York City Opera in the title role of Iphigénie en Tauride. Goerke has the top notes and power to sing Puccini's demanding phrases with authority, but a heavy vibrato marred 'In questa reggia', which (at least for this critic) is an impediment to enjoyment. She was at her best in Act III where she effectively depicted Turandot's evolution from ice princess to a woman in love through her detailed characterization and steadier singing.
Yusif Eyvazov's voice has darkened in recent years, but he is a compelling Calaf. Tall and dashing, he has a tenor that carries easily to the far reaches of the auditorium. The ovation which followed 'Nessun dorma' was long and hearty, and it wasn't just because it's one of the most popular songs in the world, and has been ever since Luciano Pavarotti sang it at the World Cup in 1990.
With her second performance in the role of Liù at the Met, Michelle Bradley continues to win over the audience's hearts. Bradley is a forthright, compelling Liù, who is willing to sacrifice her life for the prince who once smiled at her. 'Tu che di gel sei cinta', the aria in which she tells Turandot that she too will know the joys of love, was beautifully sung – an exquisite combination of voice and emotion. She received the heartiest applause of the evening for her exceptional characterization of one of Puccini's most endearing creations.
The roles of Timur and the Emperor Altoum were cast with vibrant, youthful voices, which isn't always the case at the Met. Hugues Cuénod holds the record as the oldest person to make a debut at the Met when he appeared as the Emperor Altoum on 12 March 1987 at the age of 84. As Timur, bass Alexander Tsymbalyuk again displayed his rock-solid voice and commanding stage presence. One expects there are bigger roles at the Met in his future. Tenor Carlo Bosi also injected his role as the Emperor with vigor and authority.
Alexey Lavrov (Ping), Tony Stevenson (Pang) and Eric Ferring (Pong) bound the action together through their fine singing and light-as-air movements. There may be nothing Chinese about these three characters straight out of Italian commedia dell'arte, but they do provide comic relief and even a human element to the high drama.
Marco Armiliato made his house debut in 1987 conducting La bohème, and he has become indispensable in the Met's Italian wing. His command of the score of Turandot is complete. Bradley's success in 'Tu che di gel sei cinta' was in no small part due to the care he lavished on it. The music is in the bones of the Met chorus and orchestra, and they did themselves proud. This was the fabled sound of yore that put them on the world's musical map.
Turandot will return to the Met in the spring with Anna Netrebko making her first Met appearances in the title role. Pulses are already racing.
Rick Perdian