Switzerland Schubert (arr. Matesic), Winterreise: Matthias Goerne (baritone), Zürcher Kammerorchester / Massimiliano Matesic (conductor). Tonhalle Zurich, 16.11.2021. (JR)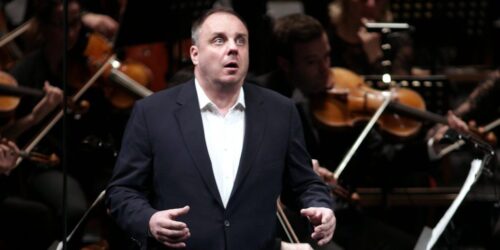 There is no snow on the ground in Zurich yet, but the mountains in the distance, across the lake, are already white and it is dark and chilly by five o'clock – winter is around the corner. Ideal weather for a Winterreise.
Schubert composed Winterreise a year before his very premature death. His text was a set of 24 poems by Wilhelm Müller, who also died young in the same year of Schubert's composition. It is a matter of conjecture whether these despondent songs were a premonition of death. Any performance of Winterreise should be, as Ian Bostridge has put it, 'a great feast of the musical calendar: an austere one, but one almost guaranteed to touch…the heart'. There are only a very few singers around today whom I would wish to hear in this great work, and Matthias Goerne, a leading interpreter of Schubert Lieder, is one of those singers; he is without doubt one of the outstanding baritones of his day. There's a live Decca recording of Goerne singing the cycle (with Alfred Brendel) and also a Harmonia Mundi disc with Christoph Eschenbach. Other notable recordings have been made by Hans Hotter, Dietrich Fischer-Dieskau (of course), Peter Pears (with Britten at the piano), Kurt Moll (bass), Jon Vickers, Christa Ludwig, Olaf Bär, Peter Schreier (I heard him in Birmingham, unforgettable), Ian Bostridge (I heard him in Winterthur, in an orchestral version by Hans Zender), Thomas Quasthoff, Brigitte Fassbaender, Thomas Hampson, Mark Padmore and Christian Gerhaher. Should it be sung by a tenor? I think so. The work's haunting quality comes off best if sung in the upper registers. Although originally written for tenor voice, it is occasionally transposed to other vocal ranges, a precedent set by Schubert himself. Is it best if sung by a native German-speaker? Possibly. (Ian Bostridge – with his clipped diction – is a prime exception disproving the rule).
There were a number of problems with this performance. First, the venue. It is understandable that the Zurich Chamber Orchestra wanted to lure their audience back after the pandemic into the newly renovated Tonhalle, but the venue does not suit the work well. Schubert songs, even with orchestra, belong in a hall half its size. Goerne very occasionally had to struggle to be heard above the orchestra and had difficulty getting his diction clear: musical friends at the rear of the hall complained they could not hear one word and wondered whether Goerne was a German! Perhaps the words are not as clear when sung in lower registers? It did not help that the orchestra's management chose not to print the text of the songs in the short-form programme. The orchestra's management pointed out before the concert began that hearing an orchestrated version of Winterreise was not pretending to be an alternative to the standard accompaniment by a piano, but did offer another perspective. It is a brave act to tamper with Schubert's original. The conductor Massimiliano Matesic conducted the orchestra in his own gentle and pleasing orchestration which replaced the solo piano, Mahler frequently came to mind. The orchestration itself certainly did no damage; it does not attempt to steal the show. The introductions to some of the gentler songs were most affecting, such as in the charming 'Der Lindenbaum' ('The lime tree'), which Goerne did end most tenderly. 'Frühlingstraum' ('Spring dream') mentions cocks crowing and ravens croaking, an invitation to any orchestrator to have some fun.
Matesic is Italian and has lived in Switzerland since 2002; he is a teacher of orchestral conducting and was for some years Chief Conductor of the Villingen-Schwenningen Symphony Orchestra. Matesic has also composed chamber music works, orchestral works and for the stage. Matesic's orchestra consisted of three desks of first violins, two second violas, two violas, two cellos and a couple of double basses. Add woodwind, two trumpets, trombone, horns, a range of percussion and celesta and they were capable of making quite some noise. I only know of one other orchestral version, by Hans Zender; that was a smaller orchestra, with accordion and guitar, and a much more modern composition. Matesic did not employ a proper post-horn in 'Die Post', but used a trumpet (a fine contribution). The viola stood out in the introduction to a most haunting song, 'Der greise Kopf' ('The old man's head') in which the young wanderer realises he is going grey. The glockenspiel is used to charming effect at the close of 'Täuschung' ('Deception') and the strings play tenderly at the opening of 'Das Wirtshaus' ('The tavern'), which Goerne sang forcefully.
Another problem at concerts now generally is the mobile phone. Almost everyone (barring some octogenarians) has one and has to bring it to show their COVID certificate. Inevitably one or two ring during the performance (here it was thankfully between songs). Sadly, two concertgoers chose to try film the performance, one even stood – Goerne pointed his finger vehemently at the offender whilst singing and shook his head. Some concertgoers read the programme on their phones during the performance, a lit screen is a disturbance and distraction for many who surround them. Others use their phone torch to light up the printed programme. Another distraction for singer and audience in the final song was the sound of the conductor's score falling, loudly, to the floor. It all did not help to set the mood.
I also found Goerne's constant swaying distracting and, to me, he seemed ill at ease. Regardless, Goerne's rich baritone did come over best when singing loudly, frequently at the end of some of the songs, such as when singing of winter's ice in 'Gefror'ne Tränen' ('Frozen tears'). The highlight of the cycle for many is the final song, 'Der Leiermann', depicting an old, barefoot man – possibly the Grim Reaper himself – playing the hurdy-gurdy at the edge of the village. It should be haunting, and in this performance it wasn't. The use of the celesta was not ideal and could hardly be heard (originally I thought it was a cembalo but was corrected by the conductor). After many minutes silence, Goerne received a very warm reception, especially from a small group who seemed to be his fan club. He is no doubt a fine singer, but this performance left me with mixed feelings.
John Rhodes