United Kingdom Walton, The Bear: Soloists, Members of City of London Sinfonia (Fran Hills [piano], Ruth Funnell [violin], Christopher Rawley [bassoon], Stephanie Beck [harp] and Glyn Matthews [percussion]) / John Andrews (conductor). Filmed at Stone House during April 2020 and streaming from 9 to 13.11.2021 (click here). (JPr)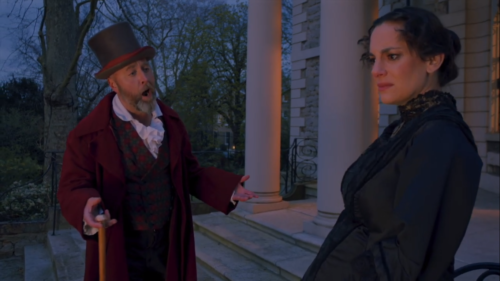 Production:
Chamber reduction – Jonathan Lyness.
Director – John Wilkie
Designer – takis
Director of photography – Simon Wall
Cast:
Yelena Ivanovna Popova – Clare Presland
Grigory Stepanovich Smirnov – Richard Burkhard
Luka – John Savournin
William Walton only created two operas, the first was his 1954 Troilus and Cressida and the second – more than a dozen years later – was The Bear (1967) which is described as an 'An Extravaganza in One Act'. I cannot comment on Troilus and Cressida because I have never seen or heard it, but I understand The Bear is regarded as the better of the two. Regardless it is very rarely performed but lives again thanks to this film version from Opera Holland Park that is being streamed on an enterprising 'Pay What You Feel' basis. It proves worth every penny/pound of what you can afford to get a chance to experience this intriguing work.
Walton wrote the libretto with Paul Dehn and it is based on the 1888 play by Anton Chekhov also called The Bear (though I have read that it might alternatively be translated as The Boor). Walton had received a commission from the Koussevitzsky Foundation in the late 1950s but only began the opera when – with a little help from Peter Pears – the Aldeburgh Festival wanted one from him. He began The Bear in 1965 and it was first put on at Aldeburgh in 1967 and was dedicated 'to the memory of Serge and Natalie Koussevitzky'. It requires only three singers and a small ensemble, though bigger than OHP's quintet (piano, violin, bassoon, harp and percussion) which eschews Walton's brass in Jonathan Lyness's consummate chamber reduction.
Lewisham's Stone House proves an ideal setting for this live recording of The Bear and its action – such as it is – focussed on the drawing room of Yelena Ivanovna Popova's country house, though we do see its grounds, a bedroom and the hallway which all have the look of a luxury hotel, as well as a toilet (don't ask!). The costumes and exquisitely plain furnishings from designer takis are typically Chekhovian. What we see in this opera is basically a heated argument between two neighbours over an unpaid debt (1300 roubles); they are Popova, a widow, and the boorish(!) Grigory Stepanovich Smirnov (the 'Bear') who doesn't have a particularly high opinion of women.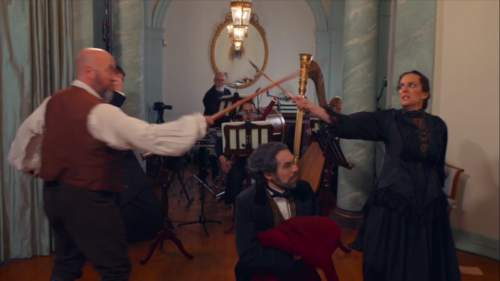 Hovering in the background – and frequently commenting on what we see unfold – is Popova's servant Luka. Popova is still in mourning for her late husband and she objects to Smirnov intruding on her grief. Quickly we learn that while she is faithful to his memory, it is more than he was to their marriage! They bicker back and forth; Smirnov is at first enraged and then so distraught he threatens to hang himself before challenging Popova to a duel because sexual equality demands it. However, they are soon both conflicted ('O what a wonderful woman!'/'O what a pity it is I have to kill him!') Popova points a pistol at Smirnov but cannot fire because (guess what?) they realise they have fallen in love which comes as a surprise to Luka who we see at the end waving through Stone House's front door.
It doesn't sound like much and to be truthful it isn't. Nevertheless, The Bear is a pleasant diversion for an hour and you will be thoroughly entertained by Chekhov's Russian realism recreated as a opera. It is not especially funny, but you will recognise the characters and their predicaments. Not least the fact that the director John Wilkie plays up how Clare Presland (Popova) was actually 6½ months pregnant when The Bear was filmed. It adds a sense of poignancy (or possibly raises eyebrows?) over Popova being hidden away in her house – as Luka suggests – for 'nearly a year'.
The libretto relies on rhyming couplets (think of Tim Rice from modern times!) and here is an example exchange, 'My finances will crash!', 'I haven't the cash', 'I need it today!', 'My bailiff will pay!' Walton's score – full of musical effects and affections and much sexual tension – is intriguing and frequently has the listener guessing what other composers he is (deliberately) alluding to. When Smirnov displays his prowess for French but also suggests Popova should 'Unveil, as did Salome!' and remove her 'widow's weeds', of course we briefly hear a hint of Richard Strauss. (At this point – as occasionally elsewhere – the lighting is a lurid blue). Also, I'm sure the homage to Britten throughout The Bear kept Walton's Aldeburgh paymasters happy! Then as the self-important Smirnov refers to being a retired lieutenant of artillery there is much military-style drumming and Christopher Rawley's bassoon sounds especially pompous. All of this music was played splendidly by the quintet from the City of London Sinfonia who were in costume and in the same room in which Popova and Smirnov faced off.
Bass-baritone John Savournin, who is currently receiving great reviews in English National Opera's HMS Pinafore, is renowned for his physical comedy: his rather saturnine – yet sonorously sung – Luka was clearly devoted to his mistress (and determined to keep her secret?) and introduced himself by chasing and capturing mice. Soprano Clare Presland was Popova and excelled as the primarily reserved, uptight, unyielding and not-so-merry widow determined to uphold her belief in her husband's fidelity despite all the evidence to the contrary. Her soliloquies 'Oh! What a rage I'm in!' and 'I was a constant, faithful wife' were ardently sung tour de forces. (Presland can also be seen currently in Gerald Barry's Alice's Adventures Under Ground which is streaming for a limited time and reviewed here.) Richard Burkhard was initially a vain and egotistical top hatted Smirnov, a deeply unpleasant character, though someone whose softer, more romantic side slowly reveals itself. The rapprochement he achieves with Popova after all their feuding therefore seems entirely credible and it was mirrored by increasing tenderness from Burkhard's sturdy baritone voice. Kudos to all three singers for their enunciation of Walton and Dehn's words; though then again, this was a recording and not live theatre so there was no reason for it not to be as immaculate as it is.
Jim Pritchard