United States Various: Tom Borrow (piano), Cleveland Orchestra / Thierry Fischer (conductor). The Jack, Joseph and Morton Mandel Hall at Severance Music Center, Cleveland, 11.11.2021. (MSJ)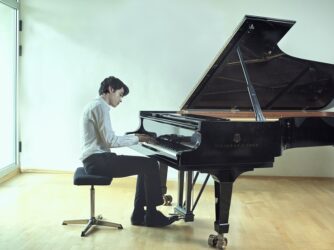 Messiaen – Les offrandes oubliées (The Forgotten Offerings)
Ravel – Piano Concerto in G major
Mussorgsky – Pictures at an Exhibition (orchestrated by Maurice Ravel)
What a time to be attending live concerts! Cooped up in quarantine, then restricted to streamed concerts for a period of time, musicians are alive with energy as they return to live concerts, none more so than young artists forced to delay their arrival on the world stage. Cleveland experienced the brilliant debut here last week of cellist Sheku Kanneh-Mason. Now, lightning has struck twice with an electrifying debut by Tom Borrow, the 21-year-old Israeli pianist.
Borrow may have looked wide-eyed and diffident about being in the spotlight when he first walked out on stage, but as soon as he began playing Ravel's Piano Concerto in G, suave wit and bold shaping were in evidence. There is a fine line between shaping a piece of music individually and distorting it, but Borrow showed an uncanny knack for staying just this side of the line. He never forgot that Ravel's intricacy demands high precision so that its intricate parts mesh, yet at the same time there was a quality of the solo part being etched in high relief that made this stand out from other performances I have heard.
Borrow was joined with alacrity by conductor Thierry Fischer, who also made details pop and come to life. The close of the first movement was so snappy – with Fischer reserving full roar until the end of the descending scale – a ripple of delight sounded through the audience, which seemed to teeter for a moment on breaking into applause instead of waiting to the end.
Borrow was exquisitely poised throughout the solo opening of the slow movement, savoring its small but telling harmonic surprises. The finale brought further delights, sending the crowd into an instant standing ovation at the close. Again, Borrow looked abashed to come out of his world and find that there was an audience here, but he in fact knows it perfectly well, because he chose an encore that would show a dramatically different side of his art, Debussy's 'Feux d'artifice'. Though I am primarily an orchestral music aficionado, I have heard Debussy's preludes many times. But Borrow's performance of this evocation of fireworks was so distinctive, I wasn't sure what I was hearing at first. In place of the usual vague, impressionist blur, Borrow enunciated the sparks and explosions of the piece, relating it more to the music that came after it than to what came before. His attack and intensity were demonic, something very different from the debonair Ravel piece. When he stood and bowed for the even more excited applause after the encore, there was a trace of a grin on his face. He knew perfectly well that he had conquered this discerning audience not just once but twice.
The Ravel was the only remaining trace of the original program which had been scheduled with Semyon Bychkov, who had to cancel because of European travel issues. Luckily, Thierry Fischer was able to step in, but he did so by changing the orchestral works. Instead of Tchaikovsky's lovely but infrequently heard First Symphony (which I very much hope to see rescheduled), Fischer led Ravel's peerless arrangement of Mussorgsky's Pictures at an Exhibition. This hybrid work is one of the most familiar ones in the symphonic repertory, and there is a danger of it sounding routine. Not here. Fischer more than justified his choice by shaping the work with drama and discernment. He pounced on details to make sure every corner of Ravel's ingenious voicing of Mussorgsky's genius was noticed, without ever upsetting the large-scale flow. Yet, paradoxically, he also knew when to stay out of the way and let the Cleveland Orchestra musicians do what they do so well.
For instance, instead of portentously setting the tempo at the beginning, Fischer simply nodded to principal trumpet Michael Sachs, who started the promenade with full, golden tone. Fischer only raised his arms and began conducting with the entry of the brass section. This trust in the musicians encouraged their engagement with the music, and energy was crackling. 'Gnomus' snarled, while 'The Old Castle' was draped in melancholy with Gabriel Pique's forlorn saxophone solo. The children portrayed in the picture of the Tuileries gardens hopped with activity, brought out by Fischer making sure the woodwinds could always be heard brightly.
Yasuhito Sugiyama filled the hall with his tuba sound portraying the lumbering ox cart of 'Bydlo'. The 'Ballet of the Unhatched Chicks' was as lively as could be, at a daredevil tempo. The following picture, '"Samuel" Goldenberg and "Schmuÿle"', brought high dramatic contrast between the imperious outer sections and Michael Sachs's keening muted trumpet solo.
The final four pictures were presented as one unbroken flow. 'Limoges: The Market' bustled with incident until abruptly cut off by the 'Catacombs' – Mussorgsky inventing the cinematic technique of jump cut fifty years early. That picture was a chance to relish today's Cleveland Orchestra brass section, which is simply the best it has ever been, rich and even from bottom to top. The following picture of Russian folklore witch Baba Yaga was bright, but with the color deftly applied, rhythms tightly sprung. The balances were exquisite, too; for instance, keeping the harps audible in the middle section while doubling the tuba, which usually buries the delicate string instruments. The final picture, 'The Bogatyr Gates', was glorious and grand.
Fischer also displayed his daring boldness in the opening work, Olivier Messiaen's first published orchestral piece, Les offrandes oubliées. The forgotten offerings of the title are, as is typical with this composer, a religious reference. Outer sections of contemplative stasis frame a harsh and busy middle section. With stormy weather moving into the Cleveland area as the concert began, the audience was restless, but Fischer didn't shy away from the silence and calm the music called for. It is recognizable as fully mature Messiaen in its harmonic language and organ-like orchestration. The performance certainly advocated compellingly for Messiaen's vision, and the playing was exquisite. As for me, I like when Messiaen is a little more down to earth, as in his Turangalîla-Symphonie. Not sharing the composer's need for constant supplication and prayer, I don't find myself responding emotionally to Messiaen's religious works. But a fine performance like this one supplies plenty of interest in the composer's technique and style, so it was absolutely worth hearing. After all, Messiaen is surely one of the saints of the temple of music and, no matter what one's beliefs are, that temple raises us all.
Mark Sebastian Jordan