Austria Im Siebten Himmel (In Seventh Heaven): Dancers of the Vienna State Ballet, Orchestra of the Vienna State Opera / Patrick Lange (conductor). Livestreamed (directed by Balázs Delbó) from the Vienna State Opera, 14.11.2021. (JPr)
Was I 'In Seventh Heaven'? Not exactly, though during this new triple bill (details below) from Vienna State Ballet, the two modern – dramatic in an abstract way – works did feature movement that was mostly unfamiliar to me and probably not in any authoritative guide to learning ballet. One example was near the beginning during Martin Schläpfer's On the Beautiful Blue Danube when two female dancers with legs split have them rocked up and down in seesaw fashion by their male partners. At least I know now that when I have complained about the lack of something different in more modern choreographies it is simply lack of invention by their creators. Not that Im Siebten Himmel was, for me, an unqualified success – though it went down well with the audience in the Vienna State Opera – because even now the movement in both the Schläpfer work and Marco Goecke's Fly Paper Bird was occasional repetitive within and between their two plotless ballets. Both received captivating performances and the music of the Strauss family and Mahler – and ballet music in general – can never have better advocates than when it is played by members of the Vienna Philharmonic, spiritedly conducted by Patrick Lange on this occasion.
Martin Schläpfer has recently become director and chief choreographer of the Vienna State Ballet and has revived his 2006 March, Waltz, Polka with the addition of its New Pizzicato Polka section. It is possible to read something about this on the Vienna State Opera website where it says, 'A dancer [here Ketevan Papava] fills the room with desire. This is a solo of flowing release, unfolding over the gentle waves of sound with which the famous Blue Danube begins, before the waltz starts spinning, repeatedly drawing strength from those nerve-tingling hesitations that are so typical of a music that more than any other represents everything one associates with Vienna. Other dancers join in, using the suspension of the metric heartbeat to discover the potential for a tango and the pointe shoe as a dangerous weapon or throwing themselves into the ecstasy of waltz, only to thwart it immediately afterwards with a highly focused physical tension. One dancer loses her nerve, another finds his knees trembling instead of standing stiffly to attention in front of an imaginary general.' Well, it is up to each individual to get from this what they can, but I found the energy displayed by all concerned in March, Waltz, Polka uplifting and it was captivating in its novelty.
Throughout this triple bill the colour palette was basically black-and-white with added sparkle, though there was the illusion of national dress and some summery colours for March, Waltz, Polka from Susanne Bisovsky's new costumes. Schläpfer has his talented dancers employ every gymnastic trick at their disposal in choreography that is not as familiar as the music. When you think you will see a proper waltz (as in the televised New Year's Day concert) it is only a stylised one. He demands hyperextension from his female dancers and involves them in unusual balances and lifts. Elsewhere, movement from all concerned can be sinuous or involves twisting, tumbling, cartwheeling and emotive floorwork such as in Annen Polka and when you see fouettés at the start of it they look out of place. In the quirky, jokey New Pizzicato Polka, two women are manhandled like marionettes. For Music of the Spheres the movement is the antithesis of what we hear and is increasingly more random and unmusical for nine female dancers with extravagant bustles, though there is a more lyrical trio for three men and a woman (with a ruff and costume that made her look like a Pierrot doll). It was left to a tour de force from Jackson Carroll during the Radetsky March which was virtually pure mime as he confronts Schläpfer's (unseen) general. Widely gesticulating he is by turns subservient, angry or scared.
We can read how 'Gustav Mahler was "in seventh heaven" while he was working on his Fifth Symphony. It had been revealed to him by his great love and future wife Alma Schindler, to whom he also dedicated the Adagietto that has now inspired Marco Goecke to create his new piece Fly Paper Bird […] The artist, a resident choreographer first with Stuttgart Ballet, and then also with Nederlands Dans Theater, Gauthier Dance and Director of the Hanover State Ballet since 2019/20, is regarded as one of the leading contemporary choreographers.'
Thomas Mika's designs includes a floor which is white and there is a low platform to the rear of the darkened stage and dancers are basically in black (again) while some wear sheer vests with markings on them. Goecke's style of movement is apparently characterised by 'fluttering, trembling, wrenching and vibrating' and a lot of that we do see. It is also angular, involves waggling shoulders (from eleven men) and hands are constantly semaphoring and rarely still. Incredibly impressive towards the end of Mahler's second movement (Moving stormily, with the greatest vehemence) Rebecca Horner becomes an increasingly compelling presence despite her twitchy movement which makes you think she is, by turns, either conducting an orchestra or about to take flight. Horner also hauntingly intones the words of Ingeborg Bachmann, 'Whatever happens: you know your time, my bird, take your veil and fly to me through the fog.'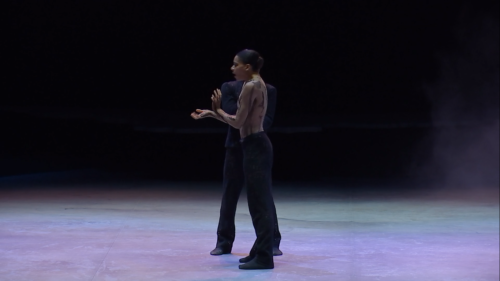 The huge cut-out of a paper bird appears to hover at the back during the Adagietto. All the jerkiness does become a little tiresome I must admit however soon all the men and women line up for some synchronous movement (rather like Birmingham Royal Ballet's Chacona recently reviewed here). Ten of the dancers disappear at the back leaving one laughing hysterically; there are fleeting reminders of the Bluebird and near the end Horner seems to be having an argument with another dancer before hysterical laughter breaks out again. The music dies away with one gyrating figure left behind. 'It's the Adagietto, Jim, but not as we know it' but fascinating all the same, especially thanks to close-up camerawork during this livestream.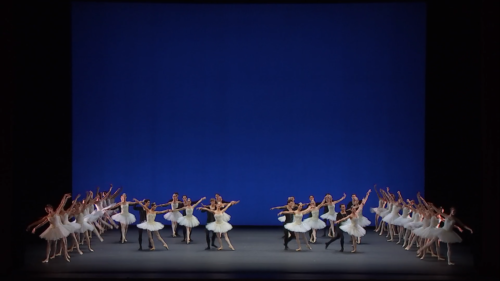 For more traditionalists (myself included) the last work – George Balanchine's 1947 neo-classical Symphony in C – ended the evening on a high. Bizet's music is a basically a sunny early work which lay undiscovered for a long time and was only given its first performance some 60 years after the composer's death. Ten white tutued ballerinas against a blue background were a welcome sight after the general darkness and sombre colours of what had gone before. The corps de ballet now had an opportunity to smile for the first time during the evening and there was radiance and joie de vivre in their dancing that was wonderful to see. A leaping, spinning Masayu Kimoto and pirouetting Hyo-Jung Kang sparkled in the First Movement. The very regal Liudmila Konovalova was slow, lyrical and eloquent in the adagio with Alexey Popov partnering her scrupulously with his support of her balances. (This is clearly Balanchine's homage to the white act in Swan Lake.) Bizet's scherzo (Third Movement) was very lively with some of the most accomplished dancing in this triple bill from the leaping and twirling Kiyoka Hashimoto and Davide Dato. In the perpetuum mobile finale the pert Sonia Dvořák spun and spun, and she was not alone as everyone returned to the stage and there was dazzling synchronicity and spectacle that was a joy.
Jim Pritchard
March, Waltz, Polka
Music – Johann Strauss (son), Josef Strauss, Johann Strauss (father)
Choreography – Martin Schläpfer
Scenery and Costume design – Susanne Bisovsky
Lighting design – Robert Eisenstein
Dancers included Ketevan Papava, Hyo-Jung Kang, Alexey Popov, Jackson Carroll (On the Beautiful Blue Danube); Sveva Gargiulo, Lourenço Ferreira (Annen Polka); Edward Cooper, Adi Hanan, Gaspare Li Mandri, Sinthia Liz, Kristián Pokorný, Daniel Vizcayo (New Pizzicato Polka premiere); Fiona McGee, Calogero Failla, Marcos Menha, Vanessza Csonka (Music of the Spheres); Jackson Carroll (Radetzky March)
Fly Paper Bird (premiere)
Music – Gustav Mahler
Choreography – Marco Goecke
Scenery and Costume design – Thomas Mika
Lighting design – Udo Haberland
Dramaturge – Nadja Kadel
Dancers – Davide Dato, Lourenço Ferreira, Sveva Gargiulo, Adi Hanan, Rebecca Horner, Fiona McGee, Marcos Menha, Kristián Pokorný, Duccio Tariello, Arne Vandervelde, Daniel Vizcayo
Symphony in C
Music – Georges Bizet
Choreography – George Balanchine
Costumes (revived and adapted) – Stephanie Bäuerle
Lighting design – (after) Perry Silvey
Staging – Patricia Neary
Dancers included – Hyo-Jung Kang, Masayu Kimoto (Movement I); Liudmila Konovalova, Alexey Popov (Movement II); Kiyoka Hashimoto, Davide Dato (Movement III); Sonia Dvořák, Roman Lazik (Movement IV)