United Kingdom Gossec, Saint-Saëns, Beethoven: Bertrand Chamayou (piano), London Symphony Orchestra / François-Xavier Roth (conductor). Barbican Hall, London, 11.11.2021. (MB)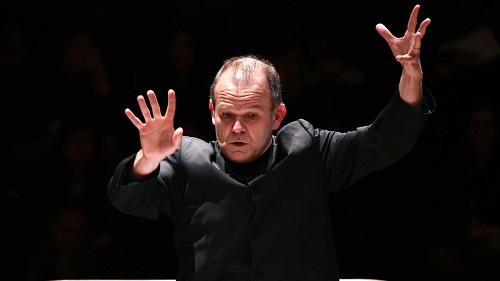 Gossec – Symphonie à 17 parties in F major Rh 64
Saint-Saëns – Piano Concerto No.2 in G minor Op.22
Beethoven – Symphony No.3 in E-flat major Op.55, 'Eroica'
François-Joseph Gossec lived a very long life during 'interesting times', born in 1734 in the Austrian Netherlands (Belgium) and dying in Paris in 1829, just short of the July Revolution.  His Symphonie à 17 parties was written under Napoleon, in 1809, so makes for an interesting companion piece to Beethoven's Sinfonia Eroica, composta per festeggiare il sovvenire di un grande Uomo, its initial dedication (to Bonaparte) famously scratched out in fury in response to the First Consul's self-elevation to the rank of Emperor. If closer comparison is beside the point — whatever the virtues of Gossec's piece, it would pale if heard after Beethoven — then this was an excellent opportunity to hear a little-known work, with fine advocacy from François-Xavier Roth and the London Symphony Orchestra, Bertrand Chamayou contributing a blistering account of Saint-Saëns's Second Piano Concerto in between.
Gossec's Symphony immediately catches the ear with its grandly rhetorical opening bars, prior to what comes across to our ears as fond looking (listening?) back to the eighteenth century, unquestionably from the standpoint of a composer for French orchestras. (Gossec had founded the Concert des Amateurs in 1769, offering for twelve years a serious rival to the celebrated Concert Spirituel.)  And that was only the introduction. The first movement as a whole proved colourful and theatrical, testament to the composer's interest in concert and dramatic work alike (sacred music too). If the movement's close relied heavily on tonic and dominant harmony, that in itself is hardly a fault; one might — many do — say the same of Beethoven. The Larghetto second movement showed some rather more surprising harmonic shifts, allied to a keen ear for colour as heard earlier. Such music can all too readily be rushed, but not here; nor did it drag. The minor-mode Minuetto (I should have guessed 'scherzo') came as a considerable surprise, both in itself and for its counterpoint. Split violins, as well as considerable LSO heft (twelve first violins down to five double basses), truly told, as did unmistakeably Gallic use of bassoons. The trio's Harmoniemusik was attractive enough, though perhaps it outstayed its (symphonic) welcome. The finale again had a strong sense of the opera house to it. Some phrases sounded superficially Mozartian in themselves, but the construction is very different.
Chamayou ensured a properly arresting opening to the Saint-Saëns Concerto, as if extemporising on Romantic memories of Bach — which, in a way, is very much what the composer is doing. The LSO's response was equally, differently rhetorical, the first movement's course meeting somewhere in between, broadly Lisztian. What some say of Liszt, I might wonder of Saint-Saëns; this movement does sound to me a little like an introduction to an introduction. I am probably missing the point, though, and there was no denying the superior quality of Chamayou's pianism: glistening, melting, virile, double octaves and all. Fantasia-like swirling mists prior to the close proved mysteriously alluring. A sparkling, sprightly, even sprite-ly second movement began in Mendelssohnian vein, before moving in quite different directions. The tarantella finale sounded ambiguous, perhaps ambivalent, certainly a whirlwind. One could only marvel at the pianist's technique and musicianship, Roth ever the alert, discerning accompanist. As an encore, we were treated to the Adagio from Haydn's late Piano Sonata in C major, Hob.XVI:50. Rapt in its intensity, it benefited from a similar sense of the improvisatory, founded in attention to detail and command of line. I should love to hear more Haydn from Chamayou.
The opening of the Eroica came as quite a culture shock (to me, at least). I do not think I have ever heard it so fast: presumably taken at the ever-controversial metronome marking. Roth's musicianship won me over, though. This was a very different Beethoven from that of Wagner, Furtwängler, Klemperer, Barenboim, or a host of others. Of course it was, Colin Davis included. (It was under him, I think, that I last heard the LSO play this symphony.) But comparison, or for that matter contrast, is not the point here. Roth, anything but dogmatic, had his own vision and it worked splendidly. Ultimately, I missed a degree of grandeur, but here, in Beethoven's first movement, not only did notes fly off the page; they fairly danced. There was, moreover, a fine sense of exploration to the development and what is in effect a second development (recapitulation).
The Funeral March was brisk, if less (to my ears) iconoclastically so. Obsequies grew in stature, as if grief were approaching us from a distance. There was, fittingly for the programme, a strong sense of French Revolutionary processional. It was, perhaps, more Berlioz's Beethoven than Wagner's — and none the worse for it. Excellent woodwind solos (Olivier Stankiewicz's oboe here first among equals) contributed to the greater whole. Counterpoint lay at the movement's very heart; if sometimes I had wondered quite what was at stake in the first movement, here there was little doubt. Busy energy, born of detail and line, characterised the scherzo, the trio's celebrated horns sounding with vernal freshness all the more welcome in dark November. Taken attacca, the finale constantly surprised, rethought in many ways by Roth. No variation was taken for granted, that for strings alone taken by solo instruments with strikingly 'period' tone. But that was a means to an expressive end, not an end in itself, the entry of the LSO's woodwind creating all the greater contrast and later string vibrato far from parsimonious. It was exciting and coherent: neither quite what many would have expected, nor in any sense perverse. It was quite something (even to a die-hard Furtwänglerian such as yours truly).
And it was salutary to be reminded by Roth from the podium that Beethoven, here conducted by a Frenchman and played by an (international) British orchestra, was the most European of composers. 'Vive l'Europe!' as he said, to great applause. London needs to hear that more than ever right now.
Mark Berry