United Kingdom Bartók, Eugène-Auguste Ysaÿe, Franck, Ravel: Tessa Lark (violin), Amy Yang (piano). Wigmore Hall Lunchtime Concert, 28.11.2021. (CC)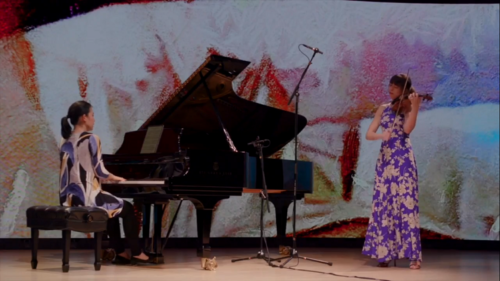 Bartók – Six Romanian Folk Dances, BB68 (1915)
Eugène-Auguste Ysaÿe – Violin Sonata in E minor, Op.27/4 (1923)
Franck – Violin Sonata in A (1886)
Ravel – Tzigane (1924)
Tessa Lark and Amy Yang's release, Fantasy, was a brilliant mix of Telemann, Schubert, Kreisler and Ravel on First Hand Records. Its combination of Telemann, Schubert, Kreisler, Lark's own Appalachian Fantasy and Ravel's Tzigane was enough for me to find my way to the Wigmore Hall on a Sunday morning.
Tessa Lark won the Naumberg Competition in 2012 and was Silver Medallist in Indiana in 2014. She received a Borletti-Buitoni Trust Fellowship in 2018. Although she has played in London before, this was her Wigmore Hall debut. Everything Lark plays exudes character and love for the music, and so it was with Bartók's Six Romanian Folk Dances, BB 68 (no arranger credited, but one assumes Zoltán Székely). Rarely have I heard these folk dances so compellingly played. Her harmonics for the third dance, 'In One Spot' were remarkable, while the final 'Fast Dance' was full of life. Lark's stopping, too, is remarkable: fully under control.
The Eugène-Auguste Ysaÿe solo violin sonatas are justly famous among violinists. The Fourth is in three movements, an Allemanda, a Sarabande and Finale. Lark has long loved the music of Fritz Kreisler, and this sonata is dedicated to that master. It starts with an 'Allemanda', but a decidedly slow one. The marking is Lento maestoso, and Lark created a mesmerising environment. That stopping was again a joy (including perfectly in tune octaves), Ysaÿe's demands negotiated with seeming ease. The central 'Sarabande' is dominated by pizzicato, which must have gone down to at least ppp on this dynamic scale here. The arco melodies seemed like an internal rumination; the outgoing Finale was not only impressive on a technical level (the marking is Presto ma non troppo) but balanced everything musically.
Ysaÿe enthusiasts might like to learn of a new recording of lesser-known works from that composer's pen by Sherban Lupu on Divine Art, which includes an orchestration by Sabin Pautza of the Violin Concerto in G minor (Lupu is joined by the Liepāja Symphony Orchestra and Paull Mann).
Lark's regular pianist Amy Yang had made the most of the piano part in the Bartók, but there it is basically accompanimental. The Franck Violin Sonata, by contrast, is a meeting of equals, and so it was here. Lark and Yang took the first movement daringly slowly, and yet it unfolded beautifully. Those long violin lines showed how the warmth of Lark's sound extends way up the registers; Yang's piano contribution was sterling, the clarity of her left-hand a delight (it is so easy to over-pedal in this piece). Yang makes a lovely sound, too; this was true, intimate chamber music, that tempo allowing the movement's climax a real sense of majesty.
Every pianist dreads the finger-twisting opening of the second movement, but Yang's finger strength allowed for maximal definition, and with no sustaining pedal blurring. Together the sense of momentum was terrific, yet the music had space to breathe when required; and from those moments of repose sprang the 'Recitativo-Fantasia' of the third movement, its solo violin opening throaty, Lark's bow control a masterclass. The finale eased its way in like a sliver of sunlight, full of beauty, unhurried. A lovely performance.
Finally, and to mirror the Romanian Dances perhaps, Ravel's Tzigane, full of bold gestures, Lark's G string beautifully warm in sound, leading to a simply magical piano entrance. Interesting that moments seemed indeed to point back to the Bartók, or at least a shared field of reference. A wonderful, life-enhancing performance: virtuoso, glorious.
While Kreisler supplied one of the encores, it was Lark's own solo violin Appalachian Fantasy that stole the show. The ruminative opening at once refers to Schubert's C major Fantasie, D934 (with which it shares disc space on Lark's recording) and introduces the music of Lark's American home. It is a brilliant, brilliant piece and was performed with the élan surely only a composer can bring.
One hopes for a Wigmore Hall return for these two fine musicians sooner rather than later.
Colin Clarke