United Kingdom The Royal Ballet's Giselle: Dancers of The Royal Ballet, Orchestra of the Royal Opera House / Boris Gruzin (conductor). Performance of 20.11.2021 and streamed (directed by Peter Jones) from 3.12.2021. (JPr)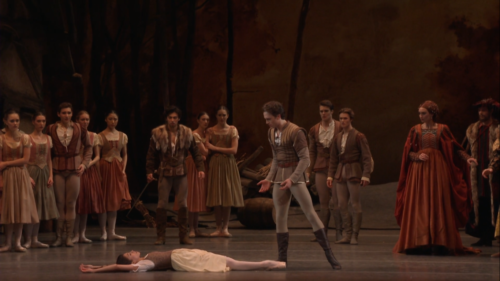 This was the 607th performance of Giselle by The Royal Ballet and my own total will now be well into double figures and the highlight will always be Rudolf Nureyev with Lesley Collier in 1982 and with Sylvie Guillem in 1988. However, although I will never forget those nights at Covent Garden, I enjoyed this recording so much that I will return to watch it again at least once before 2 January 2022 when its streaming ends.
I have reviewed Sir Peter Wright's much-admired – and revived many times – 1985 production before; yet I don't intend to look back to ghosts of the past and only celebrate the excellence of what I saw from The Royal Ballet in this mesmerising Giselle (credits below). A reminder of the background to this famous two-act ballet will not be necessary to most readers but is worth repeating, nonetheless. After its premiere in Paris in 1841 it had its first performance in England the following year and soon after – having been recognised as the exceptional ballet it is – it had been put on by almost every ballet company in the world. With only a few additions from Sir Peter (now 95 years young), the original choreography of Jean Coralli, Jules Perrot and Marius Petipa remains largely intact, and it is danced to familiar music by Adolphe Adam (now edited by Lars Payne).
Compared to many other story ballets – and this is important in the context of this wonderful performance – Giselle has greater psychological depths and explores themes of social class, love, betrayal, despair, forgiveness and redemption. Act I is an idyllic vision of peasant life and never can John Macfarlane's designs – with a hint of Caspar David Friedrich – have looked better on screen (and hopefully to those in the Royal Opera House). It is harvest time in a medieval Rhineland village where the peasant girl, Giselle, has fallen in love with the nobly born Albrecht, who is in disguise as a lowly villager (Loys). After Albrecht is exposed by his love rival Hilarion, a gamekeeper, the first act ends with the community torn apart by deception, madness and grief. For Act II we enter another world entirely and it is the ghostly moonlit realm of the Wilis inspired by a passage in Heinrich Heine's On Germany. The Wilis are jilted young brides-to-be – many abandoned on their wedding day – who die of a broken heart and cannot rest peacefully in their graves and exact their revenge by luring men into the forest only to dance them to death. In the end Giselle – who had killed herself with Albrecht's sword – forgives him because he is genuinely remorseful and so she saves him from the wrath of Myrtha, the Queen of the Wilis.
Giselle continues to resonate with audiences today because of its unique combination of poignant story, glorious music and exquisite choreography; alternately joyfully romantic, bucolic or heartrending. Giselle – though a nineteenth-century classic – unusually needs dancers who can genuinely act, as performing the steps is never enough. I hope I can be forgiven for saying that this sometimes has been an issue with The Royal Ballet's technically accomplished dancers some of whom are a little lacking in presence and charisma. This is not the case with everyone in this Giselle who get nowhere to hide from Peter Jones's camerawork which knows exactly when to pull back for the ensemble moments and when to draw the viewer into the more intimate ones. It is then that we see how superb the performances are and while not a word is spoken they are worthy of the National Theatre, as – despite the conventions of mime – all the acting is so wonderfully naturalistic. Never in a ballet has mime seemed such a natural way of communicating a story than it does in this Giselle. But also look behind the leading characters and watch the corps de ballet react – especially in Act I – to everything that is going on and this is a testament to the loving way this Giselle had been returned to the stage.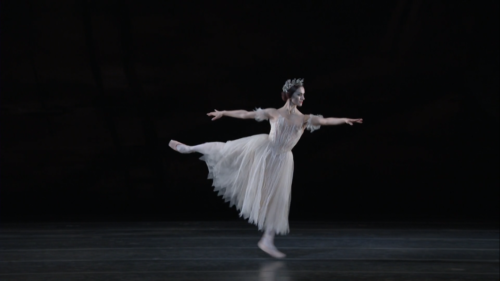 Even though they were both outstanding, I hope Yasmine Naghdi (Giselle) and Matthew Ball (Albrecht) will forgive me for starting with Marianela Nuñez – herself still a formidable Giselle – in the role of the Myrtha, Queen of the Wilis. She was unrecognisable as she traversed the stage veiled in white; the veil is soon discarded to reveal how her makeup has turned her into Morticia Addams. This is Myrtha's (and Nuñez's) big moment and for the first long scene of this second act, she drifts in and out of the action dancing slowly at first with rock solid penchés, then quicker and quicker with her springy jumps and turns. It is all as if Myrtha – having risen from her grave – is revelling in coming back to life at night. One of the most spooktacular moments in Giselle is when Myrtha summons the other Wilis and the well-drilled corps de ballet impressed with their impeccably synchronised movement. Even though the focus of this act shifts to Giselle and Albrecht it hard to ignore Nuñez's imperious and implacable Myrtha who – having ordered the death Hilarion – forces Albrecht to dance on and on until on the verge of dying he is saved by the power of Giselle's love and the tolling of the bell to signal daybreak. Nuñez was undoubtedly the best Queen of the Wilis I have seen, and she was well supported by her ethereal attendants Olivia Cowley (Moyna) and Melissa Hamilton (Zulme).
I have rarely seen a Giselle/Albrecht partnership with so much chemistry and – most importantly – dramatic talent allied to formidable technique. For me Matthew Ball was a revelation, and his entitled Albrecht just doesn't expect his dalliance to have the tragic outcome it does. When the truth of who is he is revealed to Giselle in front of Albrecht's fiancée, Bathilde, he mimes 'What was I thinking?', though he is totally distraught as Giselle dies in his arms before he is dragged away. Yasmine Naghdi began as a sweet, smiley and guileless Giselle and her dancing has precision, an easy naturalness and an endearing charm. However, at the end of the first act Giselle's world collapses and her descent into madness is totally believable and is it the Wilis she sees approaching after she falls on Albrecht's sword? As good as Ball's Albrecht was in Act I he really came into his own in the second act. His partnering is excellent as he floats – a seemingly weightless – Giselle through the air. There seems a real tenderness between the two of them and Ball brought strength and stamina to his solos, bringing off his entrechats with considerable style.
There were eye-catching vignettes throughout this Giselle including Kristen McNally as Giselle's protective mother, Berthe. She makes us only too aware of her daughter's delicate health and the strain dancing puts on it. Every gesture during her mime about the dangers of the Wilis, had clarity, weight and meaning and visibly chilled her onlookers; Luca Acri was a jealous glowering presence as Hilarion; and – showing how much you can make of very little to do – Christina Arestis's Bathilde was evidently uncomfortable amongst the 'common people' and unable to conceal her character's boredom and impatience. Also worthy of a mention are Meaghan Grace Hinkis and David Yudes who led the Pas de six during the celebration of the harvest in Act I in a spirited fashion.
Listening through loudspeakers the Orchestra of the Royal Opera House sounded superb under the vastly experienced Boris Gruzin; there was never a sense of the rum-ti-tum routine and nor for one moment did he appear to indulge the dancers. It's actually quite the reverse, as the dancers often looked as if they enjoyed the occasional tempo challenges he set them, which they overcame virtuosically.
Jim Pritchard
Production:
Choreography – Marius Petipa
Original choreography – Jean Coralli, Jules Perrot
Music – Adolphe Adam (edited by Lars Payne)
Scenario – Théophile Gautier (original scenario – Heinrich Heine)
Production and Additional choreography – Peter Wright
Designer – John Macfarlane
Original Lighting – Jennifer Tipton (re-created by David Finn)
Staging – Christopher Carr, Gary Avis, Samantha Raine
Cast:
Giselle – Yasmine Naghdi
Albrecht – Matthew Ball
Hilarion – Luca Acri
Wilfred – Harry Churches
Berthe – Kristen McNally
The Duke of Courland – Gary Avis
Bathilde – Christina Arestis
Leader of the Hunt – Tomas Mock
Pas de six – Meaghan Grace Hinkis, David Yudes, Isabella Gasparini, Leo Dixon, Ashley Dean, Joseph Sissens
Myrtha – Marianela Nuñez
Moyna – Olivia Cowley
Zulme – Melissa Hamilton
Peasants, Courtiers and Wilis