United Kingdom Mozart, Die Zauberflöte: Soloists, Chorus, Royal College of Music Opera Orchestra, Michael Rosewell (conductor). Britten Theatre, Royal College of Music, London, 26.11.2021. (MB)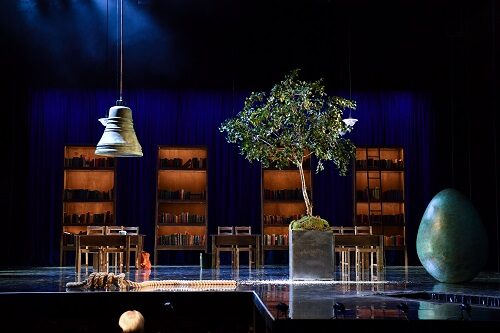 Production:
Director – Polly Graham
Associate director – Louise Bakker
Designs – Rosie Elnile, Hazel Low
Lighting – Tim Mitchell
Movement – Kate Flatt
Cast:
Sarastro – Jamie Woollard
Tamino – Ted Black
Speaker – Dafydd Allen
Teachers – Henry Wright, Sam Harris
Queen of the Night – Heming Li
Pamina – Hyoyoung Kim
Three Ladies – Lylis O'Hara, Annabel Kennedy, Emma Roberts
Three Junior Girls – Leah Redmond, Denira Coleman, Taryn Surratt
Papagena – Sofia Kirwan-Baez
Papageno – Theo Perry
Monostatos – Harry Grigg
Two Boys – Daniel Bray Bell, Redmond Sanders
Chorus – Madeline Boreham, Angelina Dorlin-Barlow, Matthew Curtis, Sam Hind
A week that brought excellent student shows from two London conservatoires, both the Royal Academy of Music (L'Heure espagnole and Gianni Schicchi review here) and the Royal College (Die Zauberflöte) offered encouraging news for our often hesitant operatic recovery. In many ways, this Magic Flute came close to ideal: committed performances from a highly talented cast of young singers, a provocative production by Polly Graham, and a warm yet incisive orchestral reading — rarely did one notice the small numbers in the pit — from Michael Rosewell. How preferable this was, in almost every respect, to Covent Garden's dull revival (click here) of David McVicar's superannuated production in September under leaden musical direction.
Graham's feminist standpoint was refreshing for an opera often accused, sometimes justly, often unjustly, of misogyny. It is a standpoint, though, not an end in itself: a way of looking at an opera, of permitting its characters to speak, sing, and to be reconsidered. The opera takes place in a somewhat old-fashioned secondary school, replete not only with blazers (often honoured in not being worn) and teachers in tweed, but also marijuana and abuse, both drivers of the action. Pamina, more central than ever I can recall seeing her, embarks on her journey following creepy advances from Sarastro, and she is the one who plays the field — will she choose Tamino or her boyfriend of apparently longer standing? — and offers others a path to temporary enlightenment via a spliff. If there is to be deeper, more rooted enlightenment, it will come neither via narcotics nor through the restoration of Sarastro's order at the close, but through the psychoanalytical world of a magic garden beyond the school wall, in which fantastical events take place, later to be interpreted. Music in performance is very much part of that interpretation, as witnessed by Papageno's bells and Tamino's flute. I cannot help but think that Michael Tippett would have loved it, though this was more Freud than Jung. Tamino certainly learns better than his teachers have taught him, both through the example of Pamina and the love they feel for each other; likewise, of course, Papageno and Papagena.
Ted Black and Hyoyoung Kim proved an outstanding central couple, offering fresh-toned musical performances fully worthy of starrier stages (though with the bonus of a small theatre enabling us to see and hear them closer-up). Pamina's attempted suicide in 'Ach ich fühl's' was deeply moving, convincingly paced and spun; Tamino's quest for self-discovery not only convinced but drew one in to empathise. Theo Perry's Papageno likewise emerged more rounded than often one sees and hears: no mere caricature, but a flesh-and-blood human being with desires and feelings of his own, beautifully expressed through music and gesture — and splendidly reciprocated by Sofia Kirwan-Baez as Papagena, her part considerably more substantial than is usually the case. Harry Grigg's rascally Monastatos was similarly much more of a multi-dimensional character: tribute to both production and performance. Jamie Woollard's vocal dignity as Sarastro duly troubled. Heming Li came as close to thorough accuracy as anyone has the right to expect in her glistening accounts of the Queen of the Night's arias. All contributed, though, to the greater dramatic whole in a fine company performance, with some light, tasteful ornamentation that enhanced rather than distracted.
This was accomplished with a few, relatively minor cuts and changes to the text. (An exception to that 'minor' qualification was the inserted cadenza for the Three Ladies in the first scene. Fortunately, we heard no more in that vein.) Titles helped draw out further meaning, sometimes engaging more with what we saw rather than heard on stage, sometimes offering a bridge between the two. The 'original', whatever that may be, will not go away; or rather, if we consider it as anything more than the score and libretto, it will never come back, since we have little idea what it was in the first place. Our visual imagination fastens on Schinkel, if anywhere: wonderful, but nothing to do with 1791. Opera must never degenerate into a museum piece; it must live and breathe, which it unquestionably did here.
Mark Berry