Poland Puccini, La bohème: Soloists, Władysław Skoraczewski Artos Children's Choir, Chorus and Orchestra of the Polish National Opera / Patrick Fournillier (conductor). Polish National Opera, Warsaw, 11.12.2021. (RP)
Production:
Director – Barbara Wysocka
Sets – Barbara Hanicka
Costumes – Julia Kornack
Lighting – Marc Heinz
Choreographer – Tomasz Jan Wygoda
Cast:
Mimì – Adriana Ferfecka
Rodolfo – Davide Giusti
Musetta – Aleksandra Orłowska
Marcello – Ilya Kutyukhin
Schaunard – Sławomir Kowalewski
Colline – Jerzy Butryn
Benoît – Grzegorz Szostak
Alcindoro – Paweł Czekała
As the curtain fell on the second act of the Polish National Opera's La bohème, the two elegantly dressed women sitting in front of me turned to each other and said in unison 'Bellissimo!' Indeed, it was.
Barbara Wysocka's production, originally scheduled for the 2019/20 season, was cancelled due to the pandemic and premiered on 3 December 2021. The intervening months have only made her concept more relevant and the impact far more emotionally devastating. It is easy to keep Mimì at arm's length as she is dying from an illness for which there is no cure when the action is set in nineteenth-century Paris. It is far harder when she and the other characters look just like young people you might pass on the street – especially at a time when so many artists and musicians are having the rug pulled from under them in this pandemic.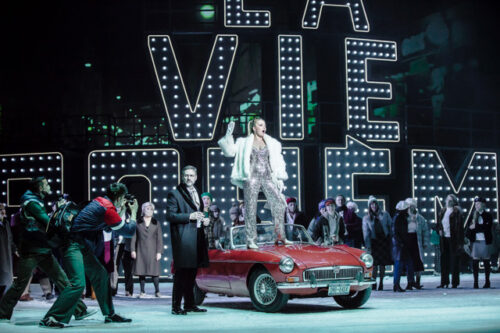 For inspiration, Wysocka turned to Jonathan Larson's Rent, a musical adapted from Puccini's opera and set in New York City's gritty East Village in the late 1980s when HIV/AIDS was a death sentence. The connection was made clear through the words 'La Vie Bohème', the title of a song from the musical that is a celebration of a devil-may-care approach to life fueled by youth, impetuosity and creativity. The giant sign bearing the three words lit up the stage in Act II, but it was a wreck discarded in a pile of snow for the rest of the performance.
Musically this La bohème was outstanding. The Polish National Opera assembled a fine cast, but conductor Patrick Fournillier deserves much of the credit for its resplendence. He supported the singers with sensitivity and permitted Puccini's soaring melodies to bloom for their maximum emotional impact. Seconds later, he would propel the music forward, creating a sense of urgency. This ebb and flow, coupled with the ability to draw a shimmering, transparent sound from the orchestra, made for an exciting, dramatically taut performance.
The drama was heightened by having neither an intermission nor a change of scenery between Acts III and IV. Mimì returned not to the squalid rooftop of a modern skyscraper where she and Rodolfo first met, but to the bleak, wintery landscape with the words that now rang hollow as a backdrop. The brief pause between the two acts ensured that none of the emotion generated in Mimì and Rodolfo's farewell at the end of the previous act had a chance to dissipate. I wasn't the only person with a tear in my eye as they agreed to part.
Davide Giusti's ease on stage was equal to the abandon with which he sang: both seemed to come so naturally for him, and his sound was glorious. The final bow was reserved for him and deservedly so. As Mimì, Adriana Ferfecka captured both the fragility and resolve of Puccini's doomed seamstress. Her lovely voice rang with joy as she sang of the spring when she first met Rodolfo and, as she lay dying, it was burnished and golden in recalling those sweet moments.
Aleksandra Orłowska's Musetta made her entrance wearing a glittery silver jumpsuit and a white fur jacket and riding in a red MG bearing New York State license plates with the dignified Alcindoro of Paweł Czekała at the wheel. Standing on the hood of the car, she sang a sizzling 'Quando me'n vo'. As Mimì's life was slipping away, Orłowska, dressed in a black leather coat and matching boots, prayed for Mimì's recovery with fervor and simplicity. Piety, however, could not conceal Orłowska's vocal and physical glamour.
Baritone Ilya Kutyukhin's distinctive baritone was at one with his moody, tightly wound Marcello, which was a departure from the usual portrayal of the painter as an ebullient, temperamental artist. Likewise, rather than the usual bookish introvert, Jerzy Butryn's Colline went against type. This philosopher always had a smile on his face and a twinkle in his eye, bidding farewell to his beloved coat with appropriate solemnity in a particularly fine, resonant bass. Sławomir Kowalewski's withdrawn and sensitive Schaunard rounded out the quintet of friends.
I have seen many performances of La bohème, from workshop productions pulled together on a shoestring budget to Franco Zeffirelli's opulent staging for the Metropolitan Opera. All have worked their magic, but this performance was something special and one that I will always remember.
Rick Perdian