Switzerland Brahms, Schubert, Bernstein, Ravel, Gershwin, Ginastera: Julian Prégardien (tenor), Tonhalle Orchestra Zurich / Alondra de la Parra (conductor). Tonhalle, Zurich, 30.12.2021. (JR)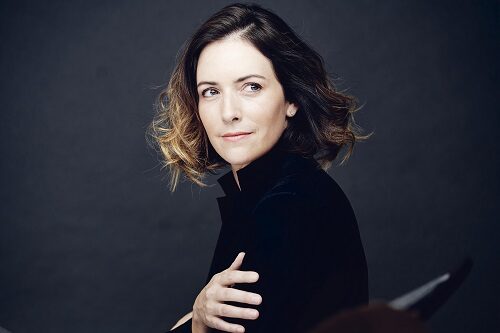 Brahms – Academic Festival Overture, Op.80
Schubert – 'Ganymed', D544 (orchestration Richard Strauss)
Schubert – 'An die Musik' (orchestration Kurt Gillmann)
Bernstein – Candide, Overture
Ravel – Five popular Greek melodies for voice and orchestra: I. 'Le Réveil de la mariée' (orchestration Ravel); II. 'Là-bas, vers l'église'; III. 'Quel galant m'est comparable'; IV. 'Chanson des cueilleuses de lentisques' (orchestration Manuel Rosenthal); V. 'Tout gai!' (orchestration Ravel)
Gershwin – An American in Paris
Ginastera – Estancia, Op.8a, Dances
This was a festive, light and entertaining programme as befits the season.
Alondra de la Parra, from Mexico, clearly chose each work to fit the occasion and her Latin temperament. From 2017 to 2019, Parra was Music Director at the Queensland Symphony; she is now – in addition to her conducting schedule – Cultural Ambassador to Mexico.
We started with Brahms's Academic Festival Overture, always a stirring delight. Brahms described it as 'an amusing musical potpourri in the style of Suppé, incorporating student songs'. Which about sums it up. De la Parra caressed the phrases with long, floaty arms, reminding us that the piece is not just about bombast.
Schubert's two songs, 'Ganymed' and 'An die Musik', were written – when the composer was 20 – for voice and piano accompaniment, presented at this concert in orchestral arrangements by Richard Strauss and German composer Kurt Gillmann (1889-1975). 'Ganymed' is the longer song, using a text by Goethe; but it lacks melody. It did show off Julian Prégardien lovely, lyric tenor. He admits he does not tackle bel canto, volume is not his strength, and avoids what he calls the Mediterranean repertoire, but concentrates on Schubert and Bach. His father, Christoph, has coached him well. 'An die Musik' was considerably shorter and, musically, more memorable; a touching ode to the joys of music.
Bernstein's overture to Candide is performed much more often than the complete operetta, which has its difficulties. The Overture quickly established a successful life of its own and is one of his most often played works. This was the nearest the Tonhalle Orchestra Zurich gets to a knees up. It was six minutes of pure fun.
Ravel's Greek melodies were new to me. The texts come from Greece, they were then translated into French by a British music critic with Greek origins. Originally written for voice and piano, Ravel orchestrated two of the songs, his pupil Manuel Rosenthal the rest, in 1935. I was expecting something more akin to Agnes Baltsa's ravishing disc of 'Songs my country taught me', which take you straight to a sun-soaked island in the Aegean. Instead the Ravel reminded one in mood and timbre of Canteloube's 'Songs of the Auvergne', with the occasional oriental, exotic touch. The songs were all charming, with colourful orchestration – as one would expect from Ravel. Most songs were gentle, only the third one, 'Quel galant m'est comparable', was boisterous, with added tambourine. The fourth, 'Chanson des cueilleuses de lentisques', (Song of the lentisk gatherers) was most tenderly sung. A round of 'tra, la, la' rounded off the short cycle.
Prégardien, born in Frankfurt, now teaches in Bavaria. He will sing in the St. Matthew Passion this coming season at Carnegie Hall. Together again with de la Parra, he will perform the Ravel Greek Melodies (together with Mahler's Lieder eines fahrenden Gesellen) in Helsingborg, Grävle and Milan.
Gershwin travelled twice to Paris, in 1926 and 1928 and saw the city during those 'Roaring Twenties' times. You hear the hustle and bustle, the street noises and swinging melodies from the era. One cannot sit still – and nor did we. It brought more than a whiff of Hollywood to the occasion. Principals who stood out were Martin Frutiger (cor anglais), Seth Quistad (trombone), Heinz Saurer (trumpet) and Simon Styles (tuba); Julia Becker (concertmaster) echoed a police siren, a quartet of saxophones and the blare of car horns rounded the whole piece off.
From Paris to Brazil. Alberto Ginastera composed his ballet Estancia in 1941. Latin American is known for its infectious dances, the tango, rumba, mambo and samba. Ginestra incorporated all of these into his ballet, which portrays life on an Argentinian ranch, life among the farmers and, of course, a love story. But the ballet was not performed at first, so Ginestra put together a suite of four dances. Strong rhythms dominate, and the brass and percussion sections are to the fore – one is swept along. Only the 'Wheat Dance' intermezzo is sedate, graceful, gently romantic. The Final Dance, 'Malambo', is hellishly fast, the gauchos show off their skills on horseback – and the best of them, naturally, wins the girl. De la Parra, in an interview with the Neue Zürcher Zeitung, said this was not music for grey-haired, male conductors, and she was right – she punched her way through this score, dancing as appropriate, and in one of the two encores (the first encore was by Mexican composer Arturo Márquez, his infectious 'Danzón No.2'), getting the audience to join in. This is the musical territory of the Simon Bolivar Youth Orchestra of Venezuela and the then young Gustavo Dudamel, but the Tonhalle (particularly the percussion section) let their hair down. Full marks to Klaus Schwärzler on xylophone and Benjamin Forster on timpani.
Because of Covid restrictions, we could not enjoy champagne in the bar – there was no interval. And no lakeside fireworks on New Year's Eve either, so we made do with musical fireworks instead. De la Parra received a standing ovation – we had all enjoyed ourselves thoroughly.
May I wish all Seen and Heard International readers a very happy and healthy New Year!
John Rhodes