Poland Rossini, The Barber of Seville: Soloists, Opera Krakówska Chorus and Orchestra / Tomasz Tokarczyk (conductor). Opera Krakówska, Kraków, 10.12.2021. (RP)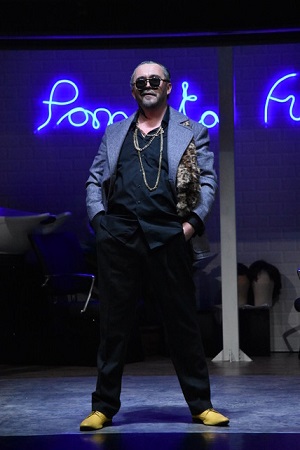 Production:
Director – Jerzy Stuhr
Sets – Natalia Kitamikado
Costumes – Joanna Klimas
Hairstyles – Jaga Hupało
Chorus master – Jacek Mentel
Stage movement designer – Katarzyna Aleksander-Kmieć
Lighting – Katarzyna Łuszczyk
Cast:
Count Almaviva – Jarosław Bielecki
Bartolo – Robert Gierlach
Rosina – Monika Korybalska
Figaro – Łukasz Motkowicz
Don Basilio – Sebastian Marszałowicz
Fiorello – Michał Kutnik
Berta – Magdalena Barylak
Ambrogio – Wiesław Popiołek
Police – Jarosław Dijuk, Jan Migała
Notary – Jerzy Wójcik
There was something rather special about Opera Krakówska's new production of Rossini's The Barber of Seville for which director Jerzy Stuhr deserves most of the credit. With the deftest of touches, he turned the opera into an edgy battle of wits between Figaro and Doctor Bartolo, which Łukasz Motkowicz and Robert Gierlach made into a combat to relish.
The action was updated to the present day, but Stuhr didn't venture far from the libretto in terms of the staging. For the first act, the grand parlor of Bartolo's home sat above Figaro's hair salon where customers came and went. The shop disappeared in Act II, and Bartolo's parlor was front and center. A simple colonnade with a fountain in the Spanish Moorish style created an oasis of calm and, with that one structural element, the audience was transported to Seville.
Stuhr didn't pull any punches when it came to depicting Rosina's plight: Bartolo had her locked in purdah to thwart any rivals. She first appeared encased in straps that brought to mind a medieval chastity belt and a stylized niqab that covered her from head to toe. During 'Una voce poca fa', Rosina managed to cast off her restraints and bend the bars of her cage. By the end of the opera, she was behind a screen with Almaviva doffing her clothes.
In Act I, the robust men's chorus appeared as masked special forces in winter camouflage carrying automatic weapons as they accompanied Count Almaviva to Bartolo's house, where he demanded to be billeted to be closer to Rosina. The men's footwork was as impressive as their singing.
In the final scene of the opera, they appeared as military-like police dressed in black when summoned by Bartolo to arrest Almaviva. When the men turned around, the letters on their backs spelled carabinieri, then just three letters – CBA – which prompted spontaneous laughter from the audience. The acronym stands for Centralne Biuro Antykorupcyjne, which translates to the Central Anticorruption Bureau.
The contrast between Motkowicz's suave young Figaro and Gierlach's aging Lothario of a Bartolo was obvious before either sang a note. The former was in somewhat androgynous attire, while the latter wore sunglasses, heavy gold chains and pointy-toed, canary-yellow shoes. Monika Korybalska's Rosina was repelled by the lecherous Bartolo but captivated by the dashing young 'Lindoro' of Jarosław Bielecki. Toss in Sebastian Marszałowicz's Don Basilio, a shadowy, unscrupulous man of cloth, and it made for a real romp musically and dramatically.
Motkowicz has a robust baritone with a free and easy top, and he made light work of Figaro's entrance aria, 'Largo al factotum'. Gierlach's detailed characterization made his Bartolo unforgettable: he just seemed to be having so much fun.
Figaro and Bartolo's contretemps centered upon Monika Korybalska's glamorous Rosina, whose alluring mezzo-soprano has a dusky lower range that bloomed effortlessly as it ascended the scale. Her opening aria, 'Una voce poca fa', was sprinkled with fascinating ornamentation, in addition to nimble coloratura and dazzling high notes.
Bielecki's fine lyric tenor and comic flare made for an engaging Almaviva. His impersonations of a drunken soldier and annoying music master were spot on.
Tomasz Tokarczyk conducted a brisk, sparkling performance of Rossini's comedy. The sound of a piano, as opposed to a pianoforte, accompanying the recitatives was unexpected, but it fit with the updating of the action. A reprise of the overture during the first round of curtain calls was another surprise, but it kept the high spirits of this delightful evening at the opera flowing.
Rick Perdian