Switzerland Various composers: Jess Gillam (saxophone), Zeynep Özsuca (piano). Kleine Tonhalle, Zurich, 6.12.2021. (JR)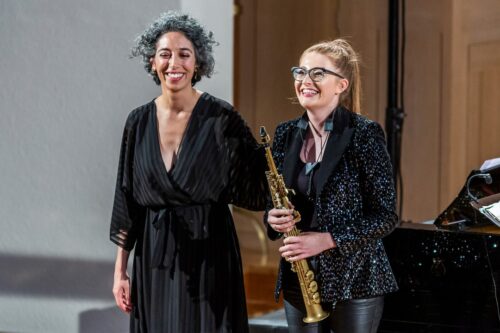 Francis Poulenc – Oboe Sonata (arr. for saxophone and piano)
Kurt Weill – 'Je ne t'aime pas' (arr. for saxophone and piano)
Graham Fitkin – 'Gate' for saxophone and piano
John Dowland – 'Flow my tears' (arr. for saxophone and piano)
Luke Howard – 'Dappled Light' (arr. for saxophone and piano)
Alessandro Marcello – Oboe concerto (arr. for saxophone and piano)
Ástor Piazzola – Three pieces from The History of the Tango (arr. for saxophone and piano) ('Bordello 1900', 'Café 1930', 'Nightclub 1960')
Jess Gillam is probably not a name known to very many Swiss, although she did come to Lucerne in August 2019 to perform as part of the Summer Festival. She came to British attention in 2016 when, still only 18, she became BBC Young Musician of the Year (woodwind section), and two years later was on stage for The Last Night of the Proms. Now, still only aged 23, she is the youngest ever presenter on BBC Radio 3 and I always look forward to her weekly radio show in which she chats in a most laid-back manner with a fellow young musician about the classical music she clearly adores. She introduces the show (to the strains of Milhaud's Scaramouche) with a chirpy 'hello!' in her affecting, broad Cumbrian accent. Gillam comes over as a natural, intelligent, enthusiastic musician, whose easy-going banter should attract a younger audience to the concert halls – on top of that, she is a highly gifted artist. Gillam blazes a trail for her instrument; it is pleasing to see contemporary composers writing and arranging pieces for her.
Gillam, striking and funkily attired, had put together a very clever, very mixed programme to showcase both her talent and her instrument. We started with Poulenc, a sonata written for oboe, the sound of the soprano saxophone fitting perfectly with the jaunty style of this individualistic French composer. There were reflective sections, fast and furious ones, Romantic passages – it was all very infectious.
Kurt Weill evoked the Berlin of the 1920s, the piece showed the wide range of the instrument; then followed a fine jazzy piece by contemporary composer Graham Fitkin, for me the highlight of the concert, with many differing styles. This enabled Gillam to impress us all with her technique, very ably accompanied by Ankara-born Zeynep Özsuca (who my research reveals is married to Simon Rattle's clarinettist son, Sacha). To cleanse the palate, as Gillam put it, we calmed down with some John Dowland.
Then Australian composer Luke Howard's affecting piece 'Dappled Light' evoking the sounds of the very early morning, the saxophone being the first bird song.
Alessandro Marcello was composing in Venice in the 1700s; his works are rarely heard today. His oboe concerto is perhaps his best-known work and was transcribed for harpsichord by Bach. Its central movement has a charming melody. A mishap with some loose pages led to an involuntary pause just before the final coda, but no damage was done. Breath control was particularly impressive, Gillam needing to regain her stamina and composure between movements; only once or twice did we hear an astringent note.
The last pieces in the formal programme came from the pen of Ástor Piazzolla, tango music – of course. We ended with a jazzy flourish; the audience in the Kleine Tonhalle (with a slightly smaller capacity than the Wigmore Hall) were rapturous.
We were rewarded by an encore, 'Where we are now' by David Bowie: pure joy!
Her next gigs include a New Year's Eve and Day Concert with the Deutsches Symphonie-Orchester in Berlin, Milhaud's Scaramouche with the Munich Philharmonic in February, in Szczecin (Stettin) at the end of February, and in March at the Wigmore with the Manchester Camerata and her debut with the Philharmonia at the Anvil in Basingstoke. Do catch her if you can.
John Rhodes