Russian Federation Tchaikovsky, The Enchantress: Soloists, Chorus and Orchestra of the Mariinsky Theatre / Valery Gergiev (conductor). Mariinsky II, St Petersburg, 4.12.2021. (GT)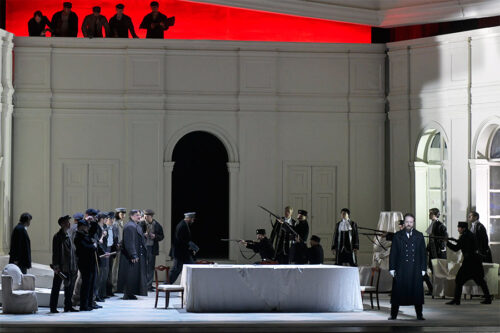 Production:
Stage director – David Pountney
Set designer – Robert Innes Hopkins
Costume designer: Tatiana Noginova
Lighting designer: Mimi Jordan Sherin (adapted for the Mariinsky II – Yegor Kartashov)
Chorus director – Pavel Teplov
Cast:
Prince Nikita – Vladimir Sulimsky
Princess – Anna Kiknadze
Young Prince Yuri – Alexander Mikhailov
Nastasya ('Kuma') – Maria Bayankina
Foka – Yevgeny Chernyadyev
Mamyrev – Stanislav Trofimov
Nenita – Lyubov Sokolova
Ivan Zhuran – Alexander Gerasimov
Polya – Darya Ryabakova
Balakin – Oleg Balashov
Potap – Pavel Shmulevich
Lyukash – Oleg Losev
Kichiga – Gleb Peryazev
Paisy – Nikolay Gassiev
Guests and friends of Kuma – Ensemble of soloists of the Academy of Young Opera Singers
Tchaikovsky composed this opera during a rich spell of creativity between 1886 and 1887 between his Manfred Symphony and The Queen of Spades, and he was so pleased with the result that he considered it his finest work in the genre. However, The Enchantress has never enjoyed the success of his most celebrated operas, Eugene Onegin and The Queen of Spades. Tchaikovsky completed ten operas and left another twenty incomplete. He had high hopes for this stage work based on Ippolit Shpazhinsky's eponymous five-act melodrama and the composer asked the playwright – assisted by Tchaikovsky's brother Modest – to make his libretto more concise and less wordy by reducing the original play's five acts to four. The opera was premiered at the Mariinsky on 20 October 1887 under the direction of Tchaikovsky himself who conducted another three performances there, however, the opera left the repertoire after only 12 evenings that season, proving to be 'an honourable fiasco' in the composer's words. This staging presents the original opera libretto, whereas in 1941 a revised, shortened version which was popular during Soviet times was produced by Sergey Gorodetsky. Sir David Pountney's production has about thirty minutes more music in the first two acts and was a collaboration with the Teatro Nacional de São Carlo in Lisbon. Following the first performance in Portugal, the Russian premiere took place on 29 June 2003 during the White Nights Festival in St Petersburg.
Emilia Pavlovskaya who created Tchaikovsky's Tatyana in Eugene Onegin, and who premiered the role of Kuma wrote to the composer that she differed with Tchaikovsky's conception of the female protagonist. In his riposte to her claim that the heroine was too pure – and that it was difficult to like her – the composer responded: 'I visualise Nastasya in quite a different light. Of course she is a loose woman, but her charm does not lie merely in her pretty talk … It wouldn't be enough to turn the young prince from a bitter enemy, who has come to kill her, into a lover. In the depths of this loose woman's soul lie a certain moral power and beauty which up to now had no opportunity to unfold themselves. This power is love … While her love is unborn, she squanders her powers as if it were small change … Then there appears a man who is destined to awaken in her the better dormant sides of her inner being and – she is transformed … Why do you love the role of La traviata? Why are you so fond of Carmen? Because these characters reveal power and beauty.'
Nastasya in The Enchantress seems a different woman from Violetta or Carmen because here she is portrayed as an earthy young woman well aware of her own beguiling nature and intellect but is hardly dissolute. Known as Kuma her inn is a location for socialising and for political malcontents. At first angered by the social discourse and immorality practised there, Prince Nikita is attracted to Kuma's beauty, and he falls under her charms, she however rejects his amorous advances because she is more attracted to his son Prince Yuri. Jealousy and love are the two pivotal emotions whereby the Princess fears she will lose her husband to someone she considers as a young hussy, then there is the jealousy between father and son who are both in love with the same woman, as well as the self-destructive love of Kuma and Yuri which ultimately ends in tragedy.
The opera was originally set in the late-fifteenth century, but the period in this staging is in the late-nineteenth century, and a sign of the times is that revolt is never far away, notably in Act II when a group of striking workers break into the prince's palace.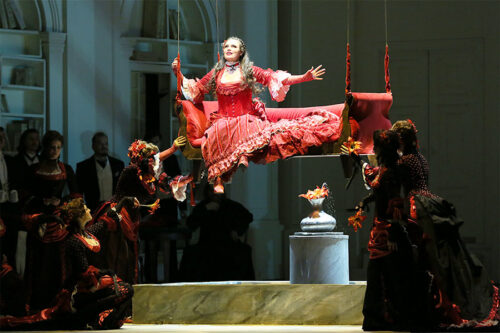 The large hall of a country house is the setting for all four acts; in the opening scene at Kuma's inn, the male guests arrive, and are met by girls; it quickly becomes clear that this is a bordello, as the girls escort men to rooms in the inn. Above this scene, we see other townspeople looking upon the happenings below from balconies, as if in a reflection of society looking down on the goings on below. Kuma makes a dramatic appearance descending from above on a plush red cushioned sofa, serenaded by a chorus 'Greetings, dear Kuma!' The company present includes a priest, a prize-fighter, and wealthy men of property. They ask her to sing for them, and she responds with her charming arioso ('Where was I? In the green, green meadow…'). Intoxicated by her loveliness and charm, Prince Nikita is enchanted by Kuma's earthy hospitality, and he gives her a ring. Dancers arrive and perform a delightful rustic dance accompanied by the Dance of the Tumblers, while other girls disrobe and again join men in their rooms.
Following a colourful entr'acte, in Act II we are in the prince's palace draped in black, which is matched by the princess's dress, and in a passage accompanied by harps and cor anglais, she laments, 'All night alone with heavy thoughts…'. The deacon Mamyrev enters and informs her of her husband's visit to Kuma, and in an arioso the Princess sings 'Here is where my suffering lies…'. She grieves of losing her womanising husband and Yuri proposes to kill the wanton enchantress Kuma. Unaware of his son's intention to kill Kuma, Nikita arrives and quarrels with his wife, and as they leave, the people storm into the palace breaking the furniture and from the balcony above people protest about raised taxes, however Yuri assures them all will be settled in their favour.
Act III is set in Kuma's boudoir where Nikita is cavorting with her and she is not pleased by his attentions ('You sir, lower your eyes…'). Yuri arrives, and he wonders how he can muster the power to kill Kuma ('I came here to kill you, you witch, I came to commit a sin…') but after seeing his father leave in anger, Yuri's hatred is transformed to sympathy when he hears of Kuma's loneliness and desire of happiness, and enchanted by her charisma and charm, Yuri falls in love with Kuma and they both embrace ('There is no one more beautiful …').
Act IV opens with a dramatic entr'acte of a hunting scene in which Yuri sings a fine arioso ('Here is where we are led…') while in Kuma's home, the Princess (disguised) offers a poisoned drink to Kuma – and now anxious for Yuri – Kuma sings an arioso ('Where are you, my dearest?'). We get a portent of the tragedy to come when four figures in black enter and stand in the background. As Kuma collapses dying from the poison, Nikita arrives, and enraged by jealousy, he kills Yuri, and the stage falls into darkness, lightning strikes with violently dramatic music and Nikita loses his mind crying 'What have I done? My God…' while a little girl plays in the hall and blackness envelopes the stage.
Valery Gergiev conducted this masterly revival of The Enchantress and some of the finest of Tchaikovsky's writing was unveiled and the evening was distinguished by superbly arranged crowd scenes with magnificent choruses. Of the main characters, we heard outstanding singing from the darkly hued baritone of Vladislav Sulimsky as Nikita, and especially so by Anna Kiknadze who superbly acted the suffering Princess – every movement of her face and body fully characterised the depths of her agony and desperation. There were fine performances in the secondary roles of the Princess's maid Nenita by Lyubov Sokolova who heightened the drama of the scenes of betrayal and revenge in the palace; notably too the wanderer Paisy played by the tenor Nikola Gassiev who was exceptional in his fine singing and acting with emotions expressed in every tone. The lyric tenor of Alexander Mikhailov as the doomed Yuri was outstanding in his portrayal. The star of the evening however was the Kuma of Maria Bayankina whose dramatic soprano captured every nuance of a woman wrongly condemned, yet who only sought her true love in life.
Overall, this opera lacks the richly harmonic writing that Tchaikovsky composed for his more popular operas and The Enchantress does not have the genius of major tragic operas such as Carmen or La traviata which would have gained it greater popularity; nonetheless there is much to admire in this opera and undoubtedly it deserves more stagings in the West. Pountney's production was simply effective with an emphasis given to the swiftly changing scenes and emotions on stage, the colour scheme of red, black and white was successful in dramatising the narrative of love, death and jealousy enshrined in Tchaikovsky's score. However, the complex character of Kuma was unfortunately represented as an unruly brothel keeper devoid of the deep-rooted humanity of Tchaikovsky's original creation. The tragedy of a broken family apparently wrecked by Kuma is the impression portrayed by this production, and not that of a tragedienne wronged by society.
Gregor Tassie