United Kingdom Waller-Bridge, Britten, Vivaldi: Pekka Kuusisto (violin/conductor), Ale Carr (cittern), Philharmonia Orchestra. Royal Festival Hall, London, 28.11.2021. (CS)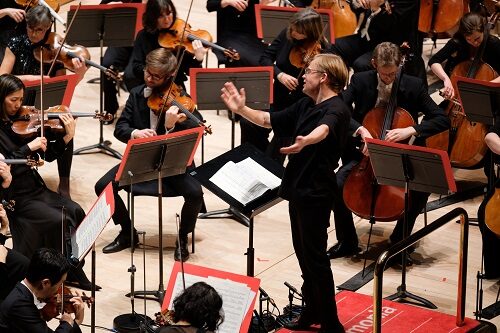 Isobel Waller-Bridge – Temperatures (world premiere)
Britten – 'Four Sea Interludes', from Peter Grimes
Vivaldi – The Four Seasons, with improvisations between movements
To borrow a sporting adage, this was a concert of two halves, though 'the wind and the rain' blew and blasted through both parts with equal colour and drama.  The Philharmonia's 2021-22 Human/Nature series acknowledges that the 'natural world has been a spark for human creativity since the dawn of music-making' and so this programme, performed at the Royal Festival Hall on Sunday evening, strove to show how composers have 'addressed humanity's relationship with the natural world, each from the perspective of their own place, time and experience'.  Thus, we had modern-day thermometer trauma from Isobel Waller-Bridge; the glint of sun on Suffolk surf and the eighteenth-century fisherman's terror of the storm from Britten via Crabbe; and a Baroque seasonal cycle filtered through the barometer of jazz-folk fusion.
Finnish violinist Pekka Kuusisto was in charge of the evening's climatic currents.  Kuusisto – who performs with jazz, progressive and folk musicians and ensembles, alongside his 'classical' engagements – has increasingly been seen directing ensembles.  It's a role he clearly enjoys, and he certainly has the musical presence and character to take musicians with him, wherever he wants to journey.  But, it's one thing travelling down by-ways with a small group of musicians whom you know well, and quite another guiding huge orchestral forces across untrodden territory, or through the familiar terrain of one of the 20th century's canonical masterpieces.
Kuusisto doesn't really have a baton 'technique' – indeed, he eschews a baton.  Of course, the latter is not a problem, and there are myriad ways of communicating musical meaning and intent.  But, holding both hands high and architecturally rather four-square, Kuusisto didn't convince me as a crafter of big instrumental narratives on this occasion.  The concert began with the world premiere of Isobel Waller-Bridge's Temperatures, the four continuous movements of which are based on the concept of a 'positive feedback loop' in climate change.  The programme helpfully explained that a feedback loop 'speeds up or slows down a warming trend, so a positive feedback loop accelerates a temperature rise'.
Waller-Bridge's richly scored soundscape vividly represents the cyclic surging and waning of the mercury.  The quiet coolness of the opening was soon rustled by coloristic agitations – glissandi strings, percussive interjections – which flowed and ebbed, then pushed forward again until it felt as if we were in the midst of a crowd in which everyone was shouting at once, fragmented snatches spinning our attention in all directions.  The unstoppable musical expansion was almost frighteningly palpable, and harmonic 'sticking points' created tension, but eventually there was not so much release as trembling stasis.  The cyclic rise and fall continued, acquiring at times a march-like fervour or free-wheeling like a wild dance driven by belligerent brass and clamorous alarm bells.  Then, suddenly, the wind blew itself out – a terrifying musical metaphor for man's, and music's, demise.  Waller-Bridge explains that the work's energy 'represents our hubris … There is a madness in it'.  Sadly, all too true.
The 'Four Sea Interludes' from Britten's Peter Grimes followed.  I don't know if Kuusisto has ever stood alone on the pebbles of Aldeburgh beach as the rising sun draws a line along the horizon, separating sea and sky, and the gulls and waves dance a duet of freedom and power, but 'Dawn' had a hurriedness which clipped the wings of the birds' blithe liberty and reined in the immortal strength of the deep.  More space, and less physicality, was needed for the instrumental landscape to breathe unrestrained.  'Sunday Morning' didn't feel quite as buoyant as it should do, the clanging clarion rather subdued, though the undercurrents of restlessness were convincing.  'Moonlight' should evoke the tense interplay of motion and stasis – in the opera, Grimes' second apprentice has died, but with the new day the Borough's daily business will resume unheeding – but Kuusisto seemed to push forward too pressingly, not allowing the orchestral sobs to linger, blunting the music's apprehensiveness.  The 'Storm' can hardly fail to roar viciously and spikily, and the Philharmonia musicians duly conjured a fearful, taut thunder.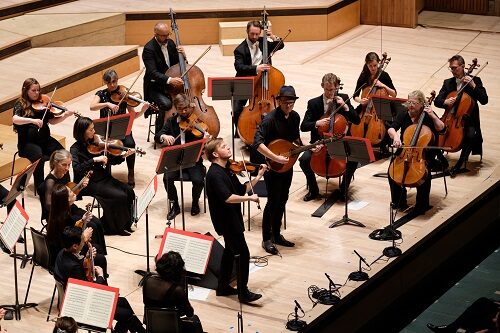 After the interval, Kuusisto returned with his violin in hand and Swedish cittern-player Ale Carr at his side, to perform a 'not as you know it' Vivaldi's The Four Seasons with a scaled-down Philharmonia string section.  Now the musical freedom soared, as Kuusisto wove improvisations – drawing ideas from diverse lands, cultures and traditions – between and around the movements of Vivaldi's calendar of the natural world.  Carr was a kindred maverick – his spontaneity unhindered by a broken string – and the Philharmonia musicians had a ball.  How heart-warming to see and hear musicians playing a 'Classic FM staple' and not going through the motions but finding new things and new ways in every phrase and cadence.  Kuusisto's interactions with his musicians, as he frequently turned his back to the audience, were clearly inspiring.  Cellist Karen Stephenson was a brilliantly daring partner in the 'continuo' episodes.  Section leaders relished the opportunity to shine, and their own smiles beamed at Kuusisto's effortless virtuosity.
There were heightened juxtapositions both within and between movements.  In the Largo of 'Spring', the violins' pianissimo was intense, the viola's stabbing motif – delivered with two digging down bows – an insistent demand for attention, as the solo floated on serenely.  The ferocious winds of 'Summer' had an almost unforgivingly bright 'edge', though the roar of heaven and hail disappeared in a pianissimo flash at the end of the Presto.  As the solo violin rested contentedly beside the hearth in the Largo of 'Winter' – described by Kuusisto as Vivaldi's après-ski movement – the ensemble strings' sul ponticelli conjured the icy rain which drenches those outside with visceral exactitude.
In an interview with the Guardian's Erica Jeal in 2007, Kuusisto remarked that his teachers had been perplexed about the unusual qualities of his playing until one heard him play some jazz: 'She understood that it's kind of different for me, that I want to keep a lot of things open, to concentrate more on communicating with my fellow musicians than just executing something the way I have decided to do it much earlier. And when we talked about it, I realised that this was OK, it was actually maybe one of the best things that I have – this desire or ability to improvise.'
Perhaps the long riff before 'Autumn' was a bit self-indulgent, but who would argue with Kuusisto's self-assessment?  And, the boundaries between the Vivaldi movements and the improvised interventions were seamlessly negotiated.  My only misgiving – and it was one that arose in post-concert reflection rather than during the actual heart-winning performance – was that there was little real 'connection' between Vivaldi's concertos and the interpolations.  Impressively inspired as the latter were, they did not – and did not seek – to 'say' anything about Vivaldi, or, if they did, the illumination passed me by.
But, perhaps that doesn't matter.  In a YouTube interview, Kuusisto remarks, 'Would Vivaldi want me to try to imitate what they did back then?  Probably not. … Would he ever expect it to be played in the Royal Festival Hall for a couple of thousand people?  Certainly not.  If he were aware that it's being played in 2021 for a paying public, would he mind people doing experimental things with it?  Absolutely not.  I'm pretty sure he would be fine.'
And, indeed, 'fine' it was on this occasion.  This had been an evening of temperature extremes, and Kuusisto and Carr judiciously lowered the mercury with their encore, a Finnish Christmas Carol as arranged by Sibelius – the creative candle kept burning by Kuusisto's insouciant whistling.
Claire Seymour