United Kingdom Bach, Prokofiev, Liszt: George Harliono (piano). Wigmore Hall, London 7.12.2021. (MBr)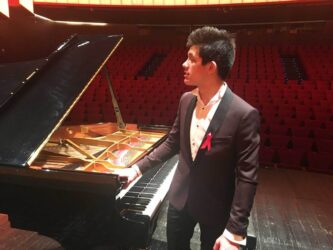 Bach – Flute Sonata in E flat, II 'Siciliano' (arr. Wilhelm Kempff); Chaconne from Partita No.2 for Solo Violin (arr. Busoni)
Prokofiev – Piano Sonata No.2 in D minor, Op.14
Liszt – Schwanengesang S560; Ständchen 'Leise fiehen meine Lieder'; Rhapsodie espagnole S254
George Harliono is a pianist I have not previously heard in recital before but on the basis of this one he should be a pianist we will be hearing a lot more of. Much of this recital was of a very high quality, often touching on the inspired – although it had been programmed for a certain style of playing. Young pianists are often apt to show what they can do with their fingers rather than their heart.
These hour-long 1pm recitals fall into two categories. Artists either make life easy for themselves – or they do not. Harliono fell very much into the second category. It was heavy on virtuosity, although the two Bach pieces, both transcriptions by pianists, offered an interesting comparison. The 'Siciliano' from the E-flat Flute Sonata was in an arrangement by Wilhelm Kempff – and it was subtle and full of beautiful phrasing, a nod towards Kempff's style of playing. Harliono wasn't particularly either subtle or prone to phrasing which was always elegant (although his encore of Brahms's Intermezzo was, surprisingly, a wonderful display of what had been missing in the Bach).
Busoni's arrangement of the 'Chaconne' from his Partita No.2 in D minor was on an entirely different level. Depending on your point of view, a problem with Busoni's transcription is that the pedalling is reasonably exhaustive and the fingering demonstrably beyond what we will ever hear in the beautifully poised, yet grand, violin scoring. Many performances of this transcription lack a precise reading of Busoni's rubato – often you'll find very heavy fingering in fast passages and a shift in the slower, lighter ones which can sound abnormally unweighted. Harliono is a more temperate interpreter of this piece – his pedalling is clean, and the balance is largely refined. Busoni demands a lot from his pianist – double octaves, massive finger runs, impressive arpeggios and it needs to sound organically 'orchestral'. It can be a difficult trade off. Harliono was certainly able to produce a massive sound – and moreover control it. Largely this was an impressive performance.
Prokofiev's Piano Sonata No.2 shares with the Concerto No.2 a four-movement structure. Although it comes from the same year as the concerto – 1912, although it was revised in 1923 – it lacks that works intensity and technical brilliance. Harliono takes quite a Romantic view of the sonata – gestures are on a grand scale, perhaps a little outsized for its modest writing. We got an Allegro in the opening movement that was both lyrical and restrained in its first part, before an impressively wild ending that led straight into a Scherzo which Harliono played with considerable panache. He played it with piston-like precision, the motoric phrases generated with pin-point sharp finger work – a reminder that this music would build throughout Prokofiev's piano writing into works like the Seventh Piano Sonata. The Andante had been deeply considered, lyrical, a touch misty even, as the performance ended with a sprinted, blazing Vivace that ran a touch too fast it was in danger of occluding the jazziness of the second theme. A standout performance, nonetheless.
Two Liszt pieces ended the recital – the first of which was as poetic and inspirationally refined as one could wish to hear. Ständchen 'Leise fiehen meine Lieder' had many of the qualities missing from his Bach. Perhaps the most impressive item on his programme was Liszt's Rhapsodie espagnole. The work is challenging on several levels – technically as well as dramatically. Harliono gave a hugely impressive performance of it – wonderfully dramatic opening flourishes, a formidable passacaglia and a light, elegantly graceful final variation. He managed the work's cross-hand playing, leaps, double octaves and rapid chords with considerable skill. Perhaps only its 'Spanishness' eluded him; but then, Liszt doesn't exactly overplay his hand with an overt Iberian style here.
This was on many levels a quite exceptional recital. Sat on the keyboard side of the hall, it was noticeable how confident and assured his finger work was – although as is my usual complaint with pianists today, I find high wrists a problem and Harliono is no exception to this. But he is a pianist I will look forward to hearing again.
Marc Bridle