United Kingdom Opera Rara – Leoncavallo's Zingari: Soloists, Opera Rara Chorus, Royal Philharmonic Orchestra / Carlo Rizzi (conductor). Cadogan Hall, London, 3.12.2021. (JPr)
Puccini (arr. Rizzi) – Tosca Symphonic Suite
Leoncavallo – Zingari (concert performance)
Krassimira Stoyanova – Fleana
Arsen Soghomonyan – Radu
Stephen Gaertner – Tamar
Łukasz Goliński – Il Vecchio
This was my first solo trip to London since February 2020 and I wish I had enjoyed it more. Appearing in the intimate Cadogan Hall was the combined musical excellence of four experienced soloists, an ad hoc – though fully committed – chorus, the distinguished Royal Philharmonic Orchestra and conductor Carlo Rizzi who is almost unsurpassed in the Italian repertoire. In the end they were all wasted on Ruggero Leoncavallo's Zingari which had its 1912 premiere at London's Hippodrome Theatre in Leicester Square and had some success there and subsequently in the United States: while apparently languishing in virtual verismo obscurity ever since it seems. There is a very good reason for this and that is because it is not very good. There is some suggestion that Zingari marked a return to form for Leoncavallo after the huge success of Pagliacci twenty year earlier. Maybe it is just me, but those two operas do not really deserve to be in the same sentence; Pagliacci is a masterpiece, as for Zingari, well …?
Leoncavallo saw Pagliacci put on at the Hippodrome in late 1911 and Ditlev Rindom explains in the programme how it was 'heavily abbreviated to fit the theatre's rapid turnover of audiences and preceded by entertainments including acrobats, a conjuror and a music hall pianist. Pragmatic – and no doubt needing the cash – Leoncavallo enthusiastically accepted an offer to return the following September with an entirely new opera that would fit the venue's new profile: artistically ambitious, yet suited to appear alongside dancing animals and other spectacular novelties.'
Leoncavallo's source material for Enrico Cavacchioli and Guglielmo Emanuel's Zingari libretto was Alexander Pushkin's 1827 narrative poem The Gypsies. This had also been the basis of Rachmaninoff's 1892 Aleko and is also believed to have influenced Prosper Mérimée's 1845 novella Carmen: remembered more for Bizet's popular 1875 opera. Zingari is intensely melodramatic and opens with some gypsies doing some metalwork which is supposed to recall the 'Anvil Chorus' in Verdi's Il trovatore but doesn't. They discover a couple kissing at the edge of the river and they are Fleana, daughter of the Old Man (the chief of the gypsies), and Radu, a young nobleman. Tamar, a gypsy poet, also loves Fleana and so we just descend into the (over-) familiar romantic intrigues and tragic denouement of a soprano-tenor-baritone love triangle. Radu pledges allegiance to the gypsy community but is confronted by the knife-wielding Tamar who Fleana mockingly rejects. With Tamar heard lamenting ('Ah! Cano notturno) the wedding of the happy – for the moment – couple is celebrated.
A brief portentous intermezzo leads to the second of the two 'Episodes' when a year has passed and the story rushes to its tragic end. Radu is jealous after he discovers Fleana is now seeing Tamar – who she regards as king of the gypsies – behind his back. When he finds them pursuing their illicit relationship inside a hut, Radu sets it alight. Bathetically, the Old Man tells the gypsies to free Radu because he is crazy.
You would need to (see and) hear the opera to appreciate how the action – such as it is – is extremely abridged and there are few moments of repose in undoubtedly sumptuous and colourful music with lashings of Leoncavallo's clichéd gypsy exoticism. It is a succession of he sings-she sings-they sing voice-shredding – at least for this quartet – set pieces. Virtually every phrase they get to sing ends with a crescendo and a top note which – for me at least – became very wearying. It has been recorded for future release on Opera Rara's own label and completists will get the opportunity to make up their own minds about Zingari.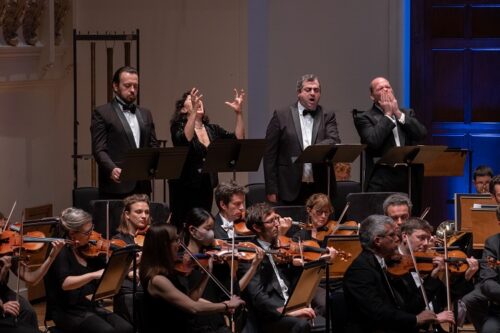 The RPO are never less that committed and despite their sound been hampered by being crammed onto the smallish Cadogan Hall platform I doubt whether Zingari will have been better played. Abigail Fenna was particularly virtuosic with her mellow playing of the contraviolino (was it?) that Leoncavallo requires for the plaintive 'Ah! Cano notturno' in Episode One and its reprise later in the opera. None of the singers – Krassimira Stoyanova (Fleana), Arsen Soghomonyan (Radu), Stephen Gaertner (Tamar) and Łukasz Goliński (Old Man) – were truly at their ease, either because of Leoncavallo's tessitura or the effects of earlier recording sessions. They were four, mostly secure, stentorian voices uniformly lacking any real vocal allure that might have made a better case for Zingari. Finally, the comparison that is apparently made between Fleana and Bizet's Carmen was undermined by Stoyanova's cackling and, for me, the character reminded me more of the vengeful gypsy Azucena in Il trovatore. The chorus was consigned to the gallery either side above the orchestra and sturdily intoned the composer's routine choruses.
Before Zingari we heard Carlo Rizzi's own Tosca Symphonic Suite and during lockdown he has made two arrangements of Puccini's music; this Tosca and Madama Butterfly (which I assume we will hear soon). Rizzi asks us to immerse ourselves 'in all the colours, vibrancy, nuances and textures that come out of Giacomo Puccini's orchestra'. I am used to 'bleeding chunks' and other symphonic shortcuts of Wagner's Ring which saves us – with hints of the legendary Victor Borge playing only the endings of operas – several hours:  however, you would not expect Siegfried's Funeral Music before the Siegfried/Brünnhilde love duet. Rizzi seems to have taken – what he describes as – 'the highlights and best-known arias' and randomly assorted them.
Rizzi allowed us to luxuriate in Puccini's melodies as wonderfully played by the RPO even if the violins sounded a little short of numbers on occasions. However, it all lacked the dramatic context those who know the opera will expect. We went from the opening demonic chords straight to Act III prior to Cavaradossi's execution, then via 'Vissi d'arte' (sounding especially poignant sans voice) into the march as the firing squad enters which gets ridiculously interrupted by the Sacristan busying himself – as at the start of Act I – before pre-empting Scarpia's first appearance. Despite all this there was still a palpable frisson created by Rizzi whipping his orchestra into an 'E lucevan le stelle' frenzy as Tosca races to leap to her death.
I welcome Opera Rara back to live performance after almost two years and celebrate Carlo Rizzi's first public appearance as their Artistic Director but at the end of the evening I was left wishing we had heard a Zingari suite and all of Tosca. Of course, 'dancing animals and other spectacular novelties' might have helped!
Jim Pritchard