Spain Puccini, La bohème: Teatro Real Chorus and Orchestra / Nicola Luisotti (conductor). Teatro Real, Madrid, 18 & 19.12.2021. (JMI)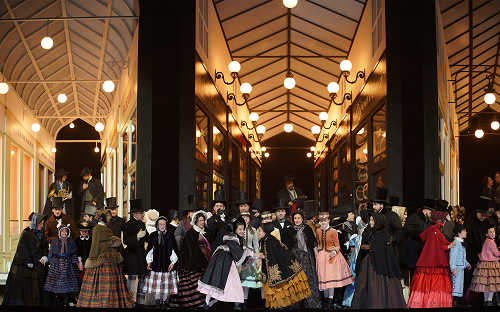 Production:
Director – Richard Jones
Sets and Costumes – Stewart Laing
Lighting – Mimi Jordan Sherin
Casts:
Mimì – Ermonela Jaho / Eleonora Buratto
Rodolfo – Michael Fabiano / Joshua Guerrero
Marcello – Lucas Meachem / Andrzej Filonczyk
Musetta – Ruth Iniesta / Raquel Lojendio
Colline – Krzysztof Baczyk / Soloman Howard
Schaunard – Joan Martín-Royo / Manel Esteve
The Richard Jones production of La bohème has returned to the Teatro Real stage after an absence of four years. And, as in 2017, it is here for the Christmas holidays with two different casts. There are no flashy names among the singers, but both casts are vocally solid. I commented on the sets in my earlier review, and my opinion remains the same as I wrote then: 'The sets consist of a very small attic at the front of the stage with multiple beams which do not allow much movement in Acts I and IV. A sort of shopping gallery in the second act has three sections and is rather confusing; it moves to one side to reveal the Café Momus. Act III was the most convincing, with an almost bare stage except for a small tavern. The costumes respond to the time of composition and are appropriate.'
Conductor Nicola Luisotti moves perfectly in this repertoire and offered a solid reading of the opera, taking good care of the singers and drawing a fine performance from the always outstanding Teatro Real orchestra.
Mimì was sung by Ermonela Jaho who, for my taste, was the best in the first cast. There is always emotion in her singing which she conveys to the audience, and that is much appreciated. Jaho's voice is not extraordinary in terms of quality or volume, but it is appropriate for the role, and her interpretation of 'Donde lieta uscí' in the third act was superb.
Soprano Eleonora Buratto sang Mimì in the second cast, and her performance once again confirmed that she is an important singer. Her voice shows homogeneity throughout the tessitura and offers more than sufficient volume, overcoming the difficulties of the score without problems. The quality of her voice is superior to that of Ermonela Jaho, although the latter's interpretation is difficult to beat.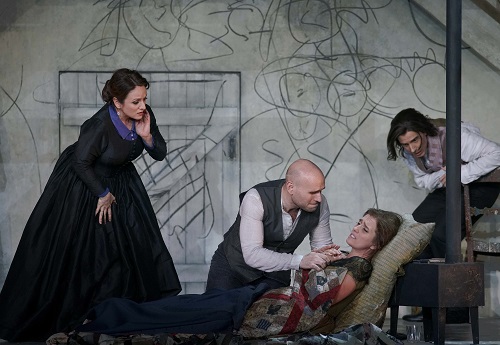 In the first cast, Michael Fabiano was Rodolfo. He has a beautiful voice in the middle range and, although he is rather tight at the higher notes, I think he is now better than some time back. The problem is that his singing is monotonous: there is not even a hint of a middle voice, and thus there can be no emotion.
Andeka Gorrotxategi had been scheduled to sing the part of Rodolfo in the second cast, but he cancelled due to health problems. He was replaced by tenor Joshua Guerrero, whom I had not had the opportunity to see before. He made a very positive impression, and gave a performance that matched Michael Fabiano's in the first cast. His voice is appealing and even, and he is a correct interpreter.
Lucas Meachem as Marcello was unconvincing. His voice is wide, as can be noticed from the first bars of the opera, and his singing reflects little emotion. The second Marcello was Andrzej Filonczyk, whose voice is attractive. I found him to be a stronger singer than Meachem.
Soprano Ruth Iniesta handles her voice well and made a good Musetta in terms both of singing and acting. Raquel Lojendio was not very convincing at Café Momus, where there were some strident sounds. I liked her more in the final two acts.
Bass Krzysztof Baczyk brought Colline to life, but I missed a deeper voice in the character, especially in the aria 'Vecchia zimarra'. The second Colline was Soloman Howard, whose voice is better suited to the character. He gave an excellent rendition of the Coat Aria.
Both Joan Martín-Royo and Manel Esteve were successful in the part of Schaunard.
José M. Irurzun