United Kingdom LIVE FROM LONDON CHRISTMAS 2021 – 'A Christmas Cracker': VOCES8, VOCES8 Foundation Choir; VOCES8 Orchestra / Barnaby Smith (conductor) with Jack Liebeck (guest leader/soloist), Tamsin Greig, Richard Leaf (narrators), plus Young Performer Spotlight performance from Barnsley Youth Choir. Broadcast from St Jude's Church, Hampstead and VOCES8 Centre, London, 4.12.2021. (CC)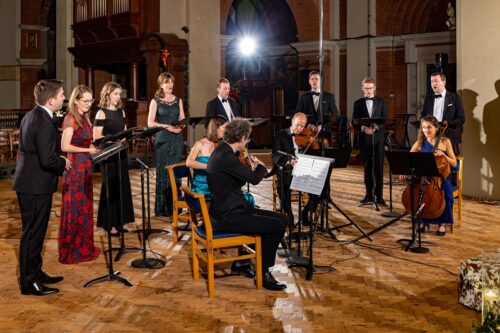 And so it begins. Mince pies are in the shops (to be replaced by Easter eggs on Boxing Day, probably), television guides until January are out already. And the first of the VOCES8 LIVE from London Christmas is here (details below).
The stream actually begins with Barnsley Youth Choir in O Holy Night, with piano, a terrific choir with some nice solo contributions (the recorded piano sound is perhaps a touch lacking, though not enough to detract from the spirit of the performance).
The orchestral pot-pourri that is 'A Christmas Cracker' is great fun, familiar melodies skilfully sewn together and beautifully played by the VOCES8 Orchestra – a collection of professionals, including members from all of the major London orchestras – under Barnaby Smith's encouraging baton. From the VOCES8 Foundation Choir Joy to the World emerges in full filmic blockbuster technicolour.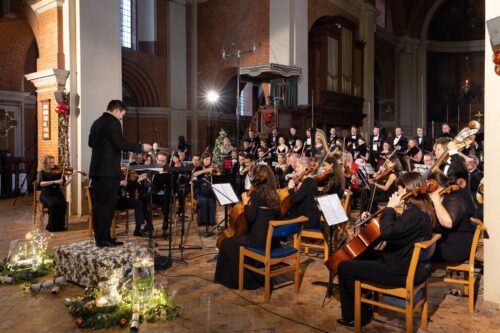 But this is not simply warm socks, reflective baubles and reindeer. 'Christmas has a darkness', Christina Rosetti's beautiful poem reminds us. Dissonance in the orchestra plus thick scoring indicates the darkness in Gabriel's Message; there is a similarly dark beginning to O Come O Come Emmanuel.
A lovely trio of pieces now, back in VOCES8 Centre. Jean Mouton's Nasciens Mater is a gorgeous place of repose; VOCES8's performance glowed because of their linear awareness, each member aware of his or her role, lines overlapping with sublime inevitability. The newest VOCES8 member, soprano Molly Noon has a sound with blends perfectly with the more established members, the overall balance impeccable, enabling the delicacy of the famous Quelle est cette odeur agréable to truly shine. Noon shone again in the world premiere of a piece by Bob Chilcott, The Sleeping Child, which includes a long solo for her angelic voice.
Back to St Jude's for I Saw Three Ships in a very jazzy arrangement, and recast in 7/8 time, which adds an extra layer of freshness; VOCES8 do these so well. Santa Claus coming is heard in a really spot-on performance – it requires great discipline to project so much fun and so much energy.
Lovely to hear Jack Liebeck, with a sweet tone in his upper registers, at the front of the orchestra, in Silent Night; this is an arrangement designed to give anyone that Christmassy feeling.
While the arrangement of the Sussex Carol is decidedly filmic, the revelation here is Adrian Peacock's Venite Gaudete. The piece really is fabulous: lovely scrunchy harmonies and great rhythmic ingenuity. Better known as a record producer – and one of the finest bass singers I have ever heard – Peacock is clearly an accomplished composer also. The piece is heard here in a skilled orchestration by Owain Park.
Thereafter we are in full snowy Christmas territory, a Christmas Medley and Leroy Anderson's Sleigh Ride, the latter introduced as with 'real sleigh bells' and – with a suspiciously naughty aspect to the announcer's voice – 'a whip'). Away in a Manger is de rigeur of course, while O Come All Ye Faithful is adorned here by some fabulously inventive fanfares and interludes by Taylor Scott Davies.
Readings are brilliantly delivered: Tamsin Greig is particularly hilarious in J. J. Norwich's The Twelve Days of Christmas. A fine beginning to VOCES8's online Christmas season, just in time for their Wigmore Hall concert (8 December) and subsequent US tour.
Colin Clarke
Thomas Hewitt Jones – Christmas Cracker
Isaac Watts – Joy to the World (arr. Taylor Scott Davis)
READING Christmas Eve (Christina Rosetti)
Anon. – Gabriel's Message (arr. Jim Clements)
Anon. – O Come, O Come Emmanuel (arr. Taylor Scott Davis)
Jean Mouton – Nasciens Mater (arr. Willocks)
Trad. – Quelle est cette odeur agréable? (arr. Blake Morgan)
Bob Chilcott – The Sleeping Child (VOCES8 commission, world premiere)
Trad. – I Saw Three Ships / Silent Night (arr. Taylor Scott Davis)
READING Noël (J. R. R. Tolkien)
Adrian Peacock – Venite Gaudete (orch. Owain Park)
Philip Ledger – Sussex Carol (orch. Christopher Moore)
Trad. – Silver Bells (arr. Blake Morgan)
Julie Steyne – Let it Snow (arr. Jim Clements)
Coots/Gillespie – Santa Claus is Coming to Town (arr. Jim Clements)
READING The Twelve Days of Christmas (J. J. Norwich)
Leroy Anderson – Sleigh Ride
Various – Christmas Medley (arr. Thomas Hewitt Jones)
READING O Simplicitas (Madeleine L'Engle)
Trad. – Away in a Manger (arr. Taylor Scott Davis)
Trad. – O Come, All Ye Faithful (arr. Taylor Scott Davis)