United Kingdom LIVE from London Christmas 2021 – Handel's Messiah, HWV 56: Mary Bevan (soprano), Bethany Horak-Hallett (mezzo-soprano); Nicholas Mulroy (tenor), Dingle Yandell (bass), The VOCES8 Foundation Choir, VOCES8, VOCES8 Baroque Orchestra / Barnaby Smith (conductor). Recorded at St Jude-on-the-Hill, London, streamed on 18.12.2021. (CC)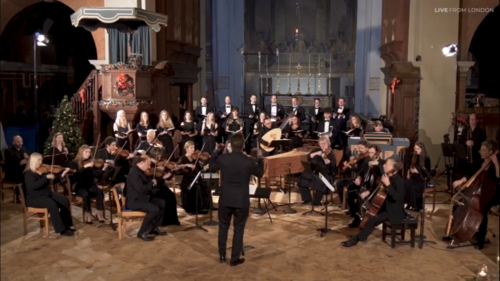 Recorded in the beautiful surroundings of Hampstead Garden Suburb's St Jude-on-the-Hill, this was a glorious Messiah, top rank soloists balancing one of the finest choral groups around, VOCES8, here with members of the VOCES8 Foundation.
Interesting to hear noted harpsichordist Steven Devine in conversation with Barney Smith in the pre -performance video –an insight into how the continuo works from a master of the art. Mary Bevan too, talked about the challenges of the soprano parts and how to deal with them, Andrea Haines from VOCES8 and oboist Leo Duarte added their reactions to the piece.
Prefaced (virtually only) by the I Sing Silicon Valley Choir conducted by Jenna Delp in a beautiful performance of Will Todd's My Lord Has Come, this was beautifully balanced event.
But perhaps it was the sound of the VOCES8 Baroque Orchestra – a glance through their ranks shows many familiar names – that was truly impressive: beautifully disciplined, the Overture set the stall for the excellence of the orchestral playing throughout. It fell to tenor Nicholas Mulroy to open the story, with 'Comfort ye, my people' in a truly beautiful performance.
Bass Dingle Yandell was a new name to me, but his agility ('Thus saith the Lord of hosts' for example) is really quite remarkable; his voice, too, is excellent for this repertoire, not too heavy; the downside of this is that 'Why do the nations' lost some authority. Another name new to me was Bethany Horak-Hallett, who took 'But who may abide the day of his coming' – she has a strong voice, but it is not overly forceful; vibrato, too, is excellently judged. Having a mezzo-soprano in this number meant taking on 'For he is like a refiner's fire' (it is most often heard sung by a bass), and Horak-Hallett excelled, with Smith finding just the right level of ignition in this players while keeping the volume level so as not to overwhelm his soloist; she was, perhaps less involving in 'And the glory of the Lord'.
Soprano soloist Bevan was in radiant voice that shone above the fine set of soloists. Her voice is even throughout its range – meaning no sudden harsh layer as it rises high, just a thread of silver she can add to or subtract from at will. But most of all, it is her narrational abilities that impress: the recitative 'There were shepherds abiding in the field' was rapt – one hung on every word.
Throughout, Smith directed with a freshness and sense of discovery that was remarkable. More, he projected the changes in underlying emotion superbly, not least in the still, dark centre of Messiah, the second part. This brought with it Horak-Hallett's finest moment, too, a truly affecting 'He was despised', and enabled the final 'Hallelujah' chorus to truly shine. If ever there was a proof positive that one should eschew highlights and hear this chorus in context, this was it.
A special word for David Blackadder's natural trumpet playing in 'The Trumpet shall sound' (and for both trumpets at the very close of the piece): clean, clear, accurate. What more could one desire?
Chorally, this was well-nigh faultless. How often do you hear the bass runs in 'For unto us' articulated so clearly, or hear the individual lines with such clarity and yet working together as one? Or hear the power of Handel's harmonic structure so powerfully conveyed as in 'Surely he hath borne our griefs', followed by a properly rigorous 'And with his stripes'. The contrasts in 'Since by man came death' were remarkable (the unaccompanied harmonies full of depth). Pickups in the final 'Worthy is the lamb' could perhaps have been just a touch more on the ball, but the entrance of the final 'Amen' held such beauty; the solo string passage came as a surprise: no mere transitional passage to the culmination but a whole emotional plateau in its own right.
Last year, VOCES8 offered a Messiah in Miniature at Cadogan Hall (also streamed, review here). Performed in front of a full audience, this year's Messiah offered a beacon of hope in times which remain frustratingly uncertain.
Colin Clarke