United Kingdom Anderson, Mahler, Rott, Webern, and Dvořák: Siobhan Stagg (soprano), London Symphony Chorus (chorus director: Simon Halsey), London Symphony Orchestra / Sir Simon Rattle (conductor). Barbican Hall, London, 9.1.2022. (MB)

Julian Anderson – Suite from Exiles
Mahler – 'Blumine' movement for Symphony No.1 in D major
Hans Rott – Symphony in E major: Scherzo
Webern – Six Orchestral Pieces, Op.6
Dvořák – Symphony No.7 in D minor, Op.70
Two or three weeks ago, it did not seem especially likely this concert would happen. It did — and very well it went too. To hear as large an orchestra as that fielded by the LSO here under Sir Simon Rattle remains unusual during our current troubles. We now perhaps ascribe greater worth to every artistic and social occasion, all too well aware of general precarity. I certainly relished the sheer richness of orchestral sound, the unquestionable commitment from all on stage and (London Symphony Chorus) up in the balcony, and something close to a full house for an appreciative audience.
It seems that Julian Anderson's Exiles has, one way or another, been a victim of the dread virus. Two of its five movements were given by the LSO and Rattle in September; here they were joined by 'La République des Lettres' for soprano and a cappella chorus, then impossible to perform. When the final two will come is unclear, yet on the basis of this 'Suite' and its reception, they will be eagerly awaited by many. The new movement — to the world, that is; all were new to me — pays tribute to the American diplomat Varian Fry who assisted many under threat from Nazism into exile. Here, several of them are named, from Bohuslav Martinů via Darius and Madeleine Milhaud and Betsy Jolas to the Hungarian animal photographer Ylla (Camilla Koffler). That was the work of half the chorus, initially syllabic, though not in a 'difficult', Nono- or Lachenmann-like way. The other half sang from Psalm 46: 'God is our hope and strength: a very present help in trouble…'. Dialogue between soprano Siobhan Stagg and choir added to the responsorial sense. If the writing were largely homophonic, there was a splendid, again psalm-like freedom to its metre, Rattle finely shaping a heroic performance from all.
First we had heard 'le 3 mai', Anderson's setting of an e-mail from the Moroccan-French composer Ahmed Essyad to other composers from 3 May 2020, telling of his coronavirus isolation and nonetheless greeting them: 'internal' exile. The soprano is heard first, followed by orchestral sounds that to me evoked a sense of electronic communication — latterly both bane and saviour of our lives. Anderson's orchestration here and later proved typically 'French' in sonority, bells perhaps evoking an inheritance from Messiaen as well as Debussy and Ravel. The darker turn taken upon 'Je vous embrasse tous,' leading to climax at the end of the same line of the text, 'sans covid', repeated, would doubtless have moved irrespective of the words set; however, we heard it with them, and could hardly fail to think 'if only'. The sign off 'Ahmed' returned us to the exile of electronic communication.
'Tsyion', heard last, sets for chorus words from Psalm 137, the Jews in Babylonian exile, by those famous waters, and from Horatiu Rădalescu on that archetypal exile Ulysses, whilst the soprano sang other words above, from Rădalescu on 'Exile' itself. Stagg's exultant melismata again provoked memories of Messiaen, but Anderson's music throughout offered a compelling harmonic language and, more broadly, combination of that with melody, rhythm, and timbre never to be reduced to mere 'influence' or parallels. Solo horn at one point seemed to encapsulate the wistfulness of exile; there was more to it than that, though. Anderson's fantastical imagination suggested to me opportunity and, at the close, through a mass of solo violins, a secularised chorus of birds. There is hope out there, as Essyad realised in contemplating a mountain he could not yet visit.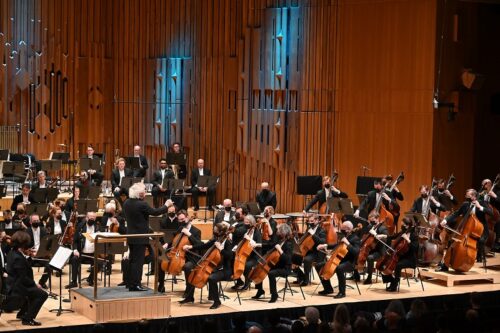 Next up was the discarded 'Blumine' movement from Mahler's First Symphony. There could be no doubting the composer via sentiment or language, nor the specific identity of the Mahler of that symphony, though in many ways it sounded, quite rightly, earlier still: late Romantic rather than modernist, even 'late early' Romantic, Mendelssohn as well as Wagner apparent, Mahler taking his leave from the world of Das klagende Lied. Rattle had Mahler's song sung with simplicity, never audibly moulded as has seemed the case with much of his more recent Mahler. There was darkness, but only moments of darkness in a fine, unexaggerated performance. And what it was to hear both the excellent solo trumpet and a full LSO at the movement's climax. This was truly affecting music-making, all the way to a magical final harp chord.
The Scherzo from the E major symphony of Mahler's friend Hans Rott received here an outstanding, spacious, altogether generous performance, whetting the appetite for what one must hope will one day be a performance of the whole work. One need not be starry-eyed about it, as some are, to recognise its music, anticipations of Mahler and all (any ass can see that…) as intrinsically worthy of listening. The LSO's sound hovered, like Rott's music, somewhere between Bruckner and Mahler, with a little Berlioz at times too, not least in its trippiness. A sort of deranged jollity with disquieting echoes fascinates; and if sureness of direction is not altogether Rott's thing, his music's sheer originality offered something quite compelling both as work and performance.
With Webern's Op.6 Orchestral Pieces we are in different territory: one of the supreme masterpieces of twentieth-century orchestral music. Rattle and the LSO offered them as the repertoire pieces they demand to be: without apology and through intimate knowledge and understanding. Free choice might not lead one naturally to the 1928 revision, but its smaller forces doubtless enabled the work to be performed at all. Heard after that first half of Anderson, Mahler, and Rott, the first movement's lyricism emerged all the lovelier and more longing. Rattle ensured here and throughout a balance that invited comparison with conductors such as Abbado and Boulez. In this narrative, crucially, every note counted for a multitude in so much other music. The second movement's response sounded as inevitable as I can recall, in a vision less haunted than propelled by anger, fear, violence, and yes, wonder. Longing was intensified in the third piece, here sounding intriguingly close to Berg. The German Sehnsucht came to mind. Ominous tread and progress through the funeral march fourth encapsulated a Mahlerian world in itself. Music lay between the notes as well as in them, in a requiem of defiant hope whose roaring climax duly shattered. Heard in aftershock, the fifth seemed to say, stealing from the future of Webern's teacher Schoenberg's Piano Concerto, that life must go on. It witnessed yet sparkled. And what expressive depth we heard in the closing Langsam movement, each chord speaking as if it were a page or two at least of Mahler.
It is doubtless too easy to speak of performing Dvořák via Webern, but it was difficult, at least at times, not to hear it that way. An aural lens of motivic concision and well-nigh Schubertian melodic profusion did no harm at all to its opening Allegro maestoso. I was fascinated to hear the LSO strings sound more 'old German', akin to Daniel Barenboim's Staatskapelle Berlin, than I ever heard the Berlin Philharmonic under Rattle. It worked, in any case, as the LSO really dug into Dvořák's score. A purposeful yet flexible account of this first movement was far from deaf to the beauties and meaning of detail, yet integrated them rather than having them stand out. Here, again, music lay between as well as in the notes. The slow movement was taken slowly, surely more than the 'poco' of the composer's 'Adagio' marking; a somewhat Tchaikovskian performance nevertheless worked well on its own terms. Rattle loved it doubtless, but not, I think, too much. There were rhetorical underlinings, yet they worked to shape a musical drama. The Scherzo flowed via, rather than despite, its engineered tensions, metrical and more. Its trio was, I felt, moulded a little too much. Likewise the Finale: impassioned, yes, but not always clear where it was going. That said, Rattle's conception of something akin to an enigmatic tone poem in its own right had much to be said for it. His remains a questing musical imagination, as seen in programming and heard in performance.
Mark Berry