United States Various: Anthony Roth Costanzo (countertenor), Justin Vivian Bond (vocalist), Daniel Schlosberg (piano), Alexander Vaz (guitar), Spencer Murphy (electric bass), New York Philharmonic / Jaap van Zweden (conductor). Jazz at Lincoln Center's Frederick P. Rose Hall, New York, 29.1.2022. (RP)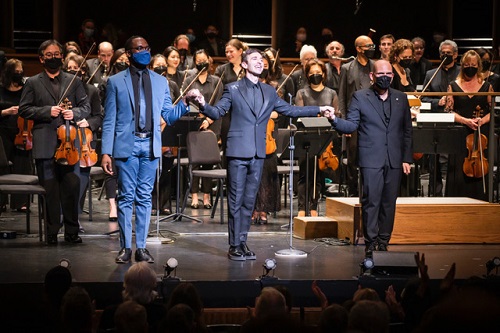 Joan Tower – Fanfare for the Uncommon Woman No.1
Joel Thompson / Tracy K. Smith – The Places We Leave
Prokofiev – Symphony No.1 in D major Op.25, 'Classical'
Arr. Nico Muhly – Selections from Only an Octave Apart
Snowmageddon didn't materialize in Manhattan despite the media blitz forecasting doom. And if anyone thought seven-and-a-half inches of snow would keep either countertenor Anthony Roth Costanzo or cabaret star Justin Vivian Bond from slogging their way to the final performance of Only an Octave Apart with the New York Philharmonic, they sure got that wrong.
There was a time when the gulf between popular music and opera was bridged by the likes of soprano Beverly Sills and comedian Carol Burnett. Burnett had never met Sills, but having seen her on television talk shows decided that the diva's warmth, sense of humor and realness would make her the ideal partner in a television special that became 'Sills and Burnett at the Met', a source of inspiration for Only an Octave Apart.
Bond, who is transgender and has been hailed as the best cabaret artist of our time, describes their style as shallow, pretty and moving. Bond has got a singular voice – think whiskey baritone with some gravel in it – and inhabits a song as few performers do. Bond doesn't so much tug at your heart strings as shred them to pieces, but that is only when they aren't making you laugh.
Only an Octave Apart opened at St. Ann's Warehouse in Brooklyn in September 2021. For the original run, Nico Muhly and Daniel Schlosberg created musical arrangements for a small ensemble, with Muhly arranging selections from the show for full orchestra on a commission from the New York Philharmonic. Zack Winokur directed the original production as well as this performance.
There were some remarkable pairings. Both wanted to sing Dido, but Costanzo was thinking of Purcell's 'When I am laid in earth' and Bond of 'White Flag', the hit by English singer/songwriter Dido. Liam Sternberg's 'Walk Like an Egyptian', a hit for the Bangles, was the perfect counterpart to 'Hymn to the Sun' from Philip Glass's Akhnaten, which Costanzo has starred in at the Met. They ended with 'Under Pressure' by Queen and David Bowie: a great song from two consummate performers.
Bond and Costanzo engaged in a bit of self-deprecating humor. Costanzo described himself as a gay little kid from the Bronx, to which Bond, who is originally from Maryland, countered 'I'm just half a gene away from The Beverly Hillbillies'. But about halfway through the show when Costanzo said that he had never felt more like himself, you had to believe him.
Costanzo, a New York Philharmonic Artist in Residence this season, is joining the orchestra for two weeks to explore and celebrate the complexity of identity under the banner 'Authentic Selves: The Beauty Within'. He is singing in the world premieres of works by composers Joel Thompson and Gregory Spears, both to texts by Tracy K. Smith, who was named US poet laureate in 2017. This concert saw the premiere of Thompson's The Places We Leave.
Thompson was born in The Bahamas and divides his time between Atlanta and New Haven, where he is pursuing a doctorate in composition at Yale University. His 2015 work for chorus, strings and piano, The Seven Last Words of the Unarmed, with each of the seven movements setting the last words of an unarmed Black man before he was killed, brought him national acclaim.
Smith's three-stanza poem, The Places We Leave, captures a person struggling through the aftermath of a love affair before it is fully resolved. Costanzo gave a stunning, heartfelt performance of the work which found him at times giving full voice to a torch song and at another producing the highest falsetto imaginable. With The Places We Leave, Thompson has created a work for voice and orchestra that rings true both emotionally and musically. It is one of the finest pieces of vocal writing that I have heard in some time. Costanzo had better copyright it, or mezzo-sopranos are going to steal it out from under him.
The concert got off to a rousing start with Joan Towers's Fanfare for the Uncommon Woman No.1, which she composed as a tribute to 'women who take risks and are adventurous'. Dedicated to conductor Marin Alsop, the brief work begins with ringing brass and resounding percussion strokes before racing to its conclusion.
Also in the first half of the concert was Sergei Prokofiev's Symphony No.1. Van Zweden conducted a sparkling, energetic, witty account of this little musical gem. The interplay between woodwinds and strings was precise and high-spirited, and the transparency with which the orchestra played was breathtaking.
Costanzo's goal for 'Authentic Selves: The Beauty Within' is to generate a lot of interesting ideas, some laughter and deep emotion. Except for the laughter, he hit the mark with his unforgettable The Places We Leave, but Only an Octave Apart made up for that and then some. In his next concert with the New York Philharmonic, he will plumb the depths of his romantic being with Hector Berlioz's Les Nuits d'été.
Rick Perdian