United States Mozart, Le nozze di Figaro: Soloists, Chorus and Orchestra of Metropolitan Opera / Daniele Rustioni (conductor). Metropolian Opera, New York, 8.1.2022. (RP)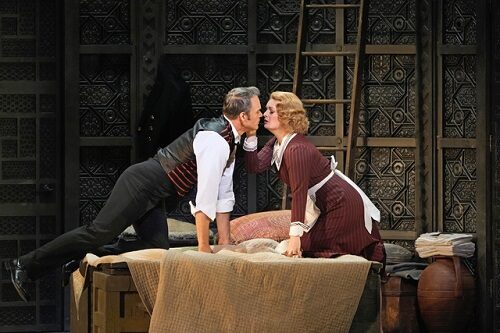 Production:
Director – Sir Richard Eyre
Sets and Costumes – Rob Howell
Lighting – Paule Constable
Choreographer – Sara Erde
Cast:
Countess Almaviva – Golda Schultz
Susanna – Lucy Crowe
Cherubino – Isabel Leonard
Marcellina – Elizabeth Bishop
Don Basilio – Giuseppe Filianoti
Count Almaviva – Adam Plachetka
Figaro – Ryan McKinney
Dr Bartolo – Maurizio Muraro
Antonio – Paul Corona
Barbarina – Erika Baikoff
Don Curzio – Tony Stevenson
It has taken some fancy footwork for the Metropolitan Opera not to cancel a single performance over the past few weeks, let alone to get this revival of Sir Richard Eyre's production of Le nozze di Figaro on the boards.
Daniele Rustioni, who conducted the premiere of Bartlett Sher's new production of Verdi's Rigoletto on New Year's Eve to glowing reviews, only took on Le nozze di Figaro in early December after the Met's music director, Yannick Nézet-Séguin, announced that he would take a four-week sabbatical from his conducting duties at both the Met and the Philadelphia Orchestra.
Then, just over a week before the first performance, there was a major cast change as Christian Gerhaher, who was slated to sing the Count, withdrew due to a non-Covid-related illness. Fortunately, Adam Plachetka – who is no stranger to the production and sang both the Count and Figaro in prior runs – was available.
This would have been a far different experience with Gerhaher, a renowned lieder singer with a light, high baritone who makes occasional forays into opera. Plachetka, on the other hand, is about as robust physically and vocally as they come, with a force that sent the performance soaring.
Attired much of the time in a pert maid's uniform, Lucy Crowe's Susanna was the perfect foil for Plachetka's over-sexed, egomaniacal lord of the manner. Crowe was in ravishing voice: her soprano emerged as a halo of sound that carried effortlessly into the house. It also blended perfectly with that of Golda Schultz, who sang the role of the Countess.
Schultz too was in her prime – the voice radiant and creamy, and her elegance and ease on stage made the plight of the Countess all the more poignant. Schultz's delicate ornamentation in 'Dove sono i bei momenti' was a filagree adorning Mozart's beautiful melodic lines. Bass-baritone Ryan McKinney is perhaps the most athletic Figaro on record: try and name another who can drop down and do push-ups during 'Non più andrai'. That he didn't make more of an impact is due to the staging: if Figaro wasn't front and center, he got lost in the shuffle.
Isabel Leonard is in demand the world over as Cherubino, and her performance left no doubt as to why. Convincingly boyish and sex-crazed as the teenage Cherubino and delightfully awkward and gawky when disguised as a young girl, Leonard was a treat.
Other roles were also cast well. Elizabeth Bishop was an elegant, witty Marcellina, with nary a bit of harridan about her. She was a pleasure vocally, but it was her flare for comedy that was so winning. Maurizio Muraro made for a grizzled Dr Bartolo intent on getting revenge on the Count for whisking Rosina away and depriving him of both a delicious young bride and her money. Muraro was the straight man to Bishop's ebullient Marcellina.
As Barbarina, soprano Erika Baikoff made the most of her moment to shine, singing with purity as she searched for the pin that she has lost. When staged simply and sung so beautifully, as it was here, Barbarina's short aria, 'L'ho perduta…me meschina', is one of the brightest musical gems in the opera.
Eyre set the action in the 1930s, but he didn't link it in any way to one of the most tumultuous periods in Spanish history when the country was embroiled in civil war. The revolving set was an intricate and rather striking structure of Moorish design. A giant tree with stairs and platforms plus twinkle lights suggested the palace garden in the final act. A general atmosphere of luxury prevailed, especially in the flower-laden table set for Susanna and Figaro's wedding feast.
Rustioni showed himself to be a fine Mozartean. The sounds that emerged from the pit were light and transparent. It was a particular delight to hear the woodwinds bubble to the surface of the silken tapestry of sound from time to time. It looks as if the Met has another young star conductor capable of great things on its hands.
Rick Perdian