United Kingdom Chin, Sibelius, Bartók: Leonidas Kavakos (violin), London Symphony Orchestra / Sir Simon Rattle (conductor). Barbican Hall, London, 7.1.2022. (CC)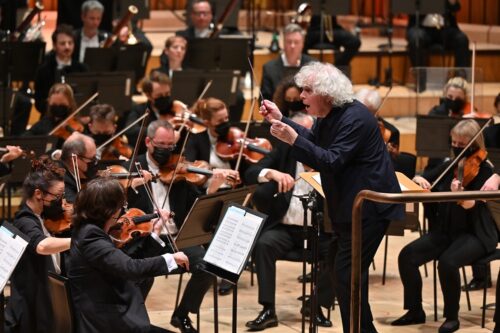 Unsuk Chin – Violin Concerto No.2, 'Scherben der Stille' (2021, world premiere)
Sibelius – Symphony No.7
Bartók – The Miraculous Mandarin, Suite
It was only in early September, at the very tail end of the BBC Proms, that I last encountered the music of Unsuk Chin: her 2020 piece subito con forza with the Hallé under Sir Mark Elder (review). Her music is unfailingly fresh – and demanding both of listener and performer. It is a real privilege to attend one of her world premieres, in this case the Second Violin Concerto. The generating factor for this shift was the soloist, Leonidas Kavakos: Chin refers to Kavakos's 'unique musicianship and personality, which resulted in new ideas on tackling this genre's challenges'; she also refers to his 'burningly intense' musicianship.
Some 20 years separate the two pieces. The four movements of the First Concerto contrasts against the new piece's one continuous movement lasting around 25 minutes. The Second Concerto emerges from silence (as so many contemporary compositions do, of course) but the musical material can be gestural and indeed 'shardlike', hence the subtitle 'Scherben der Stille' (Shards of Silence). As this language establishes itself (with the help of an organising small motivic cell of five notes), there is the sense of exploring one landscape from multiple perspectives, something perhaps reflected in the return of the opening towards the close of the piece, That opening consists of what sound like rapid, glassy harmonics in anacrusis to longer, sustained notes, a gesture repeated time after time and which, at the outset, seems to hold great potential energy, something perhaps confirmed when one of those sustained notes seems insufficient and it expands outwards into stopping. On its return at the end, though, the same gestures provide a place of peace. Much has happened, much of ferocious difficulty (that's a commonality between the two concertos), and so one simply cannot hear that passage in the same way.
Chin is unafraid of much that could easily be construed as 'Romantic' and there are some really long solo violin lines that seem to have been plucked from that earlier tradition and placed in a more modernist harmonic setting. This is perhaps an echo of the second movement of the First Violin Concerto, when the soloist similarly plays 'endless' melodies in its very highest registers. Kavakos's command of his instrument was never in doubt – while his sound might not be the sweetest, it has a core of steel that suits Chin's music impeccably. Against this in the Second Concerto, a dance-like brass-dominated section takes us to another space, later to morph into a brass and percussion carillon.
Listening to Chin's own virtuosity – that of not only writing so expertly for the violin but also so imaginatively for the orchestra – one can only listen in wonder. Her penchant for setting up registral spaces between extreme high and low only to fill the gap later with music of concentrated intensity is most satisfying; her use of solo strings with soloist towards the end, too, introduced new plateaux of sound into the palette. A phenomenal piece whose stature will surely only grow on repeated listenings. Chin's earlier violin concerto earned her the prestigious Grawemeyer Award: I would not be surprised if this piece ascended to similar heights.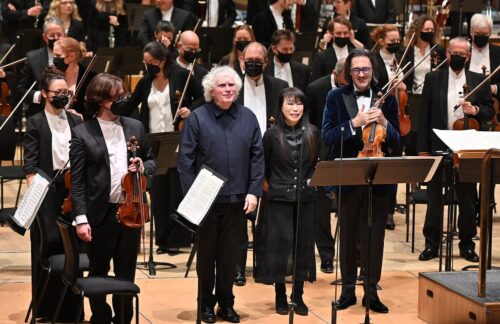 The second half of the concert was a nicely balanced combination of Sibelius and Bartók. Sibelius's Seventh Symphony. Full seven double basses grounded the orchestra in a performance of magisterial beauty, astonishing inevitability and strength. Rattle's grasp of the score is complete (he conducted by memory, impeccably). The famous trombone theme was a thing of magisterial beauty, principal Peter Moore on terrific form (Rattle singled him out for applause at the end) but, one should remember, joined by equally strong colleagues in his section (Gary MacPhee and Tom Berry). Against this, Rattle and his virtuoso orchestra gave us moments of mercurial brilliance all contained within the most brilliant unfolding of Sibelius's mighty structure. The playing time might only be in the region of 22 minutes or so, but this is one symphony that contains worlds. From his earliest Sibelius (EMI, with the City of Birmingham Symphony Orchestra), this has been a composer close to Sir Simon's heart, and how it shows. Those harmonic opening outs so characteristic of Sibelius made such effect here. Truly remarkable.
It is nice to see Bartók's The Miraculous Mandarin (the suite here) back on programmes. Memories of performances of the suite conducted by Pierre Boulez with this orchestra (and on occasion the BBC Symphony) in London in the 1980s came flooding back (it was one of his preferred pieces at that time). Rattle's take was at once less exact than Boulez's (no surprise there, it could hardly be more rigorous) but also (and this was the surprise) rather rounded at the edges. The twin pillars of the visceral attack of the opening and the fierce climax near the end held a middle that was full of well-placed accents and glissandi but which nevertheless sometimes failed to fully engage. The many solos, though, were faultless. Of particular note were the oboe and cor anglais solos (Oliver Stankiewicz and Maxwell Spiers respectively) and – finest of all – the astonishingly expressive clarinet of Maura Marinucci best known for her work as principal at the Brussels Philharmonic. Stunning playing, and what a glorious sound. (Her website states she is currently on trial for the post of principal clarinet of the LSO: if she is not confirmed in yet, it must surely be in the bag.) In addition, Bartók's writing for brass made the second half something of a trombone extravaganza; but it is for the Unsuk Chin that this concert shall long linger in the memory.
This concert is available to subscribers of medici.tv, and will be broadcast on BBC Radio 3 on 18 January.
Colin Clarke