United Kingdom Mozart, Schoenberg, Brahms: Elisabeth Leonskaja (piano). Wigmore Hall, 4.1.2022. (CC)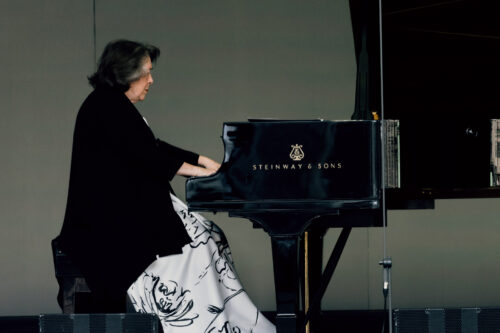 Mozart – Fantasia in C minor, K.475 (1785). Piano Sonata in C minor, K.457 (1784)
Schoenberg – Suite for Piano, Op.25 (1921-23)
Brahms – Piano Sonata No.3 in F minor, Op.5 (1853)
Elisabeth Leonskaya always brings illumination and a lifetime's wisdom with her for her visits to the Wigmore Hall. Her programmes have always been challenging in the most positive of ways: in 2007, she performed Schubert's last three piano sonatas in one concert (review here), while in 2017 one of Beethoven's great final trilogy of sonatas (Op.109) shared the first half with late Brahms (review here).
In 2018, she performed Mozart next to Webern and Schoenberg's Op.19 Piano Pieces (review here); here it was Mozart and Brahms coupled with Schoenberg's seminal Op.25 Suite, famous for being the first piece in which Schoenberg used serial practice for all movements. The three composers in the programme offer stops on the highway of the Austro-Germanic tradition – one might also extend this backwards by pointing out the kinship of the theme of the Mozart C minor Fantasia to the 'Royal theme' from Bach's Musikalische Opfer.
Leonskaja has of course recorded the complete Mozart Sonatas, due for release on Warner Classics as a six-disc box on 18 February. This is repertoire she has immersed herself in, and how it shows. Her playing is from the grand old tradition – and one should remember that she is one of its finest exponents. There was a wonderful moment at the opening of the C minor Fantasia in which she seemed almost to anticipate the opening – watching her, it felt as if she deliberately started just a fraction of a second earlier than expected, as if to emphasise the freshness of the piece. The performance itself was beautifully scaled. Timing was perfect – so often pianists, particularly younger pianists, rush their fences, but Leonskaja let the music, and indeed its absences, speak magnificently. Accents were never harsh, but always had impact.
Coupling the C minor Sonata with the C minor Fantasia is perhaps itself slightly old style in that it is not as accepted as it used to be that the two pieces were intended to be performed together. A surprisingly splashy first movement exposition was no harbinger of doom – the development section was perfectly delivered. Contrasts were well made, and charm sat next to granitic octaves. Yet it was the central Adagio that held the emotive weight. Adagio is the marking, yet it moved, suffused in beauty – and how Leonskaja maintained textural clarity even when Mozart writes in the lower register. The finale crept in, as it should, the mysterious cross-measure rhythmic play gentle. In her emphasis of contrast in this movement, Leonskaja seemed to be deliberately linking the Sonata finale to the K.457 Fantasia. Fascinating.
Having established a Classical basis, Leonskaja took us to Schoenberg, a composer whose links to the past are many, not least as demonstrated in his essay Brahms the Progressive. Her understanding of Schoenberg's piano writing and vocabulary in this performance was magnificent. The repeated notes of the opening Präludium held infinite energy. The piece was flighty at times, dancing at others (a world away from Pollini's famous DG account). With Leonskaja, one felt the dances in the background – the lilt of the Gavotte – Musette (movement IIa and IIb) a case in point – while the gestural nature of Schoenberg's writing emerged with a sense of power and impeccable logic. When it came to the Intermezzo, with its ululating inner lines and its sense of misty obfuscation suddenly blasted into sunlight, Leonskaja brought a sense of drama but also, in pianistic terms, the most perfect legato and sense of line. Schoenberg's Op.25 Menuett and Trio must be one of the most elusive ever penned, and Leonskaja held its sense of mystery throughout before the Gigue (mostly notated in 2/2 time rather than the traditional 6/8) brought a splendidly light touch. For some, this is an invitation to scramble (Schoenberg's marking is 'Rasch'), but Leonskaja is wise enough to know that one can convey speed through accuracy. Some of the finest Schoenberg playing I have heard.
Brahms's mighty Third Sonata presents a huge challenge to any pianist. The writing is uncompromising and unrelenting in the first movement, granitic chords (this time) on the page making it look like an orchestral reduction of some sort. And yet, as Leonskaja proved, this is perfect piano music. Difficult to know where Leonskaja is at her finest – whatever she plays she seems to inhabit it – but I for one cannot remember a stronger performance of Brahms's Op.5 live. The way Leonskaja used pulsating inner voices to give the music power, the way she conveyed the modernity of composer's writing enabled the second movement Andante espressivo tender, luminous and beautifully voiced (if the first movement could be an orchestral reduction, this could be taken from a string quartet were it not for the vocal qualities of the melody). Tender as the whole movement was, it was the positively glowing coda that was unforgettable. Fascinating, therefore, to hear the opening of the Scherzo emerge more as a glissando than a notated ascent – that Schoenbergian sense of gesture in protoplasmic form. And how much meaning Leonskaja gave to the two chords that open the Trio.
Finding more than the odd hint of late Brahms in the fourth movement Intermezzo (it certainly felt progressive …) the finale was an interpretative tour de force of a much-variegated landscape. Leonskaja's grasp of this piece is total, her technique absolutely the equal to Brahms's most demanding passages. A phenomenal performance, rounding off a spectacularly stimulating concert! What a fine way to begin anyone's concertgoing in 2022!
Colin Clarke