United Kingdom Grieg, R. Strauss, Wagner: Lise Davidsen (soprano) and Leif Ove Andsnes (piano). Barbican Hall, London, 13.1.2022. (KMcD)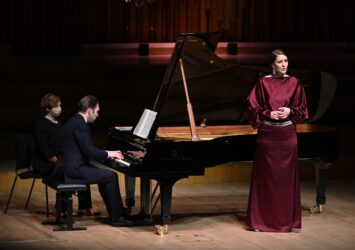 Grieg – Six Songs, Op.48; Haugtussa (The Mountain Maid), Op.67
R. Strauss –No.1 'Ruhe, meine Seele'; No.2 'Cäcilie'; No.4 'Morgen' from Vier Lieder, Op.27; No 4 'Befreit' from Fünf Lieder, Op.39
Wagner – Wesendonck Lieder, WWV 91
Since winning the Operalia competition in 2015, Norwegian soprano Lise Davidsen has become one of the most in-demand singers of her generation – and it is not hard to see why. Tall, elegant and in possession of a voice that has a laser-like quality, supported by a faultless technique, yet also capable of hushed introspection, her meteoric rise should come as no surprise. Still in her early thirties, it is inevitable, and perhaps understandable, some in the industry are urging caution. We have seen a lot of operatic talent explode onto the scene like a supernova, only to shine brightly for a while, then crash and burn as quickly as they appeared.
It seems highly unlikely, however, that the same fate will befall Davidsen. She has chosen her operatic repertoire wisely, and while she already has notable debuts (Covent Garden, The Met, La Scala, Munich, Berlin, Bayreuth, Glyndebourne) under her belt, she is slowly yet judiciously adding the roles she was born to sing – those by Wagner. I was lucky to attend her role debut as Sieglinde in Die Walküre at the Deutsche Oper, Berlin in autumn 2020 and was blown away – not only by the amplitude of her voice, but also her intelligent phrasing, magnetic stage presence and scrupulous attention to the text. One minor niggle persisted however, which was her performance lacked light and shade.
With this magnificent recital 15 months later, that niggle can be laid to rest as her already formidable artistry has blossomed in those intervening months. With acclaimed pianist Leif Ove Andsnes as her sensitive accompanist, Davidsen emerged as a fully-rounded artist, holding a rapt Barbican Hall audience in the palm of her hand for the duration of this recital.
The first half of the evening was devoted to her compatriot, Edvard Grieg. Beginning with his popular Six Songs (Op.48), she inflected the German texts with nuance and lent them a gamut of emotions, from the hushed intensity of 'Dereinst, Gedanke mein' ('One Day O Heart of Mine'), to the frivolity of 'Lauf der Welt' ('The Way of the World'). There was bitterness aligned to a sense of resignation in the penultimate song, 'Zur Rosenzeit' ('The Time of Roses'), where Davidsen displayed her sumptuous soprano at full throttle, which was properly overwhelming – yet never felt forced.
These were followed by Haugtussa (The Mountain Maid), Grieg's only narrative song cycle. Composed to a Norwegian text, these eight songs explore a young girl's emotional voyage of discovery, from her first kiss, through true love, to separation. Davidsen and Andsnes charted this journey impeccably, at every stage. Once again, it was the light and shade she brought to 'Veslemøy' ('Young Maiden') that impressed as much as the ecstatic outburst at the climax of 'Møte' ('The Tryst'). With Andsnes bringing an extraordinary range of colours to the lilting accompaniment of the final song, 'Ved Gjaetle-Bekken' ('At the Brook'), Davidsen mirrored these as the forlorn maiden bids farewell to love in the closing bars.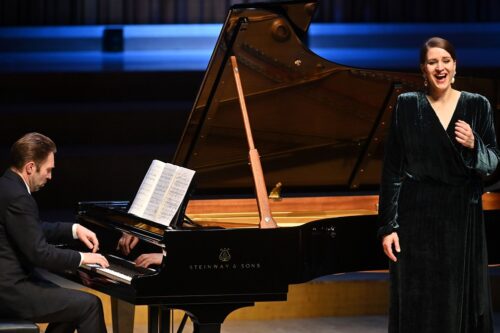 While the first half of this recital had been mightily impressive, the second – devoted to Richard Strauss and Wagner – was outstanding. 'Ruhe, meine Seele!' ('Rest thee, my soul') was sung with achingly beauty of tone, replete with richly-voiced low notes and capped with a blistering climax at 'Bringen Herz und Hirn in Not' ('Cause heart and mind distress'). 'Cäcile' ('Cecily') allowed Davidsen to tease out its long, soaring phrases, all ably supported by impeccable breath control. 'Morgen!' ('Tomorrow!') was spellbinding, with both Davidsen and Andsnes breathing as one – it is hard to imagine it performed better.
This vocal magic continued throughout a pitch-perfect performance of Wagner's Wesendonck Lieder, at its heart a sultry, 'Im Treibhaus' ('In the Greenhouse'). Davidsen's colouring of the text, effortlessly-spun vocal lines and scrupulous attention to dynamic detail were impressive in each of the five songs, yet somehow she managed to save the best till last. She voiced 'Träume' ('Dreams') immaculately, drawing the audience in with her gorgeous, burnished tone and faultless musicianship, crowning a recital that confirmed her status as one of today's leading sopranos.
Two encores set the seal on this unforgettable evening: Strauss's 'Zueignung' ('Dedication') and Grieg's 'Jeg elsker Dig' ('I love you!'). This recital may have been the last on a five-date whistle stop tour of Europe (promoting their new CD of Grieg songs) but ushered in Davidsen's first in the Barbican's Artist Spotlight Series, with more concerts planned in the forthcoming months which – if they are anything like this glorious recital – will be unmissable.
Keith McDonnell