United Kingdom Mahler: Lucy Crowe (soprano), London Symphony Orchestra / Kirill Karabits (conductor). Half Six Fix performance (8.12.2021) recorded (directed by Phil Glenny) at Barbican Hall, London, and streaming on Marquee TV from 6.1.2022. (JPr)
Mahler – Symphony No.4 in G major
Half Six Fix is a series of short early evening single work concerts beginning at – guess what? – six thirty! This was particularly interesting because it marked the debut of Kirill Karabits with the London Symphony Orchestra. He is Chief Conductor of the Bournemouth Symphony Orchestra and I have read much about him but never seen him before and it was good to see and hear him, at least, virtually. Karabits took over the baton for this concert from Sir Simon Rattle who was in Covid isolation at home in Berlin. Bernard Haitink – who had recently died in October – gave many acclaimed performances with the LSO and Mahler Four seemed to have been a favourite of his in his later years. A subsequent concert on 16 December which included this symphony in a fuller programme also premiered a short work by Mark-Anthony Turnage written as his gift to Haitink, with whom he had a significant musical relationship. (As an aside, I only had the pleasure of speaking at length to Haitink once and I recall that time even more fondly now and remain in awe that he actually knew who I was!)
I suspect it is probably the fault of the symphony rather than the conductor and/or orchestra but I have previously suggested – even as co-founder of the UK's current Mahler Society – that I have found his Fourth Symphony to be often quite bland and even uninteresting. There have been notable exceptions: I remember in the distant past some totally convincing and very impressive Mahler from the BBC Symphony Orchestra under their then chief conductor, the late Jiří Bělohlávek, as well as those more recent ones from Haitink and the LSO. Bělohlávek concentrated less on happiness and childlike innocence and more on 'Hades full of terrors' that Mahler said was there also. By contrast, with Haitink's Mahler Four the word that most came to mind was serene.
That there is a possible dichotomy of reactions to this symphony was confirmed by Karabits who in his filmed introduction said: 'There is no right or wrong story. Every listener has the right to create something, but to me the symphony represents contrast between the drama and emotional substance of life comparing to the possible heavenly existence of a human being or maybe another world which is different from the world we are living in.'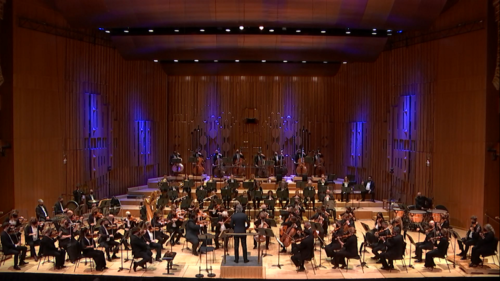 Under Karabits the first two movements must have imbued those hearing it in the Barbican Hall with a cosy, warm feeling (I wrote Gemütlichkeit as a note about them). The first movement – marked 'Deliberate, not hurried … Very leisurely' – was all of that and overall it was joyful and innocent and even Mahler's 'mysteries and horrors' of the forest did not seem all that threatening when they intruded and – a dissonance notwithstanding – Mahler in Mozartian mood is soon re-established. This is not to belittle the complex orchestration, featuring as it does various percussion instruments including those wonderful opening sleighbells and subsequently lot of parts for the wind instruments who continued to make strong contributions throughout the symphony.
It is invidious to single anyone out as the LSO is so virtuosic, but it was impossible not be impressed by – amongst others – Julian Koch (oboe), Chris Richards (clarinet), Amy Yule (flute), Rachel Gough (bassoon), and elsewhere James Fountain (trumpet) and violinists Janice Graham and Sergey Ostrovsky (leader). It shouldn't need to be commented on but how refreshing it is to see so many talented women in the LSO after the dismal ten allowed on the platform surrounded by all the men of the Vienna Philharmonic Orchestra at the recent New Year's Day concert.
That second movement ('At a leisurely pace. without haste') is a scherzo with two trios. The horn has introduced a short and more reflective motif answered by solo violin, before leading to a very lyrical passage. For me, there should be more tension right from the start and notably Ostrovsky's retuned violin created few chills. (I must admit I was listening to this through loudspeakers and it could have sounded differently in the Barbican Hall.). So, the world of 'Freund Hein spielt auf' – the pied piper whose beguiling fiddle playing leads the unwary to the land of 'Beyond' – seemed very far away. At times it did indeed sound like a slow(er) movement but with its sudden changes in tempo and dynamics, together with an abrupt ending, we are reminded that it is indeed a scherzo.
The third movement, which is the actual slow movement of the symphony (marked 'Restful') was beautiful and suitably elegiac. The theme started in the eight double basses at the rear and then spread through the entire orchestra, creating an appositely consolatory atmosphere. Mahler considered that this movement was inspired by 'a vision of a tombstone on which was carved an image of the departed, with folded arms, in eternal sleep'. Themes looked forward and back and there developed a brooding threnody almost lulling us to sleep which involved xylophone, brass chorale and timpani solo before – with a sudden outburst of E major (this movement is in G major) – we arrive in Paradise, or at least a child's idea of it. The music then dies away to anticipate the novel way the symphony ends.
The last movement features a soprano part, inspired by Mahler's obsession with the Des Knaben Wunderhorn collection of poems; here he uses one he composed before (Das himmlische Leben) about the 'joys' of heaven. However, if we again look behind the mirror this apparently includes much slaughter, as well as the attractive – to some fanatics – prospect of 'eleven thousand virgins'. The music is uncomplicated; the bells from the opening movement are heard again, there's an evocative tolling harp, before at the very end a quiet, orchestral postlude fades away because – for Mahler – heavenly bliss appears something that is not attainable. As elsewhere, the musicians of the LSO responded magnificently to Karabits's encouragement and I should have acknowledged earlier some wonderful string sounds which, as here, floated and shimmered gloriously.
Lucy Crowe sang with the wide-eyed expression of a child reacting to something wonderful. Mahler asks for this movement 'To be sung in a happy childlike manner: absolutely without parody!' but Crowe's words were rather indistinct and her well-rounded soprano sounded simply too mature. (Again, she may have been better if heard live, although it must be noted that by the time of the second Barbican performance she had lost her voice and was replaced by another singer.)
Jim Pritchard