United States Verdi, Rigoletto: Soloists, Chorus and Orchestra of the Metropolitan Opera / Daniele Rustioni (conductor). Metropolitan Opera, New York, 31.12.2021. (RP)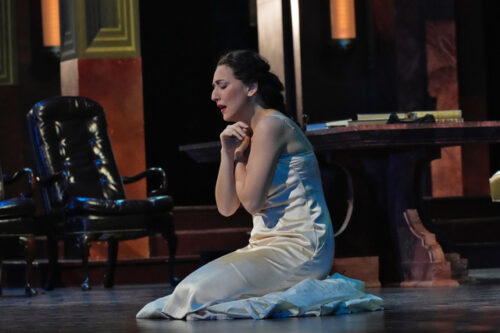 Production:
Director – Bartlett Sher
Sets – Michael Yeargan
Costumes – Catherine Zuber
Lighting – Donald Holder
Cast:
Rigoletto – Quinn Kelsey
Duke of Mantua – Piotr Beczała
Gilda – Rosa Feola
Sparafucile – Andrea Mastroni
Maddalena – Varduhi Abrahamyan
Giovanna – Eve Gigliotti
Peter Gelb, the General Manager of the Metropolitan Opera, greeted the audience with 'We're still here!' It wasn't a given, especially for this New Year's Eve premiere of Bartlett Sher's new production of Rigoletto, given that New York City is currently breaking all previous Covid records. Gelb assured the audience that there were no cancellations, and quipped that he wouldn't be making any announcements going forward about singers performing when ill as no one sick is permitted in the building. The audience, of course, had to be vaccinated and masked to gain entry.
For the Met, Sher reimagined his concept for Rigoletto which had received a lukewarm reception at its June 2019 Berlin State Opera premiere. (For the Seen and Heard International review, click here.) The action was updated to 1920s Berlin, which was a hotbed of creativity, hedonism, hyperinflation and nationalism. All well and good, but there was little to raise the eyebrows of even the most hidebound traditionalists in this production.
The Duke's grand palace was designed in a mix of Art Deco and Modernism, while both Rigoletto's home and Sparafucile's tavern were fairly basic. With an ancient tower looming over it, Rigoletto's house had the feel of Mantua, where Verdi's librettist, Francesco Maria Piave, set the opera. The real visual interest came from the use of the Met's revolving stage equipment, which is always a crowd pleaser.
The Duke and his men wore dress military uniforms, and the ladies of the court were attired in formal gowns. When out on the prowl to snare the woman whom the courtiers supposed to be Rigoletto's mistress, they wore long black leather coats and masks. Rigoletto was a white-faced clown with a top hat.
Sher stuck close to the libretto – a nice touch was Eve Gigliotti's Giovanna packing her bags and slipping out of the house rather than face Rigoletto's rage after his daughter was abducted – except for two inexplicable misfires during the final scene. Gilda was rummaging around Sparafucile's tavern awash in red light well before she knocked on the door to meet her death. A few minutes later, Rigoletto realized that it was his daughter in the canvas bag before he opened it. It was an odd time to start deviating from the plot.
In spite of Sher being on record as saying that setting the action in the Weimar Republic permitted him to explore 'how a corrupt leadership infects a culture, infects how wealth and privilege dominate and squish people below it', he didn't venture there. The most jarring scene was when three women dressed in severe gray uniforms prepared Gilda to meet the Duke; whether intentional or not, the connection to the sordid goings of Jeffrey Epstein and Ghislaine Maxwell was unavoidable.
Quinn Kelsey had a triumph in his house debut as Rigoletto. I saw him as Verdi's malevolent court jester in Zurich almost ten years ago, and his growth as an artist and mastery of the role in the intervening years was nothing short of amazing. The subtlety and shadings that he brought to his characterization were the work of a true artist. He has power aplenty, but even when raging in 'Cortigiani, vil razza dannata', his voice was never less than beautiful.
With the exception of mezzo-soprano Varduhi Abrahamyan – who was making her Met debut as Maddalena and was as voluptuous in voice as she looked – the rest of the cast were veterans of prior productions. Rosa Feola captured the innocence and fervor of the doomed Gilda with high notes that were lighter than air, and trills and runs that conveyed depths of emotion.
Piotr Beczała reprised his Duke of Mantua, the role in which he made his company debut in 2006. As always, Beczała was dashing, suave and seductive which, coupled with his gleaming tenor and thrilling upper range, makes for an exciting Duke. Lean and sleek, Andrea Mastroni's cavernous bass along with his matter-of-fact approach to murder made his Sparafucile especially sinister.
The Met chorus and orchestra were in fine form. Conductor Daniele Rustioni led a restrained, classic performance of Verdi's score, lavishing attention on the more intimate scenes, particularly Gilda's Act I duet with Rigoletto and, later, her extended scene with the Duke, complete with its seldom-heard cadenza.
In the midst of the ovations for the cast and creative team, there was a pop and the audience was showered with gold confetti. One had to feel a bit sorry for those who rushed out as soon as the curtain fell for missing one of the most joyous moments of 2021.
Rick Perdian