United Kingdom Dolly Parton presents 9 to 5 the Musical: Cliffs Pavilion, Southend-on-Sea, Essex, 11.1.2022. (JPr)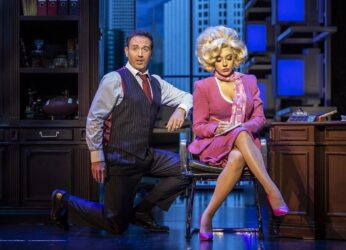 The words in the programme of Patricia Resnick – the writer of the original 1980 screenplay and the book of this musical version – are quite illuminating: 'When the musical opened on Broadway in 2009 it was really frustrating because the first thing many of the male journalists asked was, "Well, none of those issues are a problem in contemporary work life, so how are women of today going to be able to relate to it?". The MeToo movement must have been a gigantic wakeup call, I knew what all women know, which is that sexism was depressingly just as prevalent in our time now as it was back in the eighties. It's just done a bit differently now.'
Coinciding with the start of the rescheduled 2022 tour of the recent West End production of 9 to 5 the Musical (tour details here and credits below) – and its twice postponed Cliffs Pavilion week of performances – was a drama on BBC TV (Rules of the Game) centring on office politics; with much schmoozing of the boss, sexism, sexual harassment, backstabbing, bullying and rudeness. So, fast-forwarding from the 1980s to this year, plus ça change, plus c'est la même chose (something for Google translate if you don't know that phrase). We have come a long way towards gender equality but there is so much further to go I suspect. This period piece musical – just like the original cult classic film starring Jane Fonda, Lily Tomlin and Dolly Parton – is not to be regarded as serious social commentary, even though, the women young and old, who predominately filled the Cliffs Pavilion for this first night could not help but recognise what drove the three protagonists, Violet Newstead, Doralee Rhodes and Judy Bernly, to wreak their revenge fantasy on the president of Consolidated Industries, Franklin Hart Jr, their domineering male chauvinist pig of a boss.
I remember the original film as more of a dark satire than this musical is. What you get from 9 to 5 the Musical is a fun night out and the perfect antidote to the recent sad times we are hopefully emerging from. Despite the enforced wearing of masks, with the audience whooping and cheering during the final reprise of the '9 to 5' title song I was transported to a happier – healthier – world and that is no bad thing from a night at the theatre in 2022. I wondered how much the musical had changed since 2008 because it is neither subtle nor stylish and despite a wonderfully slick staging from director Jeff Calhoun and his designer Tom Rogers, you will be alternately reminded of the Carry On films and – especially because of Lisa Stevens's exuberant and simplistic choreography – something you might see at the end of a pier or on a cruise ship.
Don't get me wrong, 9 to 5 the Musical puts on stage one of the hardest working companies I have ever seen; if they are not singing and dancing, they are offstage changing costumes or on it shifting the props and furniture (whilst frequently performing at the same time). Nina Dunn has provided stunningly wonderful video which showed a cityscape, the office environment, a hospital corridor or something else to atmospherically set the scenes. (As an aside the use of video is something theatre, opera and ballet rarely makes enough use of.)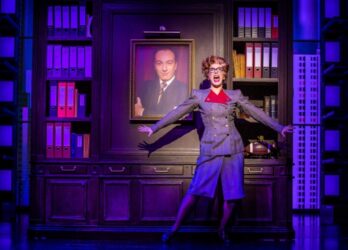 The tone is set early on when Judy, the office newcomer still pining for the husband who has left her at 21(!) for someone younger, exclaims: 'I still miss Dick.' Then later in the first half, the office spy Roz Keith (the excellent Julia J Nagle) will release all her pent-up sexual frustration over her unrequited desire for Hart by taking off her Dame Edna specs and literally letting her hair down with something of a burlesque routine. So, it is not exactly highbrow stuff and there is much more innuendo and slapstick humour as 9 to 5 the Musical goes on! Doralee is the Dolly bird(!) who Hart lusts after and who is believed by her colleagues to be – using a dated phrase – 'no better than she should be' but she has never slept with Hart and never would. Violet has been overlooked for a promotion she believes she has earned as she is not one of the boys and is suitably disgruntled. Smoking a spare marijuana joint Violet, Doralee and Judy bond and fantasise getting their own back on the misogynist Hart. Rat poison accidentally gets into his coffee and in an overlong hospital scene the three believe Hart dead. When they discover this not to be the case, they kidnap him and string him up in his S&M bedroom and leaving him hanging (again quite literally) he'll later sing ('Always a Woman') about how he is 'going nuts with my nuts in a truss.'
Meanwhile Violet, Doralee and Judy pack Roz away on an extended language course and set about bringing better practices, fairness and common sense to the workplace by forging the signature of the – already frequently hideaway – boss on the new changes. All their good work looks as if it will be undone when Mr Tinsworthy, the CEO of Consolidate Industries, pays a surprise visit. Having escaped their clutches, it looks as if Hart – a bit like Boris Johnson always seems too! – will get away with everything, including having two sets of financial accounts, but when Tinsworthy is impressed by how business has been lately he sends Hart to head the office in Bolivia with Violet finally getting the top job. Although we are advised that, of course, Dolly Parton does not appear 'live' she seems ever-present as she intervenes in 9 to 5 the Musical via pre-recorded video; at the beginning, during and at the end when she even sings along with the final chorus of '9 to 5'. From her we learn of what happened to Hart and our three heroines: Roz finds love with Hart's wife; Violet and a younger co-worker Joe (Russell Dickson) – who always liked her – have been together happily for three decades; Doralee went to Nashville and became a successful country and western singer; and Judy remained single, becoming a regular guest on The View (an American talk show) after writing her bestseller, Life Without Dick!
A small orchestra of 8 do wonders with the music and the whole cast sing and dance up a storm. (Though it must be admitted that apart from the timeless '9 to 5', Doralee's heart on her sleeve 'Backwoods Barbie' and Judy's anthemic 'Get Out and Stay Out' the songs are not some of Dolly Parton's most memorable ones and a more 'jukebox' approach to the musical could belatedly improve it by including a few more of her greatest hits.) Leading the uniformly superb ensemble are Sarah-Marie Maxwell as Violet (who by the time you read this will have yielded the role to Claire Sweeney who will do very well to perform with the verve of Maxwell); Stephanie Chandos is so much more than a Dolly Parton sound- and look-alike as Doralee, and Vivian Panka's Judy has the audience on her side as her character strives to succeed in an (initially) hostile environment. As mentioned earlier Julia J Nagle impressed as the closeted sex maniac.
You really should despise Hart throughout, but Sean Needham makes him oddly likeable in an OTT pantomime villain way. It is a feature of the role that he frequently breaks the fourth wall and addresses the audience directly. Nevertheless, when you learn he was captured by indigenous peoples in the jungles of Bolivia and was never seen or heard from again it is difficult to supress a cheer!
Jim Pritchard
Production:
Music and Lyrics – Dolly Parton
Book – Patricia Resnick
Director – Jeff Calhoun
Choreographer – Lisa Stevens
Designer – Tom Rogers
Lighting designer – Howard Hudson
Sound designer – Ben Harrison
Video designer – Nina Dunn
Wigs and Hair designer – Richard Mawbey
Music Supervisor, Reductions and Extra Arrangements – Mark Crossland
Arrangements and Additional Orchestrations – Stephen Oremus and Alex Lacamoire
Original Broadway Orchestrations – Bruce Coughlin
Dramaturg – Pippa Evans
Cast:
Sarah-Marie Maxwell – Violet
Vivian Panka – Judy
Stephanie Chandos – Doralee
Sean Needham – Franklin Hart Jr
Julia J Nagle – Roz
Sierra Brewerton – Margaret
Rebekah Bryant – Missy
Russell Dickson – Joe
Demmileigh Foster – Maria
Ross Lee Fowkes – Dick
Sonny Grieveson – Bob
Jon Reynolds – Dwayne
Clayton Rosa – Mail Boy
Ricardo Spriggs – Josh
Grace Walker – Candy Striper
Richard Taylor Woods – Tinsworthy