Austria Puccini, Manon Lescaut: Soloists, Chorus and Orchestra of Vienna State Opera / Francesco Ivan Ciampa (conductor). Livestreamed (directed by Domnik Kepczynski) from Vienna State Opera on 7.2.2022. (JPr)
Production:
Director and Lighting designer – Robert Carsen
Set and Costume designer – Antony McDonald
Choreography – Philippe Giraudeau
Dramaturge – Ian Burton
Cast:
Manon Lescaut – Asmik Grigorian
Lescaut – Boris Pinkhasovich
Chevalier des Grieux – Brian Jagde
Edmondo / Dance Master / Lamplighter – Josh Lovell
Geronte di Ravoir – Artyom Wasnetsov
Innkeeper – Marcus Pelz
Sergeant – Ilja Kazakov
Manon Lescaut was Puccini's breakthrough work but it had a troubled birth: it is probably still not entirely clear who was responsible for the text as five librettists were involved adapting a story based on Abbé Prévost's 1731 novel L'histoire du chevalier des Grieux et de Manon Lescaut. These were: Ruggero Leoncavallo, Marco Praga, Giuseppe Giacosa, Domenico Oliva and Luigi Illica. The always difficult-to-please composer and his publisher, Giulio Ricordi, are also believed to have contributed to the libretto that was completed by Illica and Giacosa who went on to work with Puccini on his next three – more well-known and performed – works; La bohème, Tosca and Madama Butterfly. Regardless of whether the heavily cut story as we see now has any dramatic coherence – it leaps forward in time so often – at its 1893 premiere at Turin's Teatro Regio Manon Lescaut was a great success.
Manon, an 18-year-old girl, is being taken by her brother (Lescaut) to live in a convent. Des Grieux, a student, falls madly in love with her at first sight in Amiens and he convinces her to run away with him to Paris. Manon quickly grows bored with being poor and she leaves des Grieux and goes to live with Geronte, a wealthy tax-collector who had planned to abduct her before she went off with des Grieux. Geronte lavishes his money on Manon and she has everything she could ever want, but Manon is too easily bored and longs for the passion she had with des Grieux. Soon reunited with him, Geronte catches them together and has Manon arrested. Des Grieux and Manon's brother, Lescaut, unsuccessfully attempt to help Manon escape from her captors because she faces being deported to Louisiana, though des Grieux manages to board the ship at Le Havre to the United States as a member of the crew. Manon and des Grieux eventually escape New Orleans, but Manon collapses exhausted as they cross a desert and as she dies, Manon declares her love for des Grieux one last time.
This description of the story and its various settings is important for those less familiar with the opera because you would not recognise all that I have outlined above in Robert Carsen's 2005 production for Vienna State Opera now getting a 38th outing. Carsen tells a different tale and once again it is a case of an opera serving a Konzept rather than the other way round. It is all about misogyny and wealthy men abusing the power money gives them and they can even getaway – as here – with murder. Only women suffer and are disposal in the world where men are in charge!
Edmondo is now a photographer and Carsen has the character return in the second and third acts. Des Grieux wears a leather jacket and is entirely in black as if the singer was wearing his rehearsal clothes. He seems to have concern for a beggar lying to the side of what is a shopping mall with windows displaying haute couture designs for women. Puccini's travellers' inn is now a classy hotel stage left. Manon is a rather plain looking girl with her battered suitcase accompanied by the dissolute, drunken, inveterate gambler Lescaut. Des Grieux seems to sketch Manon and they are instantly attracted to each other. The hoi polloi (the enthusiastic chorus) seem like partying students and they will eventually be shown stealing from Geronte's luggage. He has introduced himself as Puccini's tax collector but seems more a Mafia Godfather. Geronte bribes the hotel manager with a wad of money and he arranges for a limousine and a Lexus (it seemed) is pushed onstage for the abduction. With Geronte and Lescaut distracted des Grieux uses the car to rescue Manon and they leave for Paris. Geronte is placated by Lescaut who convinces him of Manon's expensive tastes.
We begin to realise that it might be a single set that Antony McDonald shows us and here it is transformed into Geronte's luxurious penthouse looking over a city on one side and with an enormous walk-in closet full of the latest fashions and matching jewellery for Manon on the other. Manon is on a couch having her hair and makeup done as well as getting a mani-pedi. Lescaut always has a beer in hand and brings Manon news of des Grieux. She chooses her outfit and guests at a drinks party hosted by Geronte (who is surrounded by henchmen wearing dark glasses) wander on to observe her getting changed. Edmondo is now a fashion photographer and Manon and her backup singers in sparkly black dresses are shown making a video of the madrigal 'Sulla vetta tu del monte', complete with choreography. The crowd disperses and Manon assures Geronte that she will follow on later, but des Grieux now arrives (dressed as before) and things take their course and he is soon lying on top of her on the couch and Geronte catches them 'at it'. Des Grieux and Lescaut urge Manon to leave with them and she orders her maids to fill some suitcases with her clothes, shoes and jewels. Geronte returns and attacks Manon and the act ends just before he rapes her.
For Act III the dress shops seemed firmly shuttered. It is Edmondo who sings the lamplighter's 'E Kate ripose al re' but is still a photographer. An escape plot is foiled and Manon – who has been brought to des Grieux – is taken away. Geronte seems to shoot the man who has been bribed by Lescaut to help Manon. Geronte's finely-dressed friends reappear to leer voyeuristically at some fashion victims – or are they Geronte's escort girls? – as photographers take pictures of them. A pitiful Manon is one of them and rushes to des Grieux. Geronte now sings as Puccini's ship's captain as des Grieux – who has faced off against him with a knife – begs that if Manon cannot be set free, he wishes to share her fate. Geronte agrees and the pair go off together.
There is no desert for the final act and Carsen has Manon and des Grieux wander through the mall as in Act I now strewn with rubbish including discarded shopping bags and with the windows probably displaying the same frocks that Manon once had in her closet. Manon is not in a good way (why?) and is begging for water (why?). Des Grieux looks exactly as he has throughout the opera as he goes off to find her some. Manon finds the necklace and bracelet lying about that Geronte had once given her as she sings of abandonment and death. Des Grieux returns empty-handed and wrestles the jewellery from her hand and holds her as she dies.
What I heard – albeit through loudspeakers – was much more satisfactory than what I was watching. Josh Lovell had an elegant lyrical tenor perfectly suited for his enhanced role of the paparazzo Edmondo. As Manon's brother, Boris Pinkhasovich was a compelling stage presence with his characterful baritone and his air of sleaziness made him less of a scrounger and more a pimp. The tall bass Artyom Wasnetsov couldn't fail to make an impression in both voice and physicality as the sinister Geronte who is clearly prone to extreme violence and having people do his bidding without question.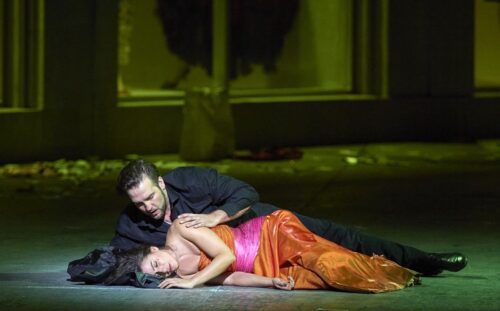 As a convincing des Grieux, Brian Jagde's robust tone doesn't possibly have all the lyric warmth necessary for this demanding tenor role. It is definitely a thrilling sound and Jagde has all the passionate intensity for his big moments such as a rapturous and ardent 'Donna non vidi mai' ('Never have I seen a woman like this') and the vocally thrilling duets with Manon.
This revival's principal interest was Asmik Grigorian making her role debut in Vienna as Manon. Whether hers is a voice suitable for Puccini I could only confirm by hearing her live, but she has been making quite a stir recently in diverse roles such as Salome, Senta and Jenůfa (reviews on this site). Her Act II 'In quelle trine morbide' was achingly sad and the climactic heart-wrenching 'Sola, perduta, abbandonata' was expressively sung but more of a resurrection than a farewell to life. Whilst Grigorian acted her final scene with consummate conviction throughout the opera she had lacked the necessary youthful innocence Manon needs. She appeared a little too knowing to elicit a great deal of sympathy as a victim of the men around her in these final moments, though that might be Carsen's fault rather than Grigorian's.
The young Italian conductor Francesco Ivan Ciampa led the always-impressive Vienna State Opera Orchestra in their account of Puccini's score that was translucent, had vitality and the uttermost sensitivity to Manon Lescaut's melodic sweep. The cello and solo violin introduction to a silky and gorgeous Intermezzo was as virtuosic as could be expected from members of the Vienna Philharmonic.
This early Puccini opera deserves to be heard more often but with less directional intervention.
Jim Pritchard